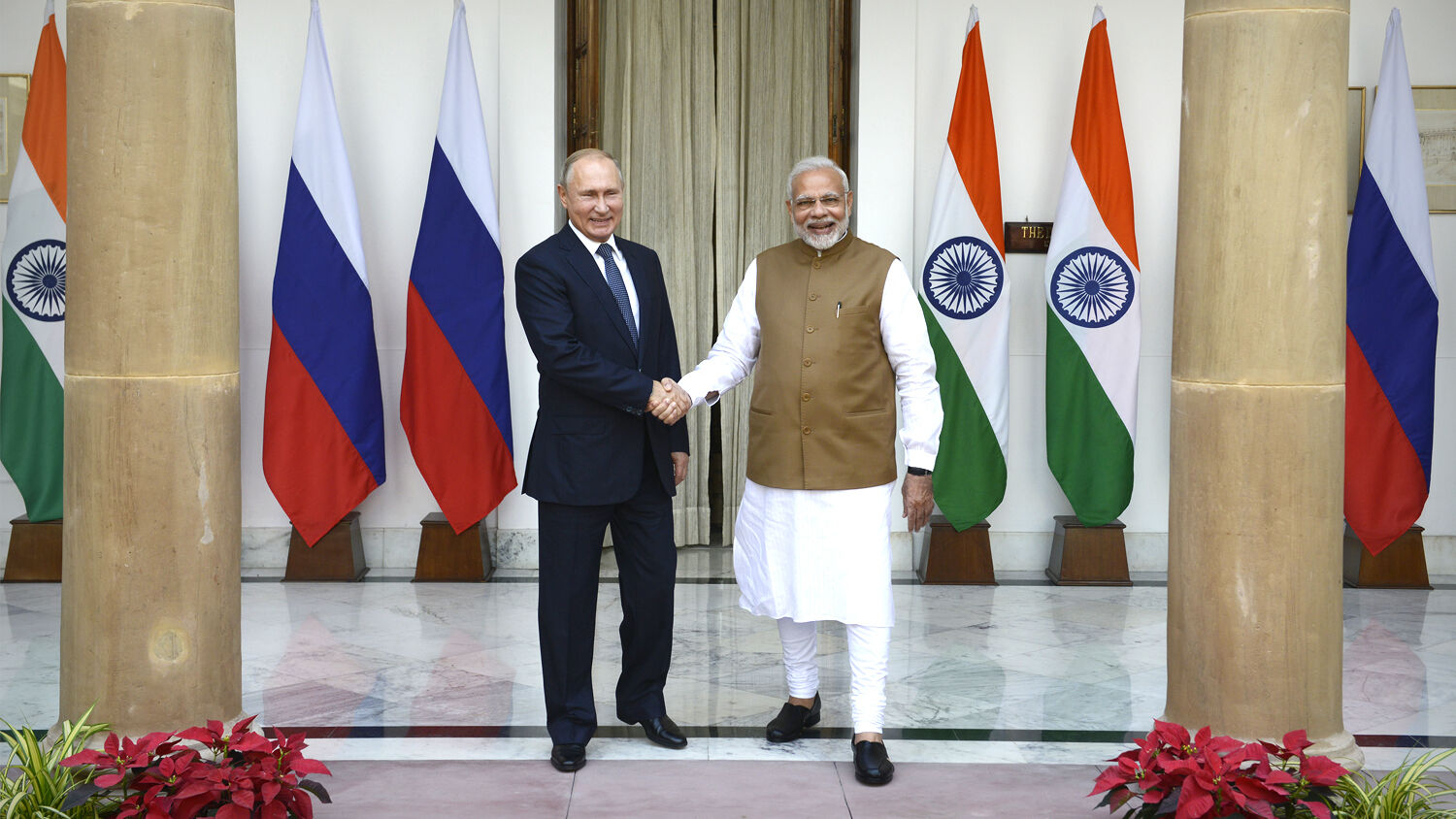 Despite U.S. Warning, India Finalizes $5 Billion Weapons Deal With Russia
U.S.-India partnership in decline
Following meetings between Russian President Vladimir Putin and Indian Prime Minister Narendra Modi in New Delhi on October 5, the two nations finalized a deal for India to buy Russia's advanced S-400 air defense system. Putin and Modi also signed eight other major agreements, including a pact securing Russia's cooperation on India's ambitious "Skycraft" manned space mission.
"We will strengthen cooperation in industry and investment, agriculture, medicine, pharmaceuticals, etc," Putin said of the wide-ranging agreements, adding that a Russian railway company "will help India build modern railroads" in locations around the country. "For decades, Russia and India have been cooperating in the area of defense," he said.
On Twitter, Modi called attention to the "vital" personal role Putin has played in recent years to boost Indian-Russian relations:
By far the most significant development to result from the talks was the S-400 deal. The $5 billion purchase consists of five units, each containing two batteries with four launchers per battery. Pravin Sawhney, editor of India-based magazine Force, noted on October 5 that the S-400 will become a critical component of the Indian military.
[T]he Indian Air Force (iaf) intends to use S-400 in the "offensive air defense" role rather than its designed role of protecting high-value targets like Delhi, for which it was originally proposed. Through "offensive air defense," the iaf wants S-400 to take out enemy Airborne Early Warning and Control Systems (awacs)—an airborne radar meant to control the battlespace by helping direct fighter aircraft to their targets. The awacs—a major force-multiplier—would be extremely threatened within S-400's 400-kilometer [250-mile] range.

Once enemy awacs have difficulty in command and control of the battlespace, enemy aircraft would not be able to operate at all altitudes, making them vulnerable inside Indian airspace.
India's finalization of the S-400 deal came despite warnings from the United States that the purchase could result in U.S. sanctions being placed on India. The Countering America's Adversaries Through Sanctions Act (caatsa) gives the U.S. government executive branch a legislative mandate to punish parties making major weapons purchases from Russia.
Because of this looming threat, there was uncertainty right up until October 5 as to whether or not India would go through with the milestone purchase. "The government of India continued to send mixed signals to its Russian counterparts, so much so, that until this morning nobody knew for sure if the deal would be done," Shawhney wrote.
The fact that India quietly went ahead with the purchase despite U.S. threats shows that New Delhi may be willing to jeopardize its close relationship with America in favor of its relationship with Russia.
The possibility of such a change is significant because of what Bible prophecy says on the topic of India in the "latter years." (This refers to the time now upon us, which you can prove by studying Trumpet executive editor Stephen Flurry's article "Are These the 'Last Days'?")
The Trumpet has often written about an Asian 200 million-man armed force that Bible prophecy says will form in the "latter years." In our September 2014 issue, Trumpet editor in chief Gerald Flurry explained numerous details about this future force:
The Bible gives some important details about this largest army ever assembled on Earth. It tells us which nations will contribute soldiers to it. It shows it will include the combined forces from several Asian nations. It refers to this Asian confederacy as the "kings of the east" (Revelation 16:12). …

A prophecy in Ezekiel 38 gives us some of these important details. "And the word of the Lord came unto me, saying, Son of man, set thy face against Gog, the land of Magog, the chief prince of Meshech and Tubal, and prophesy against him" (Ezekiel 38:1-2). …

Scholars generally agree that "Gog" is Russia, and that "the land of Magog" includes China. The descendants of Meshech and Tubal have been found together throughout history. In Assyrian and Greek histories, Meshech appears as Musku, Muski or Mushki—all names related to the Russian spelling of Moscow, as you can read in the International Standard Bible Encyclopedia. What about Tubal? On the eastern side of the Ural Mountains lies the city of Tobolsk, named after the Tobol River, derived from Tubal. Tobolsk was once the seat of Russian government over Siberia and was basically considered Russia's Asian capital.
It is clear that this massive military force will be led by Russia. Ezekiel 38:5 states that it will include "Ethiopia and Libya." In this verse, these two names would more accurately be translated "Cush" and "Phut," as Young's Literal Translation, the Darby Bible and other translations correctly render them. History records that while some segments of the peoples of Cush and Phut settled in Africa, the rest migrated to India. The context of this passage shows that it refers not to African peoples, but mainly to modern-day Indians.
With India now depending more heavily on Russia, even at risk of damaging its relationships with the U.S., the stage is being set for India to take its place among "the kings of the east."
To understand more about India and the end-time Asian military force that is already in the early stages of unification, order your free copy of Russia and China in Prophecy.