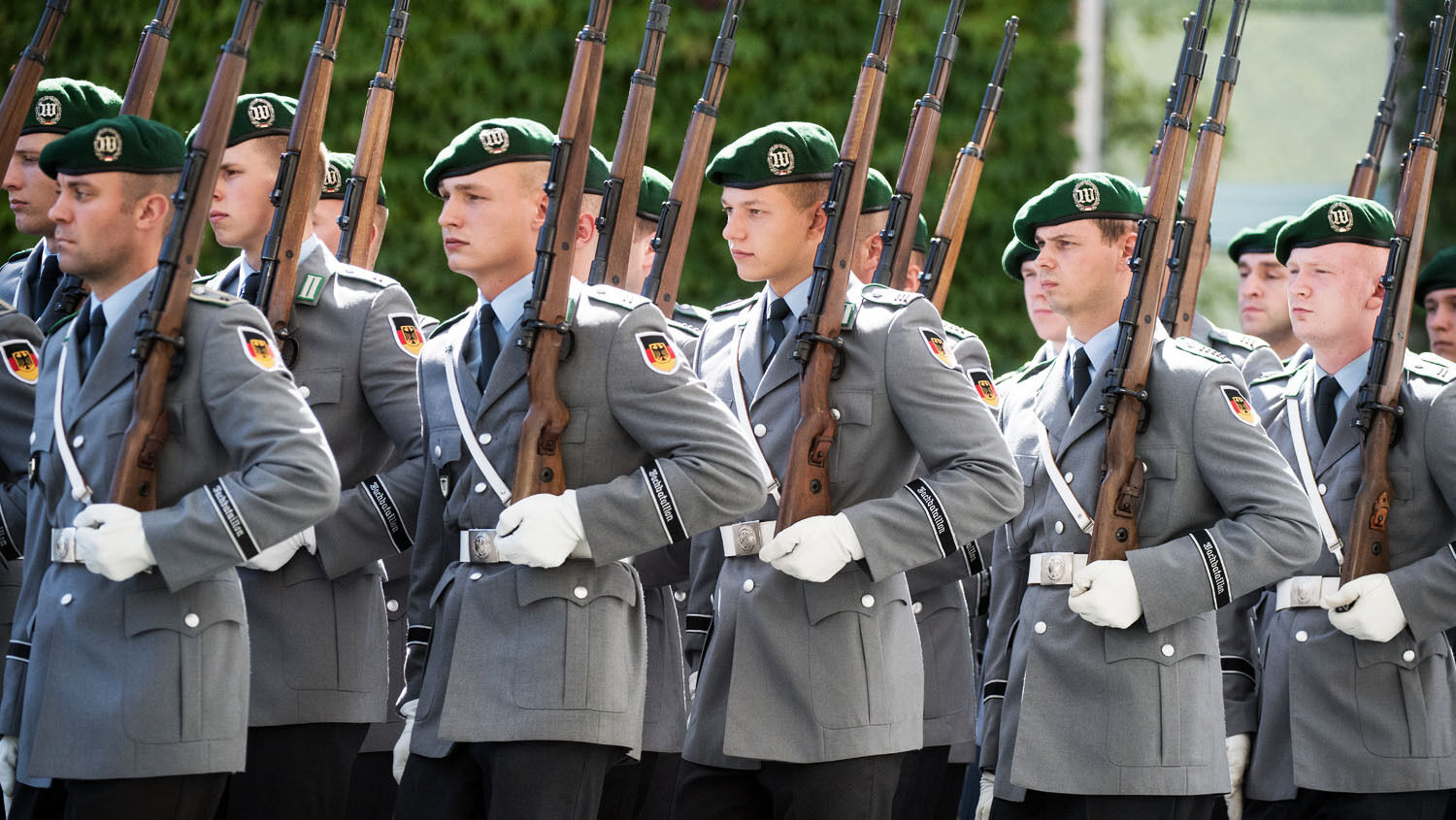 Thousands of Minors Join German Army
History has shown that if an army wants to get ahead, it has to start young.
The German Bundeswehr is recruiting increasingly more minors. Since 2011, the number of recruits under 18 years old has tripled. In 2017, 9 percent of new recruits were minors.
When Germany ended conscription in 2011, the Army had to start recruiting. To boost its numbers, it made provision for minors to join the Army. Since 2011, 10,000 have started their career at the Bundeswehr before reaching adulthood. Despite much criticism, the numbers of minors joining the Army have been on a consistent upward trend.
The Bundeswehr pursues the goal of recruiting "qualified young people interested in serving in the armed forces," the federal government stated in response to an inquiry by German leftist party Die Linke (Trumpet translation throughout). Other employees hire teenagers under 18, and the Bundeswehr should be no different, the government argues. Prolonged waiting periods, it claimed, would serve as a disadvantage for minors interested in a career with the Bundeswehr.
Reducing the recruiting age to 17 enabled the Army to attract thousands of minors it might otherwise have lost to alternative career paths.
After signing the Optional Protocol to the United Nations Convention on the Rights of the Child in 2004, Germany committed to excluding children from armed conflicts. However, the convention also decided that recruiting 17-year-old volunteers for training purposes would be permissible with parental approval.
But what used to be an exception is now becoming routine.
Offering various lucrative career paths, the Bundeswehr has risen to become Germany's third-most attractive employer, research institute Trendence has found.
Prior to 2011, Germany spent billions of euros on conscription. Then Defense Minister Karl-Theodor zu Guttenberg considered this to be a waste of money. His vision of transitioning to a professional volunteer army received widespread approval in the German Bundestag and became reality in July 2011.
With the end of conscription, Germany was again able to build a more professional military. TheTrumpet.com wrote at the time:
In many ways, scrapping the draft was a reasonable and logical decision, one that stands to benefit Germany and its allies. It will streamline the Bundeswehr into a more effective and efficient force, one capable of doing more both at home and in operations abroad. Moreover, it will save the government an estimated €8.3 billion a year.

But there is a dark side to this decision by Germany. To appreciate this angle, one must consider why military conscription was written into the German constitution and why Germany remained, till now, one of the last nations to practice compulsory military service.

In the 1950s, as the pall cast by the Soviet Union over Western Europe grew ominously larger, it became apparent that West Germany would sooner or later need an independent military. …

Bonn could have its own military, but conscription would ensure it would be comprised of citizens in uniform. By filling the Army with individuals from all walks of life, from various political and ideological backgrounds, the Bundeswehr would be immunized against ever becoming an institution comprised of like-minded, ideologically unified soldiers. Unlike a professional military, which is comprised primarily of volunteers cut from the same cloth, Germany's postwar conscription military would be a cross-section of German society.
Since 2011, the Bundeswehr has faced major challenges in recruiting new soldiers. An increasing demand for German soldiers in nato missions and foreign deployment raised the pressure on the Army. In 2017, Germany announced that it would increase the number of active soldiers from 179,000 to 198,000 by 2024.
History shows that, more effective than attracting like-minded soldiers, is starting young and creating a like-minded generation.
Seventy years after the end of World War ii, the Army again took on the challenge to inspire young people to join it. The Bundeswehr expanded its advertising campaign to reach both parents and minors.
Once young people are settled into their careers, it is often harder to reach them. For this reason, the Bundeswehr seeks to recruit them early. But there is more to it. When the new measures were introduced in 2011, the Trumpet compared the practices to those in the lead-up to World War ii. In "German Military—Starting Them Young," the late Ron Fraser commented:
This week while reviewing the 1974 bbc World War ii series The World at War, I noticed a segment filmed during the immediate pre-war years featuring the Wehrmacht encouraging parents to introduce their children to military weaponry at a very young age. It was stated that this was part of the design of German propagandists to condition the young, and their parents, to a military mentality in preparation for placing the nation on a war footing.

Thus it was that I was intrigued by a report from German-Foreign-Policy.com stating that the Bundeswehr is currently engaged in efforts to "win over parents to send their children to the Army. The online portal of the German Armed Forces writes that recruiting strategists are aiming their efforts more and more at even the personal friends of already active soldiers. The reason for this is the need of the German military to add to its ranks 'dramatic young blood,' a need which will be met with a package of extensive measures."
The Army's efforts are now paying off. In 2011, only 689 minors volunteered for the military services; in 2017, more than 2,000 were recruited, according to government data. The percentage of 17-year-old recruits grew from 4.7 percent in 2011 to 9 percent in 2017.
The Bundeswehr's advertisements on YouTube have attracted more than 64 million views. The Bundeswehr Exclusive YouTube channel has more than 330,000 followers. The Army offered "a six-week broadcast of Mali, a YouTube series centered on eight soldiers serving in the UN's peacekeeping mission in the West African country," Reuters reported.
The Bundeswehr is becoming an attractive career choice. It offers high-paying jobs, sponsored university training and lucrative foreign deployment. For many 17-year-olds who view their chances of a professional career to be limited, the Bundeswehr is an attractive option. Reuters recounted the story of one who joined the Army at a young age:
When Marlon finished high school in Germany, a military career seemed far more appealing than working on a car production line. …

"I wanted to experience something and to get to know my own limits, to see how far I can go," Marlon, who asked for his last name not be used, told Reuters at a base in Viereck, near the Polish border in northeastern Germany.

"The Bundeswehr today is a volunteer army. … Therefore, it must approach young people to win them over," a spokeswoman for the personnel management department at the Bundeswehr said.

Before signing up, Marlon said he browsed the Army's website and watched a series of YouTube videos.

He needed his mother's consent to join because he was under 18, but she was happy to give it and is now pleased her once-messy son has become more organized, Marlon said.
Germany's inclusion of minors in its army is typical for modern Western militaries. Both Britain and America allow minors to join their militaries under certain circumstances. But for Germany this shift to actively advertise and promote the Army, especially to young people, is important. Because of its history of starting two world wars, Western powers had limited its army. Now that limitation has been lifted. As we wrote in February:
Postwar Germany has been loath to show too much pride in its military and has been slow to engage in military conflict. But the popularity of programs like Die Rekruten and the fact that more and more young Germans are joining the Bundeswehr indicate that Germany's relationship with its military is clearly evolving. This is a trend we need to watch. …

If you're paying attention, you can see that major change is underway in Germany. The nation faces a number of growing domestic and foreign threats (Russia, migrants, Europe's economic woes, a potential U.S. financial downturn). The German public is growing more unsettled, anxious and frustrated. Germany's mainstream leaders are proving inept and inadequate. Meanwhile, the international community is pressuring Germany to play much more of a leadership role in world affairs, politically and militarily.

Take a close look and you'll see that Germany is quietly but quickly changing. The fact that gun sales are soaring and young Germans are swooning over the Bundeswehr, I think, is evidence of this change. In his program ["The Hidden Superpower"], Mr. Flurry warned: "The world doesn't see what is brewing in Germany and Europe!"
To learn more about what is developing in Europe, watch Trumpet editor in chief Gerald Flurry's Key of David program "The Hidden Superpower."