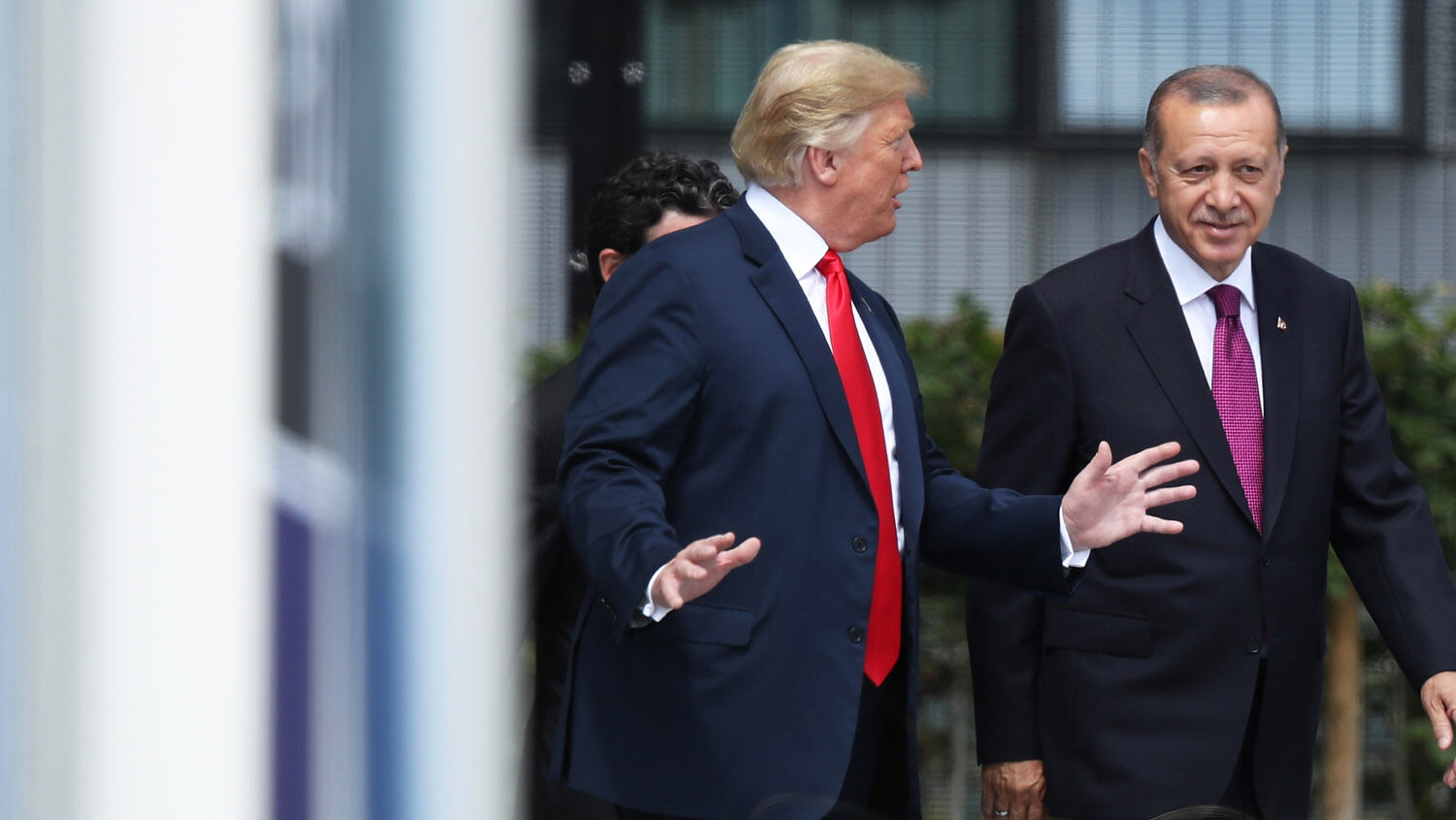 The End of the United States-Turkey Alliance?
A struggle over an American pastor reveals the new reality of Turkish-American relations.
"And to President Erdoğan and the Turkish government, I have a message on behalf of the president of the United States of America," Vice President Mike Pence told attendees at a Ministerial on Religious Freedom at the State Department on July 26. "Release Pastor Andrew Brunson now or be prepared to face the consequences."
Brunson, an American citizen, had worked in Turkey for two decades as part of his Christian mission. He was arrested in 2016 by Turkish authorities as part of a nationwide purge of so-called conspirators in the failed coup attempt to oust President Recep Tayyip Erdoğan from power. Since that time, the State Department, executive branch and several senators have repeatedly petitioned the Turkish government to release Brunson, calling his indictment bogus.
However, the Turkish government, which now largely represents the personal will of Erdoğan, has refused to budge and is trying to use Brunson as a bargaining chip in its quest to coerce the United States into extraditing Fethullah Gulen, a moderate Turkish figure living in exile in Pennsylvania and whom Erdoğan blames for orchestrating the 2016 coup.
The Trump administration, which is not prone to backing down, has only increased the pressure, following through on the statement by Vice President Pence.
On August 1, the Treasury Department moved to prevent Americans from doing business with Turkey's ministers of justice and interior, both of whom the U.S. accused of "serious human rights abuses." In announcing the sanctions against Justice Minister Abdulhamit Gul and Interior Minister Suleyman Soylu, U.S. Treasury Secretary Steven Mnuchin said that Brunson's "unjust detention and continued prosecution by Turkish officials is simply unacceptable."
Given the limited ties the two ministers have to the United States, the sanctions will have limited affect on them, let alone Erdoğan and his government. However, the symbolic move of one nato member country sanctioning such high-level officials of another is an indication of the escalating nature of the crisis. Instead of complying with American demands, the Turkish foreign minister called the move an assault on Turkey's legal system.
Erdoğan said he would get even. And so on August 7, Stars and Stripes reported that a group of pro-government lawyers in Turkey filed charges against several U.S. officers at the Incirlik Air Base, accusing them of ties to terrorist groups, similar to the charges lodged against Brunson.
Three days later, on August 10, U.S. President Donald Trump increased the pressure further by announcing a doubling of tariffs on both steel and aluminum imports from Turkey.
The latest move came on Tuesday when the United States signed into law a massive defense policy bill, part of which will hold up the transfer to Turkey of 100 new F-35 fighter jets. Hawks in the United States, who have long worried about the authoritarian, Islamist direction of tErdoğan's government, have wanted to delay delivery of the jets, as it would have made Turkey the third-largest operator of F-35s in the world. The spat over Brunson was the perfect excuse.
At the time of this writing, Pastor Brunson is still not released, though there are rumblings a deal might be in the offing.
Regardless of whether Brunson is released, many commentators believe that the relationship with the U.S. is destined to wane. Bloomberg wrote on August 10:
There are only two ways that the diplomatic rift between the U.S. and Turkey can end: a compromise that salvages the relationship as best possible or a complete rupture with devastating consequences both for Turkey's economy and America's regional strategic interests. Either way, there is no going back to the way things were.
This flare-up between Turkey and the West was only a matter of time given Turkey's increasingly Islamist society and Erdoğan's now unfettered dictatorial powers. Last month, constitutional changes were passed in Turkey that will make it possible for Erdoğan to rule until 2029. The U.S. and Turkey were clearly on a collision course.
More surprising is the response from other Western nations to the crisis. Instead of supporting the U.S., they are rolling out the red carpet for Turkey's strongman—in some cases literally.
Writing for the New Republic on August 9, Elmira Bayrasli opined that the U.S. has far less leverage with Turkey than most think, especially considering trade between the U.S. and Turkey is only about 10 percent of what it is with the European Union—a European Union that is increasingly anti-American (though it is cloaked in anti-Trump rhetoric). Secondary sanctions are always possible as leverage, but Europe would fight those sanctions much harder than it did against U.S. sanctions on Iran. In fact, the mutual disdain for the U.S. has given Erdoğan options. Bayrasli wrote:
As Trump alienates Europe, Turkey has used the opportunity to renew relations with its neighbors. The abandonment of the Iran nuclear deal is certainly a unifying point between Brussels and Ankara. Both capitals are eager to keep the Iran nuclear deal—the Joint Comprehensive Plan of Action (jcpoa)—alive, with Iranian oil accounting for nearly half of all Turkish imports in the first half of 2018. At Angela Merkel's invitation, Erdoğan will pay a state visit to Germany in September. Meanwhile, Erdoğan is organizing a summit with France, Germany and Russia to discuss Syria. He has also restored relations with the Netherlands, which had gone off the rails last year.
That America is having a quarrel with Turkey is hardly surprising.
More surprising is what this spat says about Europe's relationship with the United States.
By continuing as per usual with Erdoğan, European nations are siding with the Islamist dictator rather than supporting the U.S. in its moral stand regarding Brunson specifically and regarding Erdoğan ultimately.
Though Erdoğan's economy is in dire straits, he is aware of other economic relationships available to him. Over the weekend, the New York Times became the mouthpiece for the Turkish regime by publishing an opinion piece by Erdoğan himself. In it, Erdoğan threatened to develop relationships with others, writing:
At a time when evil continues to lurk around the world, unilateral actions against Turkey by the United States, our ally of decades, will only serve to undermine American interests and security. Before it is too late, Washington must give up the misguided notion that our relationship can be asymmetrical and come to terms with the fact that Turkey has alternatives. Failure to reverse this trend of unilateralism and disrespect will require us to start looking for new friends and allies.
The truth is, Erdoğan has long been looking for new friends and allies, friends who are enemies of the U.S., such as Russia and Iran. Now, governed by realpolitik and an anti-American bias, Europe too is showing its willingness to align with Turkey.
For readers of the Trumpet, a closer relationship between Europe and Turkey, at the expense of the U.S., is unsurprising. Based on a prophecy in Psalm 83 and explained in our Trend article "Why the Trumpet Watches an Alliance Between Arab Nations and Europe," we have long expected Europe to align itself with Turkey and other Middle East nations. As related in the psalm, this alliance forming right now before our eyes as evidenced by the Brunson debacle, is an anti-American, anti-British and anti-Jewish alliance.
To make sense of where this fractured relationship with Turkey is leading and how it will affect you, please watch Trumpet editor in chief Gerald Flurry's Key of David program titled "Turkey Is Going to Betray America."