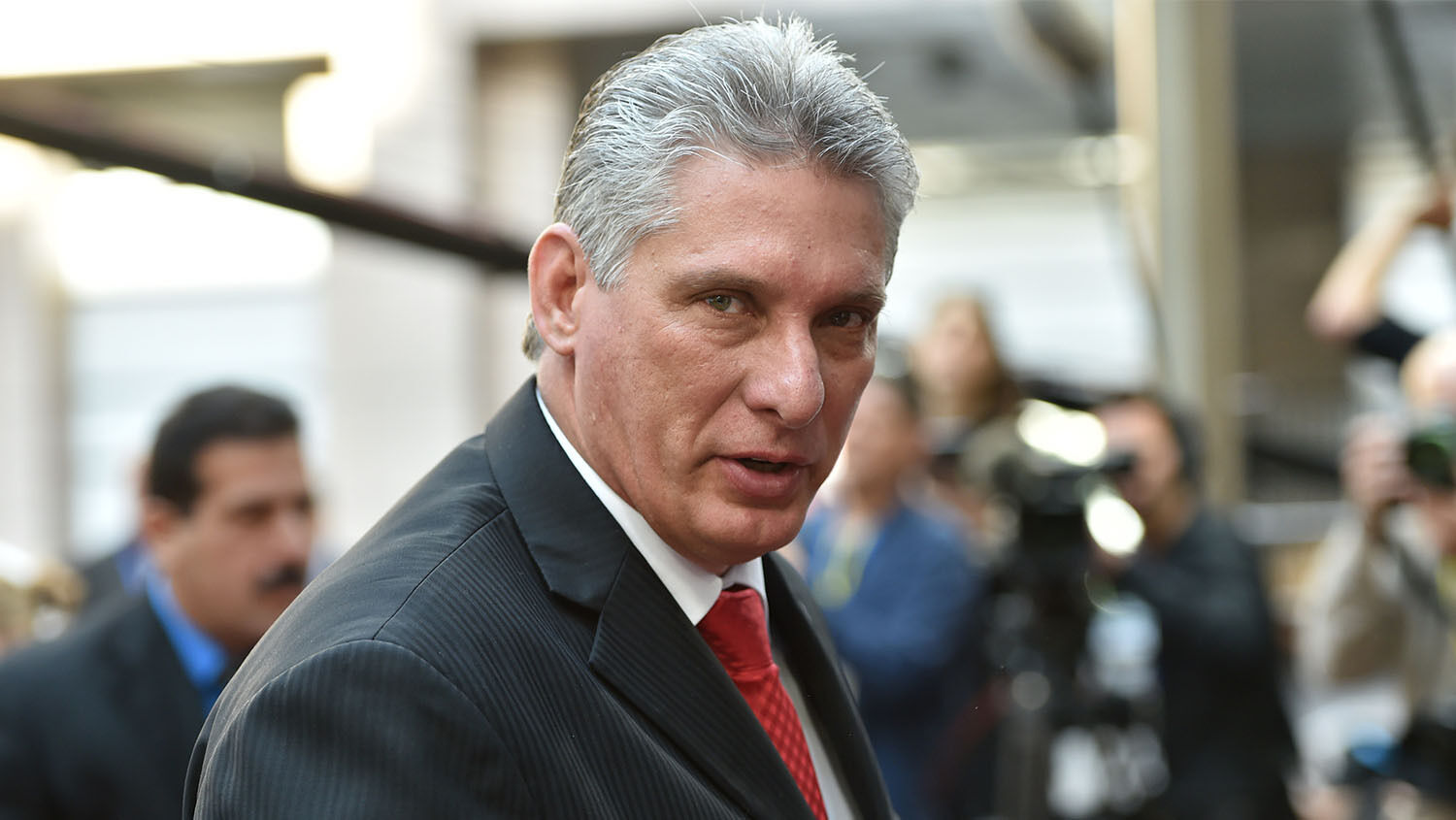 Will Cuba's Newest Dictator Open the Door to Europe?
Miguel Díaz-Canel Bermudez could bring Europe to an island 100 miles from the United States.
First Vice President Miguel Díaz-Canel Bermudez succeeded Raúl Castro on April 19 to become president of Cuba. Díaz-Canel, who was groomed for leadership by Castro, is the first man besides Castro and his predecessor and brother, Fidel Castro, to preside over Cuba since the Communist Revolution in 1959. Raúl Castro retains his position as first secretary of the Communist Party of Cuba, the most powerful position in the nation.
Díaz-Canel takes over after 60 years of Communist rule has crumbled the nation's economy, leaving millions starving in the streets. While the gross domestic product of other Caribbean nations have doubled, tripled or (in Puerto Rico's case) quadrupled in that time, Cuba's has barely changed.
Restrictive state management and hostility to the free market economy have crippled the nation.
This leaves Cuba in a desperate position. Meanwhile Europe continues to consolidate and increase its power and once again is seeking to project power in the New World.
Ever since Christopher Columbus first set foot on its soil, Cuba's direction has been shaped by European design. For most of its 500-year history, the island has had a strong Catholic presence on the island. This influence has everything to do with Cuba's present situation.
Estimates on the number of Catholics in Cuba vary between 50 percent and 70 percent of the total population. In 2015, Pope Francis traveled to Cuba and met with Castro. This was the third visit by a pope since the Communist Revolution. The time Francis spent in Cuba was marked not only by crowds of people flocking to see him, but also talk of "reconciliation." Shortly after the papal trip, representatives from the United States and Cuba met in the Vatican—at the pope's personal invitation—to negotiate a reconciliation between the two nations.
Suggesting Communist Cuba could return to its Catholic roots is not absurd. Even Castro has said he may yet "return to the faith."
Reconciliation to the church brings stronger ties to Europe—culturally, socially and economically.
Top European Union diplomat Federica Mogherini traveled to Cuba on January 3 to strengthen the economic and political ties binding the two governments. She praised the burgeoning cooperation between the EU and Cuba, saying that Europe was now the island nation's number one trading partner.
"The EU has become Cuba's first trade partner and was already the first in investment and development cooperation … which means it is possible to increase the level of economic relations and investments," she told the Cuban press. The changing of the guard and a step away from the Castros' historical baggage could open the door to further rapprochement.
This development supports the Trumpet's years-long forecasts. In early 2003, Trumpet writer Ron Fraser suggested just such an arrangement would eventually come to pass. At that time, such trade deals between the two were in their infancy.
Speaking of the area in general terms, he wrote, "Catholic Latin America will inevitably return to its roots and join in a trade alliance with the most dominant economy outside the U.S., the EU. With few exceptions, revival of religion has largely brought social, if not yet economic, stability to Latin America following decades of revolution and counterrevolution. Latin America is a plum ripe for timely plucking by the European colossus."
If Díaz-Canel continues the economic reforms started by Castro in 2011, it may be much easier for Europe to develop trade with and invest in Cuba. This would give a developing European superstate a strategic foothold on the shelf of the North American continent.
This has major ramifications for America's security. As the Trumpet wrote last year:
The majority of all U.S. waterborne foreign trade travels to or from U.S. ports on the Gulf of Mexico. When you include goods traveling through the region from other ports, no other part of the world is more essential to America's trade.
Trumpet editor in chief Gerald Flurry warned in his article "The Deadly Dangerous U.S.-Cuba Deal":
We need to watch this carefully, because Bible prophecy shows clearly that America, Britain and the Jewish nation are in grave danger and will be double-crossed by a reconstituted German-led Holy Roman Empire.

How will this happen? I think Cuba could be a significant part of the strategy. …

The Bible prophesies of a deadly economic siege that is going to strike America. It is one third of the terrifying damage that will be suffered in the Great Tribulation. That siege is about somebody controlling "trade routes"—so it is not difficult to see how Cuba could play a strategic role in that.
For more on the importance of this region, read "The Deadly Dangerous U.S.-Cuba Deal."