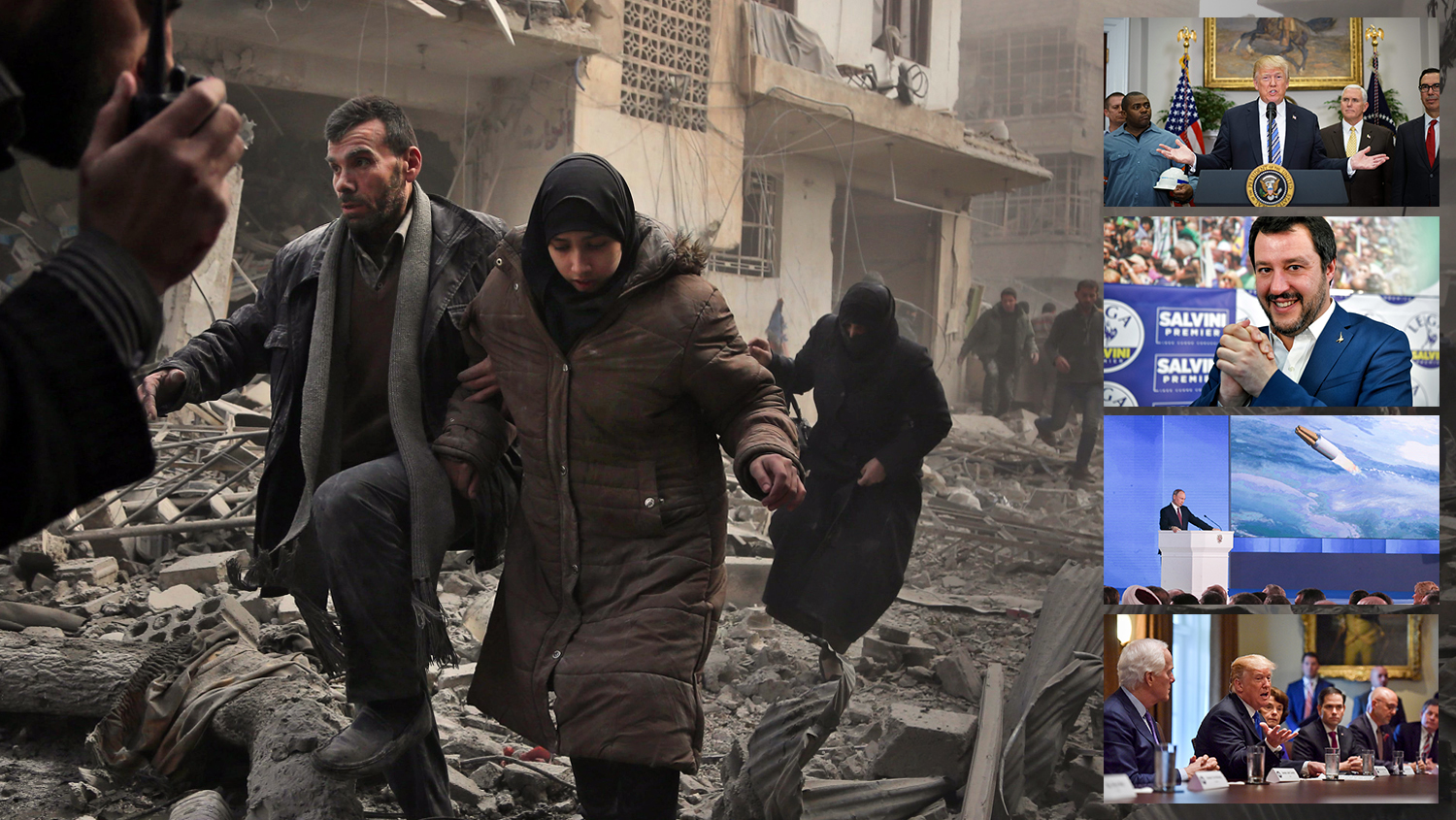 This Week: Five Events You Need to Know (March 11)
Russia's hypersonic nukes, 'apocalypse' in Syria, 'revolutionary turn' in Italian politics, and more
Here are five of the most important news stories this week, as well as relevant links to the full articles and videos here on theTrumpet.com.
During his annual state-of-the-nation address, on March 1, Russian President Vladimir Putin said that his country's military has developed delivery systems for nuclear weapons that can evade all existing missile defenses. As he discussed the new weaponry, a giant screen showed a simulation of nuclear missiles raining down on the American state of Florida.
When Russia first warned about such weapons, "nobody wanted to listen to us," said Putin. "So listen now." His upgrades of Russia's nuclear arsenals are motivated by his goal of boosting Moscow's power, challenging the West, and posturing Russia as a power to be feared.
According to the United Nations High Commissioner for Human Rights, Zeid Ra'ad al-Hussein, the civil war in Syria has "entered a new phase of horror."
Zeid said in his annual report to the UN Human Rights Council on March 7: "[N]ext month or the month after, it will be somewhere else where people face an apocalypse—an apocalypse intended, planned and executed by individuals within the [Syrian] government, apparently with the full backing of some of their foreign supporters."
How will the Syrian crisis end?
In Italy's general election on March 4, voters rejected mainstream politics and voted instead for fringe parties which, in most countries, would have been considered too extreme to have a major role in a government. The Telegraph's Ambrose Evans-Pritchard called it a "revolutionary turn in Europe's postwar history."
Matteo Salvini, the leader of one of those parties, said, "It is 'No' to Berlin, 'No' to Paris, and 'No' to Brussels: Italians are going to decide for Italy from now on." If Italy's fringe parties get what they want, they risk piling almost all of Europe's separate crises into one towering inferno.
During his 2016 election campaign, Donald Trump talked a lot about reducing America's trade deficit and promoting United States manufacturing. One of his campaign slogans was "Buy American, hire American." More recently, Mr. Trump announced that he would soon put a tariff on steel and aluminum imported from China and hinted that he was prepared to tax vehicles imported from Europe.
President Trump's remarks infuriated China, Germany and most of the industrialized world, and triggered countless articles about a massive global recession and inevitable global "trade war."
United States President Donald Trump stunned congressional lawmakers on February 28 when he embraced gun-control measures that are opposed by the National Rifle Association and the majority of the Republican Party.
During a televised meeting with lawmakers on gun violence, President Trump called for comprehensive gun-control legislation that would alter school security, expand background checks, and restrict gun sales to young adults and the mentally ill.
Will that be enough to make our schools safe again?
"This Week" appears every Sunday. To receive an update on our latest stories in your inbox ahead of time every Friday afternoon, subscribe to the Trumpet Brief daily e-mail. Sign up by clicking here or by visiting theTrumpet.com home page.