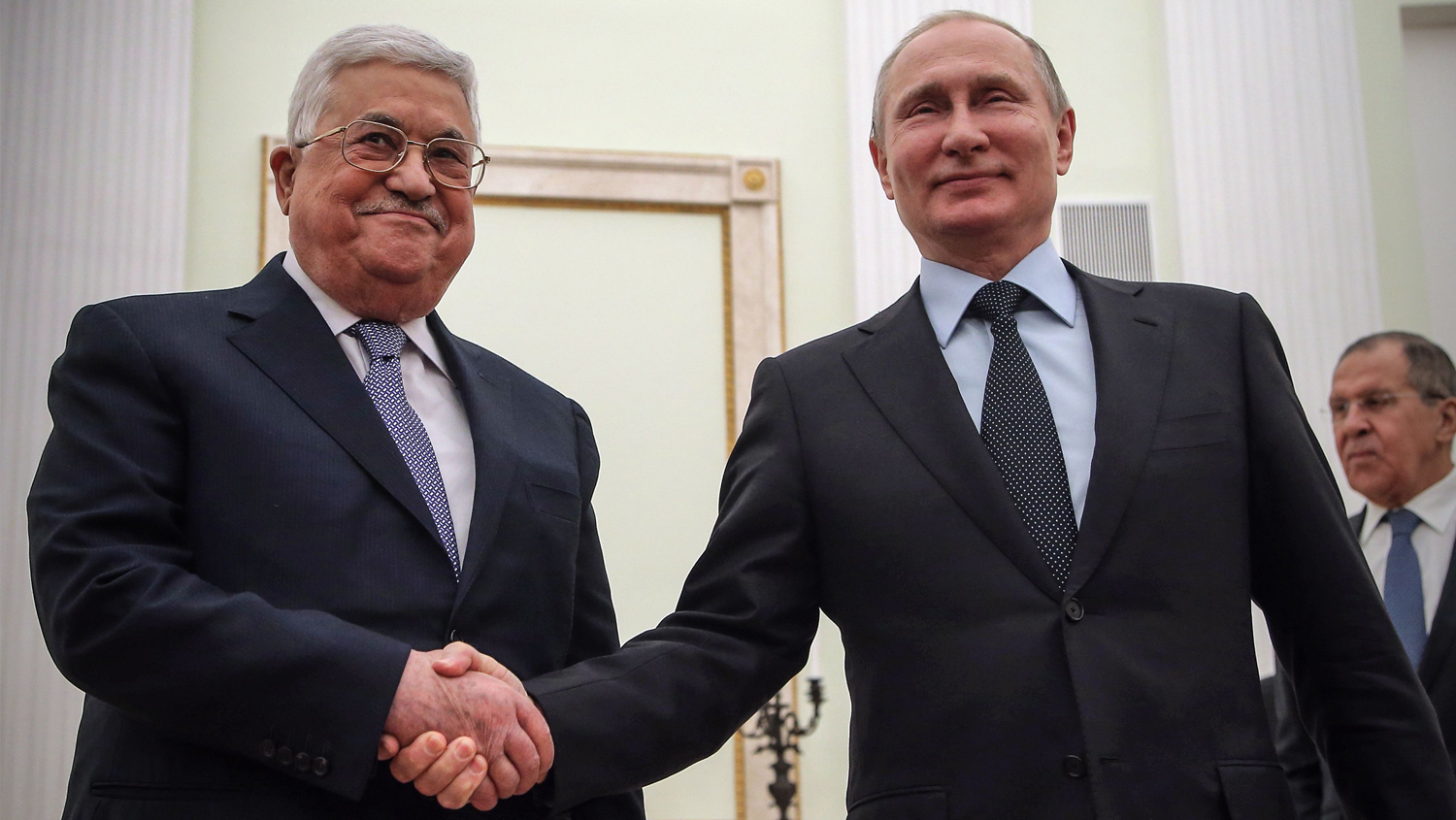 Palestinians Invite Russia Into the Peace Process
Palestinian Authority President Mahmoud Abbas met Russian President Vladimir Putin on February 12. Abbas asked for help in creating a new way of negotiating peace between Israelis and Palestinians, according to Palestinian Authority (PA) officials.
"President Abbas announced that for Palestinians, the U.S. is not welcome to play the role of a broker because of its bias towards Israel," PA officials said. "At the same time, we remain committed to the peace process and wish to resume it and achieve a two-state solution."
United States President Donald Trump's announcement recognizing Jerusalem as Israel's capital and his administration's threat to cut funding to the PA has pushed it to replace U.S. involvement. It now seeks Russian and European involvement.
Abbas told Putin: "It was a slap in the face for us. I mean his decision to move the U.S. Embassy to Jerusalem and, therefore, to recognize the united Jerusalem as the capital of Israel."
The PA is pushing for the Middle East Quartet to lead negotiations between Palestinians and Israelis. This group includes the United States, the United Nations, the European Union and Russia.
President Putin passed on President Trump's "best wishes" to Abbas at the start of their meeting. "It is very important for us to know your personal opinion in order to set the record straight and put in place a common approach to solve this problem," Putin said.
Abbas responded: "We refuse to cooperate with the Americans as cosponsors."
Although Russia has not explicitly unveiled a confirmed peace plan, Russian Foreign Minister Sergey Lavrov said on Dec. 19, 2017, "We will be doing all we can with the aim to return the situation to the constructive track, which would promote the beginning of negotiations (between both sides of the conflict), and to ensure no party take unilateral steps predetermining a final settlement."
The Bible forecasts in Hosea 5 and Psalm 83 that the reliance of the Israelis and the Palestinians on America will cease. "When Ephraim saw his sickness, and Judah saw his wound, then went Ephraim to the Assyrian, and sent to king Jareb: yet could he not heal you, nor cure you of your wound" (Hosea 5:13). In his article "The Profound Secret of an Ancient Prophecy," Trumpet editor in chief Gerald Flurry wrote that "modern Ephraim and Judah are prophesied to go to a nation known for its history of starting wars—including wars against Britons and Jews!" This is not the United States; nor is it Russia.
Mr. Flurry wrote in a 1996 article "Daniel 11:40-41 in Embryo Now" that "Europe is moving not only to be a cosponsor in the peace process—they want to gain control of it!"
Although Russia will not be the mediator of the peace process, the Palestinians' move to seek Russian involvement shifts power away from the U.S.
To understand what the Bible says about the deadly peace process, read "Can Europe Broker Peace in the Middle East?" and Chapter 2 of Mr. Flurry's booklet Jerusalem in Prophecy, "Israel's Deadly 'Wound.'"