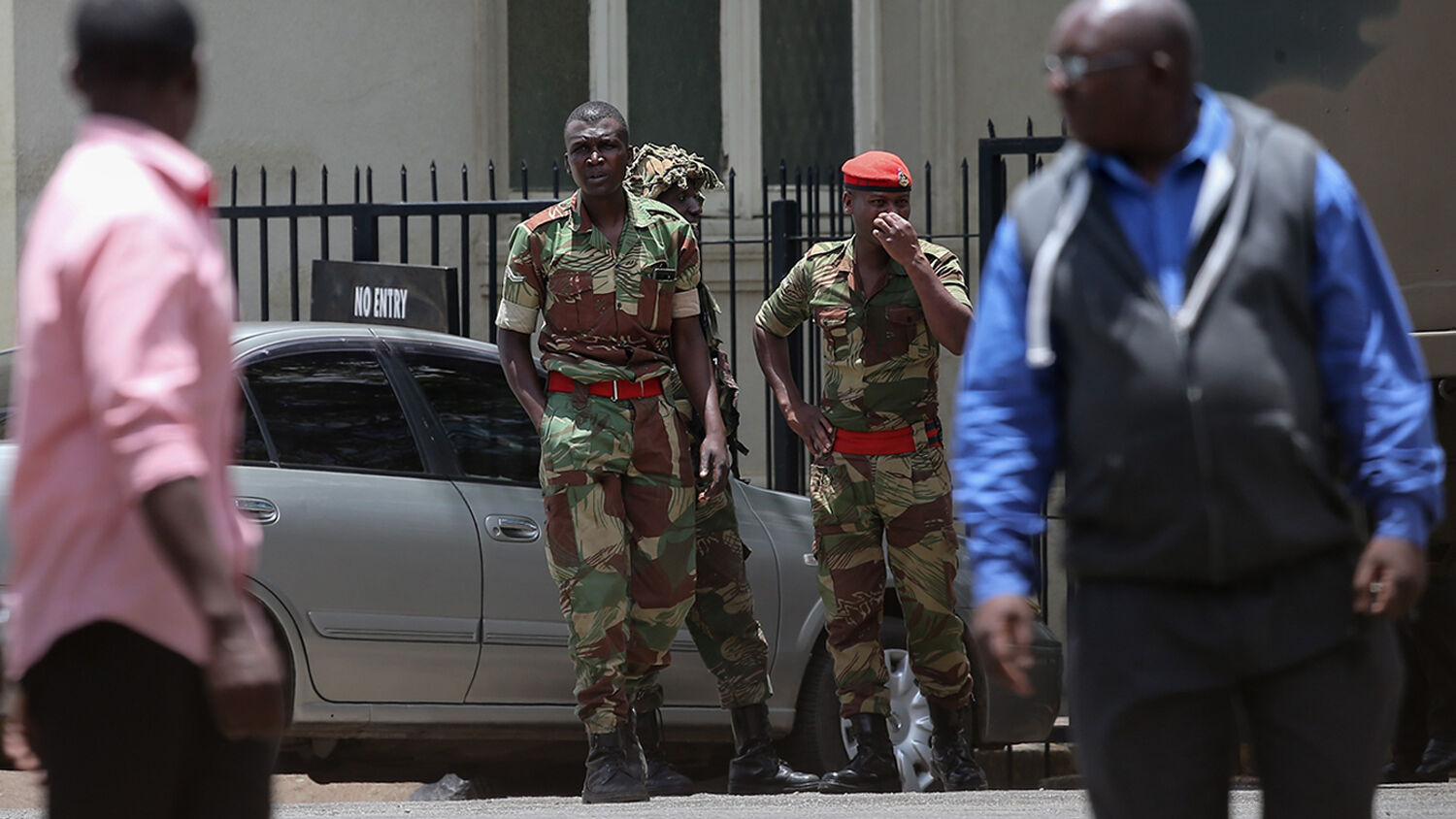 Who's Behind the Coup in Zimbabwe?
The general who just arrested Robert Mugabe may have the approval of Africa's newest imperial power.
Zimbabwe's military seized control of the southern African nation on Wednesday, placing President Robert Mugabe under house arrest and deploying armored vehicles in the streets of the capital. After soldiers overran the headquarters of the Zimbabwe Broadcasting Corporation, Maj. Gen. Sibusiso Moyo went on national television to justify the military's actions as a necessary step in defending the existing regime.
"Firstly we wish to assure our nation, his excellency the president of the republic of Zimbabwe and commander in chief of the Zimbabwe defense forces, comrade R.G. Mugabe and his family, are safe and sound and their security is guaranteed," he announced. "We are only targeting criminals around him who are committing crimes that are causing social and economic suffering in the country in order to bring them to justice. As soon as we have accomplished our mission we expect that the situation will return to normalcy."
Nothing like this coup has happened in Zimbabwe since Mugabe took power in 1980. Yet the tensions that led to this military seizure of power have been building for at least three years.
When Robert Mugabe's wife and former mistress, Grace Mugabe, began positioning herself as her husband's potential successor in 2014, Zimbabwe's military elite expressed strong disapproval. The former chairman of the Zimbabwe National Liberation War Veterans Association scolded party members of the Zimbabwe African National Union—Patriotic Front (zanu-PF) for "plotting a bedroom coup" and warned Grace Mugabe that "power is not sexually transmitted." To prevent her from taking over the nation, Zimbabwe's military elite coalesced around Vice President Emmerson Mnangagwa.
Mnangagwa was an early supporter of Robert Mugabe's rebellion against the Rhodesian government. He led a group of guerilla fighters to Communist China for military training in 1963 and later earned himself a fearsome reputation as the leader of "the Crocodile Gang." After Mugabe came to power, Mnangagwa helped him rig elections and massacre more than 10,000 black Ndebele civilians.
Because Mnangagwa threatened the chances of Mugabe's wife becoming the next ruler of Zimbabwe, the 93-year-old president removed him from the vice presidency on November 6. According to a Daily News report, Mnangagwa fled to China within hours of his dismissal. Zimbabwe's army chief of staff, Gen. Constantine Chiwenga, followed Mnangagwa to China and met with Chinese Defense Minister Chang Wanquan.
After returning to Zimbabwe, General Chiwenga warned President Mugabe to stop purging people from Zimbabwe's ruling zanu-PF party, or the military would intervene.
"We must remind those behind the current treacherous shenanigans that when it comes to matters of protecting our revolution, the military will not hesitate to step in," Chiwenga said on November 13.
The zanu-PF party responded the next day with a statement accusing General Chiwenga of treason. He retaliated the next day by arresting the president and deploying armored vehicles in Harare.
Robert Mugabe is holding talks with South African negotiators about his future, but his exit from power is almost a done deal. The military is now working to install Emmerson "the Crocodile" Mnangagwa as the head of a transitional government that will lead Zimbabwe until its next election.
Many Zimbabweans are ecstatic that Mugabe's 37-year rule has finally ended, but there is still a lot of uncertainty about where the country will go from here. The two key players in this drama are the Zimbabwean military and the Chinese politburo.
The Chinese government denied allegations that it helped General Chiwenga plan this coup. Yet during the general's visit to China last week, the chief of the Joint Staff Department of China's People's Liberation Army assured him that "China and Zimbabwe are all-weather friends." In return, General Chiwenga told his host that Zimbabwe was "willing to deepen exchanges and cooperation in all fields with China to promote the rapid development of bilateral state and military relations between the two countries."
In spite of its political and financial woes, Zimbabwe is rich in mineral resources such as diamonds, platinum and other rare metals—commodities that resource-hungry China is trying to snap up.
"When it comes to China's extraordinary grab for the natural wealth of Africa, the Chinese keep their eyes on the prize," the Providence Journal stated in a 2006 article. "No hand is too bloody to shake. No genocidal lunatic too awful for an embrace. And nobody will be turned down in ordering, with special credit facilities, weapons for oppressing civilian populations. China is securing the wealth of Africa for itself from Sudan to Zimbabwe, with tentacles reaching into South Africa. A plethora of heads of failed states could not be happier. Never has one country set out to secure the treasure and allegiance of a whole continent the way China is now doing in Africa."
Watch for competition over Africa's resources to heat up as China positions itself as the leader of a trade bloc in the developing world. China is spreading its reach far beyond its borders—the same way aspiring empires have behaved throughout history.
This has led to a massive increase in Chinese involvement in Africa, as we wrote in our free book Russia and China in Prophecy:
China overtook the U.S. as Africa's top trade partner in 2009. By 2013, bilateral trade between China and Africa reached $210 billion. China is now helping to build railroads, roads and airports to link every African country. Some have raised concerns over China's rapid invasion into Africa, calling the Chinese "the new imperialists." Some debate whether China is genuinely trying to stabilize Africa or just selfishly exploiting its natural resources. …

And Beijing exhibits none of the qualms that many Western nations have over doing business with corrupt, authoritarian, dictatorial, even genocidal regimes. It doesn't sermonize—it just floods other nations with cash, workers, infrastructure, weapons and whatever else they need. Usually, it leaves with resources. And in some cases, it leaves behind a political mess.

Look at what is happening here. China's meteoric growth and aggressive chase for resources are forcing the issue on the rest of the world.

Ethical hang-ups, anemic ambition, bureaucratic sluggishness—these factors are starting to leave other nations out in the cold in the intensifying contest over Earth's wealth. China has upped the ante. Its success—in what could be viewed, at this stage, as soft imperialism—obliges other nations that want to remain competitive to step up. You can already see it happening.

This is what makes these trends so prophetic.
The Bible clearly prophesies of a rising China—and that this rise will bring it into conflict with other aspiring powers. For more on this, read our article "The Battleground."