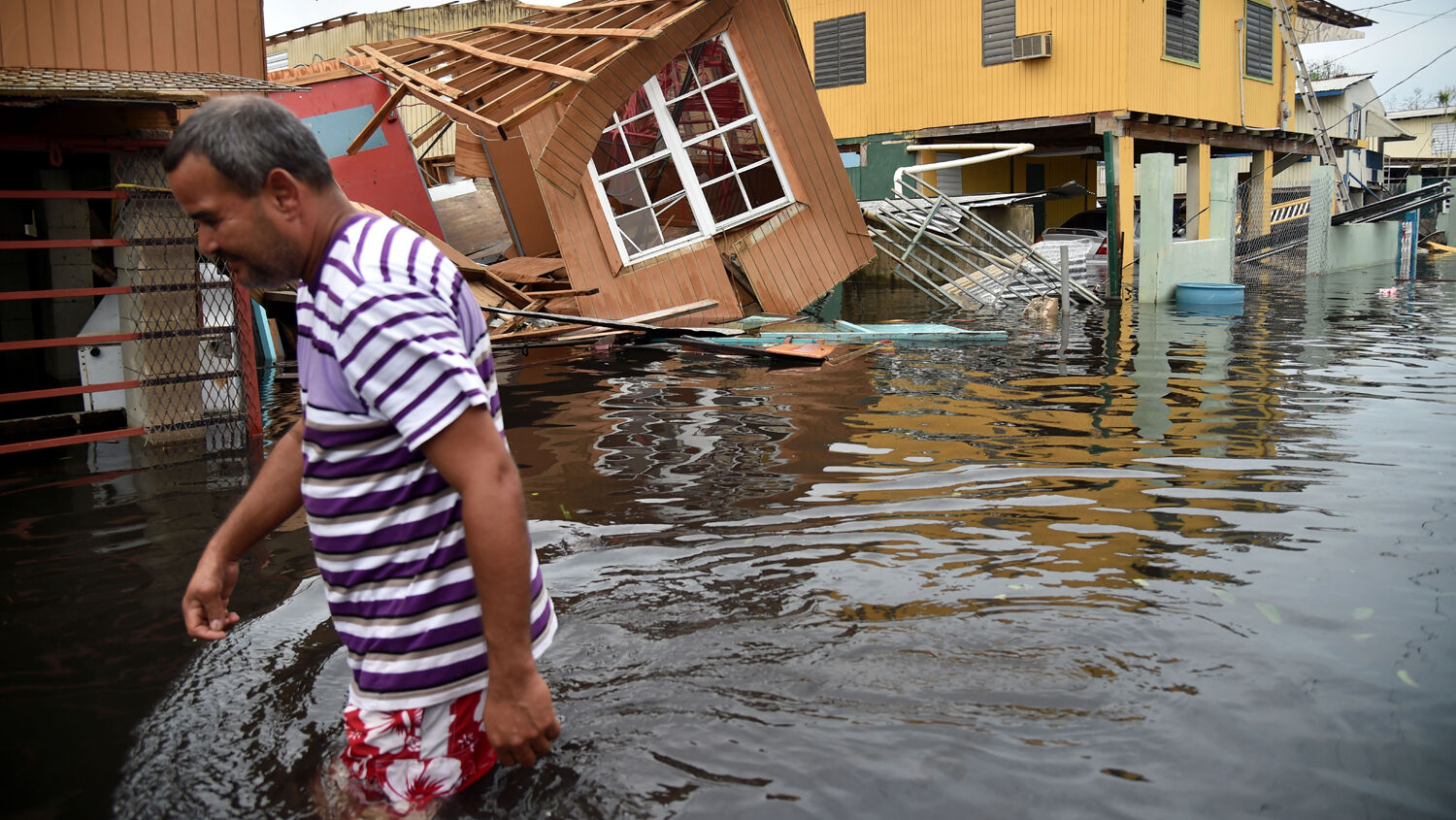 Puerto Rico Devastated After Hurricane Maria
Island's strongest storm in 90 years leaves behind despair and hysteria.
Puerto Rico remains devastated after Hurricane Maria, the strongest storm to strike the island in almost 90 years, tore through on September 21 as Puerto Ricans were still recovering from damage inflicted by Hurricane Irma two weeks prior. The storm killed about a dozen people in the United States territory, and in its aftermath, the surviving 3.4 million residents have been left with a "postapocalyptic" feeling.
Measuring the Damage
Agriculture: The Category 4 storm obliterated vegetation on the island, stripping trees of their leaves and even bark and destroying crops of plantains, bananas, coffee plants, yams and other produce, as well as capital for livestock. Puerto Rico Resident Commissioner Jenniffer González estimated that storm damage has set Puerto Ricans back 20 to 30 years and said, "The island's greenery is gone."
"It was as if a 50- to 60-mile-wide tornado raged across Puerto Rico, like a buzz saw," Vox quoted National Center for Atmospheric Research meteorologist Jeff Weber as saying. "It's almost as strong as a hurricane can get in a direct hit."
Infrastructure: The island's power grid is in ruins, and only a few buildings and other assets have electricity thanks to back-up generators fueled by gasoline. Electrical lines to the homes of roughly a million people were knocked out after Hurricane Irma. Now, in Hurricane Maria's aftermath, a majority of buildings on the island have no electricity, including some hospitals.
In addition, about 85 percent of the island's cell phone towers are inoperable, and most residents have been unable to communicate with each other or with the outside world.
Other cities and countries are sending rescuers and supplies to Puerto Rico, but damage to ports and airports is delaying their arrival. Even before the storm, Puerto Rico had poor infrastructure, and now much of that has been obliterated. Federal Emergency Management Agency administrators say that U.S. military aircraft are dropping food and water to the parts of the island that are still isolated.
According to the National Weather Service, as of Saturday, Puerto Rico had received 38 inches of rain. Now the Guajataca Dam has become a major hazard. Water has been pouring out of the dam, threatening neighborhoods in the valley below, and officials have asked thousands of people to evacuate the area for fear that the dam will rupture and flood nearby communities.
Crime: With the streets and shops in ruin, looters are shattering windows and breaking into buildings to steal items from homes and businesses. Shelves at several gas stations have been emptied by thieves who are especially active during the island's curfew hours. Gas station owner Hector Velez told the Daily Beast, "It breaks my heart, but I need to be calm about this. I can't believe how people are so harsh. Is this nobody's land now?"
With the entire island devastated, Puerto Ricans are vulnerable to crime, and some have told reporters that the streets there are not safe.
Water: Clean water is now a rare commodity for half of the island's population. cnn reported that none of the hospitals it visited had running water, and their stock of supplies would last for only a few days. Hospital staff are crying out for help as space, supplies and morale are quickly running out. A cardiovascular surgeon told a reporter that not all patients had been evacuated and that "without air conditioning, the walls of the operating room were dripping with condensation and floors were slippery."
Economy: Puerto Rico's economy has struggled for the past decade and was suffering 11.5 percent unemployment this summer. Its poverty rate was 45 percent. On May 3, the territory's government declared the largest municipal bankruptcy in U.S. history, defaulting on $70 billion. Then came Irma. Then came Maria.
cnn quoted Chuck Watson from Enki Research as estimating the damage of Hurricane Maria at tens of billions of dollars:
[He] expects that Puerto Rico will face $30 billion in total damages—$20 billion in physical damages (both insured and uninsured) and $10 billion in lost economic productivity. But even that level of damage would take a massive toll on Puerto Rico's $103 billion economy, since it represents roughly 30 percent of the territory's gdp [gross domestic product]. The longer Puerto Rico is without power, the worse the situation will be, Watson said. "If it takes six months to get the grid back online, you're getting more economic impact than physical impact," Watson said. His current model assumes that it will take three months for 90 percent of Puerto Rico to have electricity restored.
Although Hurricane Harvey and Hurricane Irma were much more costly to Texas and Florida, the damage these storms inflicted were roughly 5 percent of the gross domestic product of each state. Hurricane Maria's projected cost amounts to more than 30 percent of Puerto Rico's gdp.
U.S. President Donald Trump has ordered the military and other groups to do "everything in their power" to help Puerto Rico, and his administration has promised to pay for 100 percent of debris removal, as well as offering other assistance. As many as 5,000 troops will be deployed to Puerto Rico to help, 10 more Coast Guard ships are sailing for the island, and the Navy hospital ship usns Comfortis scheduled to set sail from Virginia on Friday.
No matter how much money or manpower is thrown toward the relief effort, it cannot solve the problems in Puerto Rico. The solution is found in the Bible. It tells you why these natural disasters are happening. TheTrumpet.com executive editor Stephen Flurry wrote:
Some experts say environmental disasters are just chance events. Others say the cause is human-instigated "climate change." But these are not the reasons people are suffering from these disasters!

We are now experiencing the outer edge of this super storm—a hurricane of environmental disasters, famine, disease, violence, societal destruction and military attack. This is prophesied in your Bible—by Jesus Christ. It will crescendo into the worst suffering mankind has ever known!

Jesus Himself said it: "All these are the beginning of sorrows" (Matthew 24:8).
Earlier this month, editor in chief Gerald Flurry responded to Hurricane Irma in a Trumpet Brief, writing:
Surely anyone looking at the problems besieging America right now would agree that our land needs to be healed. But do you know why it needs that healing?

2 Chronicles 7:14 says, "If my people, which are called by my name, shall humble themselves, and pray, and seek my face, and turn from their wicked ways; then will I hear from heaven, and will forgive their sin, and will heal their land." That is an absolute promise! Do you believe God?

We have to see our part in the process so we can claim this marvelous promise from God!
Request our free booklet Why 'Natural' Disasters? to learn more about why disasters like Hurricane Maria are sweeping the land and the overarching solution to them.