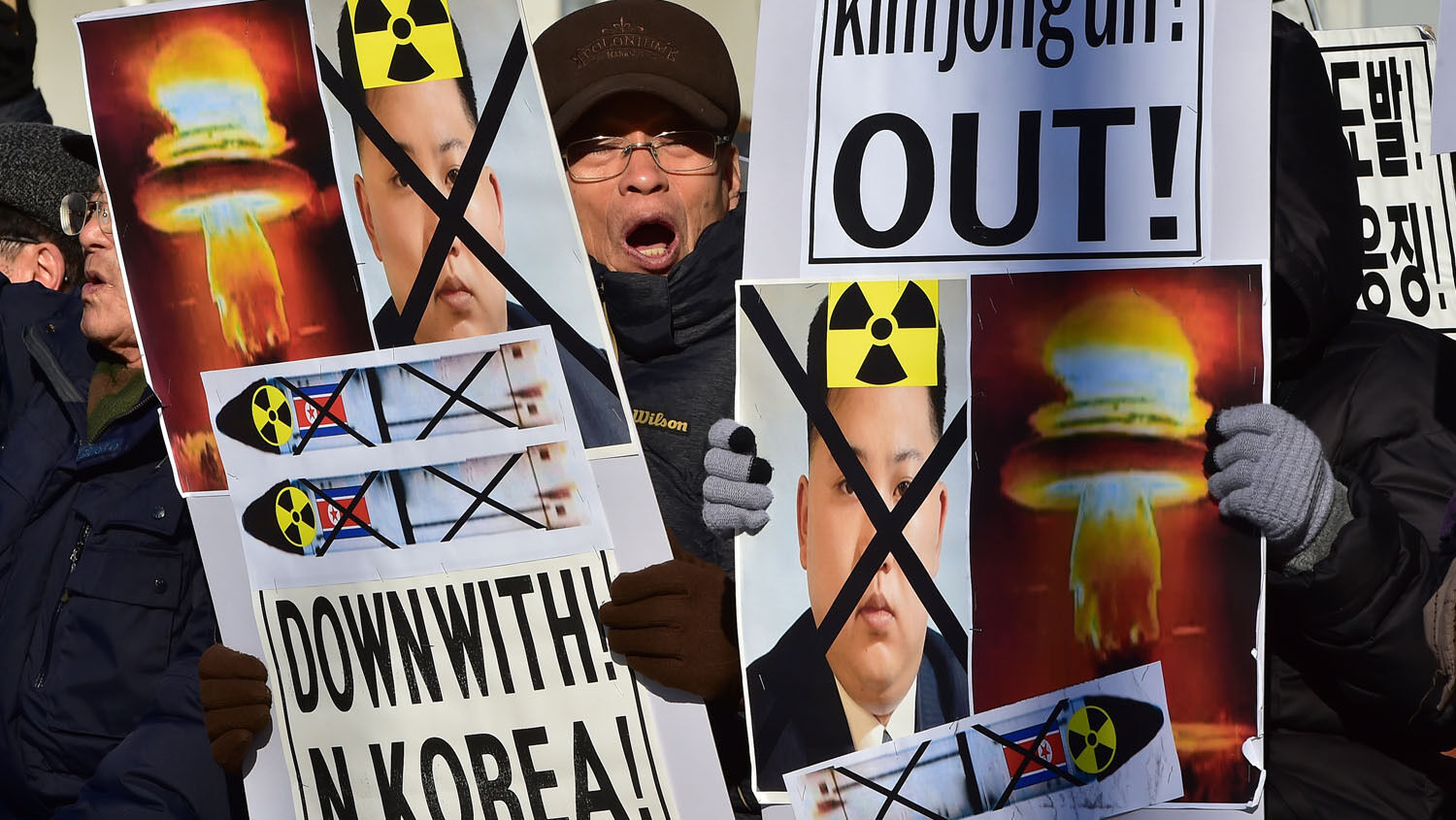 North Korea Sells Chemical Weapons to Syria
Kim is happy to share deadly weapons with the Middle East.
North Korea was caught red-handed selling chemical weapons components to Syria.
In early August, an independent panel of United Nations experts submitted a report to the UN Security Council. The 37-page report exposed ongoing chemical weapons cooperation between North Korea and Syria. Most of the report's contents remain undisclosed. The few comments revealed by Reuters show the impact North Korea can have in the Middle East and the world.
Korean shipments have been intercepted twice in the last six months en route to Damascus. Unchecked, the parts would have found their way into the hands of the Syrian government.
While exact details remain hazy, the participants are not new to us.
KOMID
The parts came from the Korean Mining Development Trading Corporation (komid). The company runs North Korea's black market military deals. Blacklisted by the Security Council in 2009, komid is North Korea's key arms dealer and exporter. Many of those deals relate to ballistic missiles and conventional weapons.
komid has repeatedly undermined international sanctions with its weapons dealing with unsavory and dangerous customers. The group has allegedly sold chemical weapons components to Syria.
According to Iran Watch, komid has also traded with Iran. The company traded in missile technology with Iran's Aerospace Industries Organization (aio). aio leaders are part of Iran's nuclear program.
Then there are Nodong missiles to Pakistan and scud missiles to Yemen. In 1999 and 2000, North Korea negotiated with Iraq to supply surface-to-surface and antiship missiles.
komid already has a long history with Syria. It helped President Bashar Assad's regime to reverse-engineer Russian-guided missiles. The two are longtime friends. The last two chemical weapon seizures should come as no big surprise.
SSRC
The recipients remove any last shred of doubt.
According to the UN report, "The consignees were Syrian entities designated by the European Union and the United States as front companies for Syria's Scientific Studies and Research Center (ssrc)." The ssrc has participated in previously prohibited item transfers. It too has repeatedly been caught in the act.
The ssrc has overseen Syria's chemical weapon program since the 1970s. In April, the U.S. government blacklisted 271 employees of the ssrc. It warned that these employees are dangerous. The U.S. Treasury Department claimed that the employees were "highly educated" and frequently traveled internationally. The last three U.S. administrations have sanctioned the ssrc. Former President George W. Bush claimed that the company worked to design weapons of mass destruction.
Failing Sanctions
There has been no action on the latest reports to the UN. There could be some scolding and perhaps a few more sanctions. But North Korea and Syria are both sanctioned already. Selling weapons on the black market helps Korea undermine sanctioning.
The deal proves that the sanctions are failing. The U.S. and international community seem powerless to stop collusion between the two.
It isn't helped by the fact that China is working to prevent news coming to light. Beijing has issued a gag order on the UN report. The report discusses how the shipments traveled through a third-party country. According to the Heritage Foundation, UN diplomats claim China is the culprit.
But it isn't the only large nation likely embroiled in all this.
Who Paid?
Consider the fact that Syria is broke. It has little to offer North Korea in exchange for chemical weapons technology. So who paid?
The likely culprit is Iran.
Eager to see both Assad and North Korea strengthened, Iran stands to gain from the deal. Assad gets his weapons to suffocate the opposition. North Korean dictator Kim Jong-un gets cash to keep his nuclear program running. In both cases, America's interests are undermined.
It wouldn't be the first time Iran faced such an accusation. Iran has likely brokered and sponsored deals between Syria and North Korea in the past. And there is extensive history of weapons cooperation between Tehran and Pyongyang.
The Daily Beast quoted ceo of the Foundation for Defense of Democracies saying: "It's plausible that Assad's largest financial and military backer would have paid for the shipment."
It is hard to pin Iran to the crime. North Korea has a network of front companies that channel financial transactions. That makes it hard to track.
Regardless, trading chemical weapons doesn't hurt Iran in the slightest. In fact, it gives Iran and North Korea more common ground.
And this all points to a greater danger.
Why Not Nuclear?
If Kim's regime is willing to trade in chemical weaponry, why not nuclear weaponry as well?
Guardian Unlimited quoted former head of Britain's military chemical, biological and radiological weapons program, Hamish de Bretton-Gordon, as saying:
Syria's chemical weapons program was basically built up by Iran and Russia. But the North Koreans have been desperate for currency and have been happy to sell technology to anyone. It has always been a real concern that they would sell their chemical and nuclear expertise. Let's hope it doesn't speak to a wider involvement in the chemical biological, radiological and nuclear defense sphere, especially by the jihadis.
As North Korea comes under increasing international pressure, it will be more desperate to cut deals. We have already seen Iran willing to play broker. Tehran also has no qualms cooperating with nuclear scientists from North Korea. The risk of nuclear cooperation between the rogue regimes has never been higher.
The atmosphere of recklessly sharing terrible weapons is a climate the Trumpet forecast long ago.
In 2013, Trumpet editor in chief Gerald Flurry wrote an article for the July Trumpet issue titled "Why the Nations Are Shaking." While a few years old, it is extremely relevant today! Mr. Flurry wrote:
As nuclear proliferation in North Korea and other nations continues, insane men are getting control of nuclear bombs! This is destined to produce nation-destroying cataclysms!

This is reality! I'm not trying to alarm you about something that isn't real. Anybody can see that this is an issue of human survival! And America's feeble response is making the situation worse.
We have repeatedly warned that Iran poses a greater nuclear threat than North Korea. We know this because it is Iran that is prophesied to trigger World War iii, not North Korea. That said, Pyongyang is a great enabler. Kim's regime is more belligerent than ever and most certainly ready to trade. Keep watch as Iran cozies up to its rogue counterpart.
A nuclear partnership is developing in front of us. It is all building to the fulfillment of prophecies in Haggai 2 and elsewhere!
But that isn't the end of the story. Notice what Mr. Flurry wrote next:
Haggai 2:7 … says that God will "shake all nations." This is a terrifying prophecy that leads into the Great Tribulation and the Day of the Lord. Then it says "the desire of all nations shall come." What is that desire? The context is about peace—the peace we desire so badly but just do not have.

"I will shake all nations, and the desire of all nations shall come," God says. You can see that this shaking of nations will actually usher in peace! After God shakes the nations, He will send the Messiah! It's all tied together. God will make us snap out of our wicked carnality and bring us the peace we desire!
Be sure to go back and read that article. At a time when America and much of the world is afflicted with "natural" disasters and terror, we need the hope found in Haggai 2.
Want to know more? To get the full hope-filled picture, request Mr. Flurry's free booklet Haggai: God Has Begun to Shake the Nations.