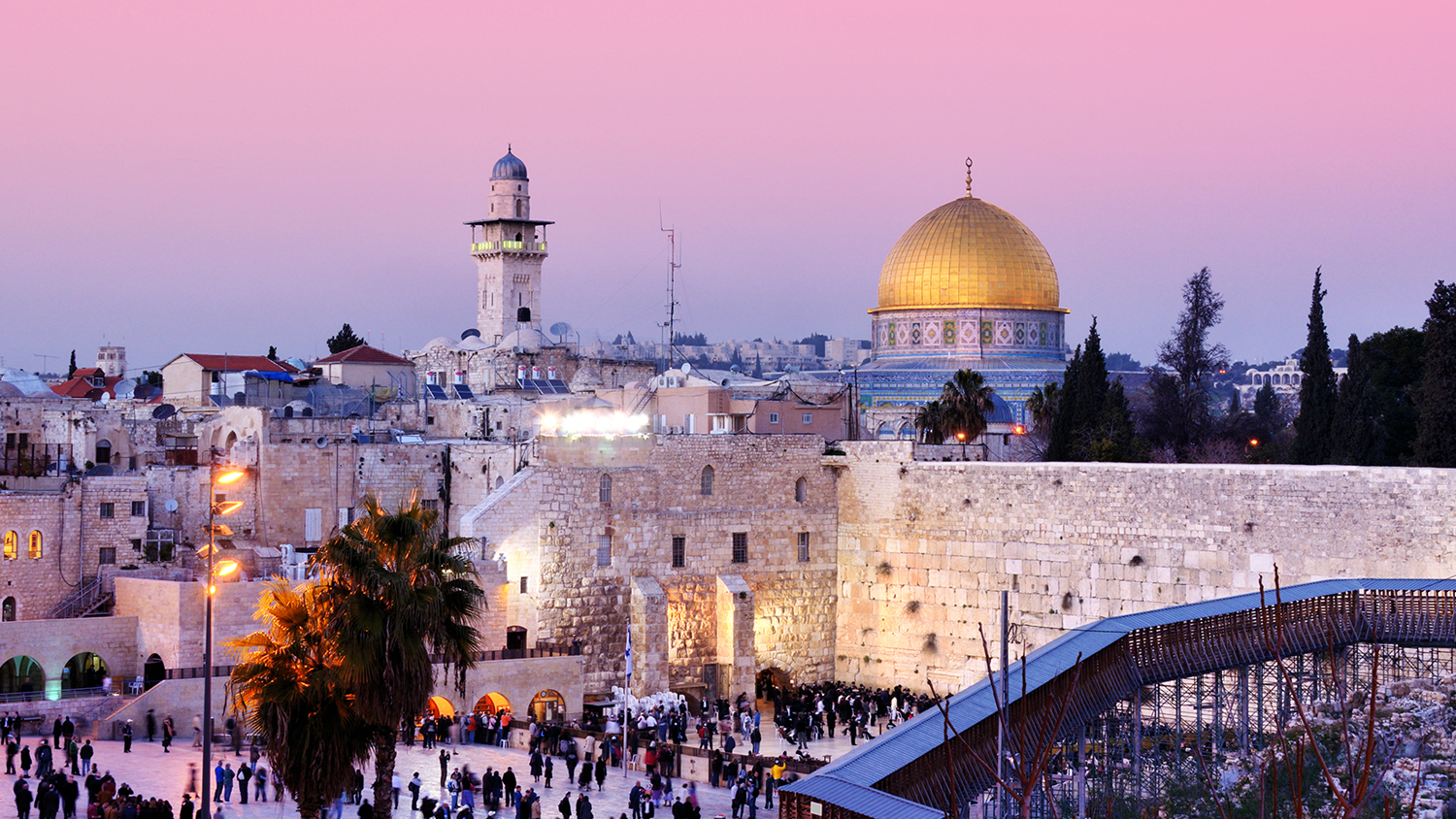 Will Trump Push Israel Too Far in Search of Peace?
If Trump is so pro-Israel, why are Israelis nervous about his upcoming visit?
JERUSALEM—It wasn't meant to be this way. Labeled by many as the most pro-Israel president in American history, President Donald Trump's May 22 visit to Israel was meant to be positive, upbeat, refreshing and, most importantly—after eight years of President Barack Obama—reassuring.
Instead, just a few days out from his arrival in Jerusalem, a collective nervousness hangs over the Holy City.
Having lived in Jerusalem during the visits of both George W. Bush and Barack Obama, I cannot recall a similar level of anticipation and chatter regarding those presidential visits. The reason is simple: By the time Mr. Bush or Mr. Obama visited Israel, for better or worse, Israel knew where it stood with the president.
As Mr. Trump prepares to board Air Force One, the atmosphere is entirely different.
Contrary to all the pro-Israel rhetoric we heard from candidate Trump, Israel still does not know where it stands with President Trump. And given his recent outreach to the Palestinians, Israelis are wondering if they can believe anything Mr. Trump has said regarding Israel's future.
Promises Still Unfulfilled
On March 21, 2016, then-candidate Trump addressed the American Israel Public Affairs Committee (aipac) in downtown New York City. To the rapturous applause of the Jewish audience, Trump denounced the current administration's policy of distancing America from Israel and putting daylight between the two. He boldly proclaimed, "We will send a clear signal that there is no daylight between America and our most reliable ally—the state of Israel."
He promised that when he became president, things would be different.
Desperate for a change, the audience at the aipac bought into Trump's rhetoric, and so did those listening in Israel. Indeed, just two days after Trump's inauguration, as if in celebration of Mr. Trump's presidency, the Jerusalem municipality and the Netanyahu government announced one of the biggest blanket approvals for West Bank and East Jerusalem construction in years. While the previous two administrations had asked for a freeze in settlement construction, Israel did not expect such a confining policy from Mr. Trump. Many in Israel thought thought that finally there was a president who understood Israel's position.
And yet on February 2, two weeks before Benjamin Netanyahu's visit to Washington, Mr. Trump made it clear he would not condone unfettered building in the West Bank. "While we don't believe the existence of settlements is an impediment to peace, the construction of new settlements or the expansion of existing settlements beyond their current borders may not be helpful in achieving that goal," the White House said in a statement. Later, during the March visit of U.S. Special Envoy for International Negotiations Jason Greenblatt, Netanyahu was surprised by a U.S. request to hold construction in isolated settlements in the West Bank.
The cumulative effect was clear: Israel would not get the pass they originally thought regarding settlement construction.
Israel also had the promise that Mr. Trump would finally fulfill that which every previous administration had failed to complete: moving the American embassy from Tel Aviv to Jerusalem. In that same aipac speech, Trump promised, "And that's what will happen with Donald Trump as president of the United States. We will move the embassy to the Eternal Capital of the Jewish people, Jerusalem."
And yet here again, Mr. Trump has wavered. Almost every week over the past three months, stories have surfaced detailing Mr. Trump's indecision regarding the move. Now Mr. Trump has decided to hold off on moving the embassy indefinitely. "We don't think it would be wise to do it at this time," a senior Trump official told Bloomberg on Wednesday. "We've been very clear what our position is and what we would like to see done, but we're not looking to provoke anyone when everyone's playing really nice."
Doesn't want settlement expanded. Is not going to move the embassy. Mr. Trump is sounding more like the previous administrations. However, those issues alone wouldn't necessarily worry Israel.
The main reason for Israel's disquiet relating to Mr. Trump's visit is his growing personal desire to oversee a comprehensive peace deal between Israel and the Palestinians.
Will Vanity Trump Reason
The general consensus in Israel, on the left and the right, is that conditions are not currently ripe for a peace deal. This is not because Israelis don't desire peace, but rather because of the continual incitement to violence by the Palestinian leadership, the ongoing refusal of the Palestinian Authority to stop paying terrorists and their families for murdering Israelis, as well as the fact that there isn't a legitimate partner that represents all Palestinians for Israel to negotiate peace with. But mostly because Israelis believe that the starting point of a negotiation should be Palestinian acceptance and recognition of a future Jewish state—something the Palestinians have yet to declare.
Nevertheless, earlier this month, Mr. Trump welcomed Palestinian Authority leader Mahmoud Abbas to the White House. While Mr. Abbas seemed unwilling to make any concessions in front of the cameras, reports surfaced later that Abbas said he would come to the negotiating table without preconditions, something he has refused to do in the past. So now, buoyed by that seeming progress, Mr. Trump makes his way to Israel to test the waters.
However, what worries Israelis the most about Mr. Trump is how personally invested he is becoming in the peace process. He has even referred to it as the "ultimate deal." Naturally, he who strikes the ultimate deal is the ultimate deal maker, a title that Mr. Trump would no doubt like to be adorned with.
Where previous administrations have cut and run when they realized that Palestinians' intransigence was the reason for the breakdown of peace talks, will Mr. Trump stubbornly continue and demand that Israel make deeper and deeper concessions?
At which point will the president's vanity for a deal at any cost trump his reason?
Will he even go so far as to view Israel as being obstructionist, preventing him from making his deal?
At this nascent stage in the process, it is hard to answer those questions. But for Israelis, they are worth considering, especially in light of where Bible prophecy shows the relationship between Israel and America is leading. This prophecy is clearly described in our article titled "Breaking the Brotherhood."