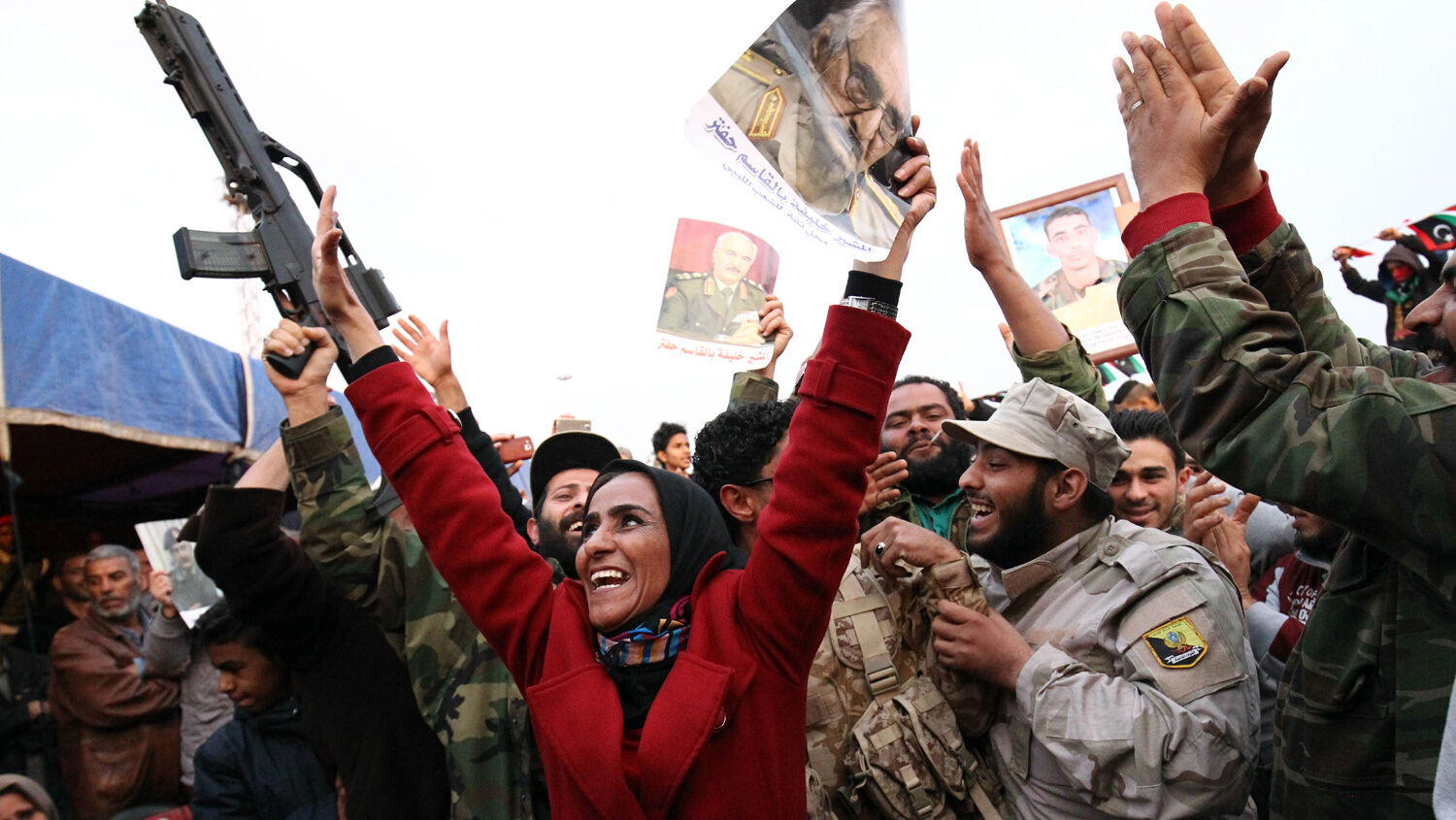 Why the Chaos in Libya Matters
An international battle for Libya has begun. A newly resurgent, domineering power is set to win it, decisively.
It is hard to overemphasize the divisions currently plaguing Libya.
The North African nation currently has three opposing governments in power: the United Nations-backed Government of National Accord (gna) led by Prime Minister Fayez al-Sarraj and headquartered in the capital Tripoli; the National Salvation Government led by Prime Minister Khalifa al-Ghawil, also headquartered in Tripoli; and the House of Representatives led by House Speaker Aguila Saleh and headquartered in Tobruk, some 600 miles east of the capital.
Then there is the Russian-backed quasi-government of the Libyan National Army (lna), led by Gen. Khalifa Hafter and headquartered also in Tobruk. Hafter endorses the House of Representatives, but he exercises a considerable level of independence.
This is the divided and confused state of a post-Arab Spring, post-nato invasion Libya, a state that resulted partially from what former United States President Barack Obama, during an April 2016 interview, considered the "worst mistake" of his entire presidency.
While President Obama regretted intervening in Libya without a plan for the aftermath, he also placed much of the blame for the Libyan chaos on European leaders who convinced him to lead the nato invasion of 2011. He called them "free riders" who were unwilling to "put any skin in the game." Given Libya's proximity to Europe, President Obama expected Europeans to be more "invested in the follow-up."
Apparently, Europe is now investing more in Libya.
And so is Russia.
History, current events and Bible prophecy indicate that Libya—one of the handful of nations mentioned in the Bible by its modern name—will be dominated by a specific foreign power.
Russia's Next Syria
Emboldened by its recent advances in the Middle East, especially in Syria, Russia has recently been asserting a greater influence in Libya.
In Syria, Russia allied itself not necessarily with the most righteous of Syria's warring entities, but with a partner it considered the most pragmatic to lead Syria while preserving relations with the Kremlin: the brutal regime of President Bashar Assad.
In Libya, using similar guidelines, Russia allied itself with the entity most successful in routing Islamist militants in Benghazi and other parts of Libya: the Libyan National Army of former cia asset Khalifa Haftar.
Haftar controls virtually all the oil fields in eastern Libya—about two thirds of all of Libya's oil. He is considered somewhat of a hero both in Libya and Russia. Twice in 2016, Haftar visited Russia to request support for his military ventures. On January 11, Russia airlifted the warlord from his base in Tobruk to its Admiral Kuznetsov aircraft carrier. The warship had anchored in the Mediterranean near Tobruk as it was sailing from Syria to Russia. While on board, Haftar conducted a video conference with Russia's defense minister amid much pomp and ceremony, including a full-dress military parade and the Russian band playing the Libyan national anthem. Russia's Defense Ministry said the two "discussed pressing issues in the fight against international terrorist groups in the Middle East."
The event was the most visible display of Russia's leanings in Libya.
Unsustainable Rivalry
The Trumpet's Middle East correspondent, Brent Nagtegaal, recently described reports of Russia deploying special troops and security personnel in Libya and along the Libya-Egypt border to assist Haftar's lna. It appears the lna needed urgent military assistance when, on March 3, Islamist militants affiliated with the UN-backed gna temporarily seized control of some oil terminals in Libya's so-called Oil Crescent.
"Predictably," Nagtegaal wrote, "both Russian and Egyptian government officials have denied the reports of any Russian soldiers in North Africa [on March 14]. That is of little comfort, considering Russia's military actions in both Ukraine and Syria began with isolated, unconfirmed reports that were at first denied by Moscow."
The day after Moscow's denial, Libya's House of Representatives, which is allied with Haftar, asked Russia to provide military assistance to Haftar's lna. House Speaker Aguila Saleh told Russian news agency ria Novosti that Russia "promised to help us in the fight against terrorism. … We asked the Russian government to help us with training the soldiers in our armed forces and the repair of military equipment by Russian specialists." He added: "Most of our officers were trained in Russia and many speak Russian, and they know how to use Russian equipment."
Most of that equipment is Russian-made hardware that is aging and breaking down. Libya remains under a UN arms embargo imposed in 2011. The blog War Is Boring reported that Russia may be circumventing that embargo by smuggling military hardware, including disassembled MiG-23 fighter aircraft.
Russia's support for Haftar remains strong. Yet, on March 2, Moscow invited his rival, Prime Minister Fayez al-Sarraj of the gna, for talks about the future of Libya. The gna frequently clashes with Haftar's lna and with Khalifa al-Ghawil's National Salvation Government.
It may be that Russia wants to be the chief power broker for a more inclusive government in Libya, even if Haftar remains its favorite partner. Referring primarily to Haftar's lna and Sarraj's gna, a spokesperson for the Russian Foreign Ministry said Russia was "carrying out consistent work with both key centers of power in Libya."
Financial Times quoted a Russian foreign-policy official who noted that "the reality is that the [gna] government in Tripoli controls only part of the country's territory, and that having rival power centers means the current situation is not sustainable."
Europe's Unhinged Backdoor
"Russia has no strategic interests in the outcome of the Libyan civil war, and its continued involvement in the conflict only serves to help Russia portray itself as a considerable player in the geopolitics of the Middle East, able to project power into North Africa and the Mediterranean," stated Geopolitical Futures on March 15.
Some analysts might debate this evaluation, but there is no debating that Europe does have strategic interests in the outcome of the Libyan civil war.
Remember the Islamic State? On Feb. 15, 2015, the murderous terrorists reminded the world about Europe's security vulnerabilities when it released a video depicting the beheading of 21 Egyptian Coptic Christians in the Libyan city of Sirte, along the shores of the Mediterranean. The video included a threat by the terrorists to "conquer Rome."
Italy's southern tip is less than 500 miles from Libya. Little wonder that in 2016, Italy altered its laws to allow its special forces to deploy in Libya without informing its parliament. Little wonder that Italy leads the European Union's Operation Sophia, the bloc's anti-human-trafficking mission across the Mediterranean, which has been training the Libyan Coast Guard since October.
Last year, more than 180,000 migrants flooded into Italy via North Africa. Nearly 5,000 others drowned before they could reach shore.
Italy was the last Western country to close its embassy in Libya in 2015 when the conflict in the nation worsened. On January 9 of this year, Italy became the first Western nation to reopen its diplomatic mission in Libya after receiving approval from Prime Minister Sarraj's gna. A statement from Italy's Interior Ministry said that the Italian embassy in Tripoli would be the "principal coordination center" for the fight against human trafficking and for counterterrorism and security cooperation.
Libya's state requires an urgent solution, and Europe is, out of necessity, going to lead the efforts for a solution. On March 20, German diplomat and Special Representative of the UN Secretary General for Libya, Martin Kobler, called for "all parties to put Libya and the unity of Libya ahead of their own narrow interests. The violence, hate speech, and mutilation of corpses in Libya is completely unacceptable. Calm must be restored immediately; democratic bodies and ideals must be respected, and freedom of speech must be protected."
Events in Libya are fast leading to what the Bible describes in Daniel 11:40-43: "And at the time of the end shall the king of the south push at him: and the king of the north shall come against him like a whirlwind, with chariots, and with horsemen, and with many ships; and he shall enter into the countries, and shall overflow and pass over. He shall enter also into the glorious land, and many countries shall be overthrown … He shall stretch forth his hand also upon the countries: and the land of Egypt shall not escape. But he shall have power over the treasures of gold and of silver, and over all the precious things of Egypt: and the Libyans and the Ethiopians shall be at his steps."
In this prophecy, the king of the north refers to a European power, and the king of the south refers to radical Islam led by Iran.
Trumpet editor in chief Gerald Flurry wrote in Libya and Ethiopia in Prophecy:
Why did God inspire the mentioning of Libya and Ethiopia? Every word in God's inspired Bible has significance. God placed two nations in the same verse as Egypt for a definite reason. This verse states that Libya and Ethiopia are also going to be closely allied with Iran!

Here is how the Soncino commentary defines at his steps: "Either joining his army, or placing themselves at his beck and call."

The Gesenius' Hebrew-Chaldee Lexicon defines that expression as "in his company."

The Moffatt translation reads this way: "following in his train."

So you need to watch Libya and Ethiopia. They are about to fall under the heavy influence or control of Iran, the king of the south. That is why they are subdued in the king of the north victory.
From this prophecy, we expect Iran, perhaps via a partnership with its Russian allies, to wield greater influence in Libya and North Africa.
In September 2011, one month before Libyan dictator Muammar Qadhafi was killed, Mr. Flurry wrote that the "Libyan chaos is now the ideal setting for Iran to bring that nation into its deadly terrorist web. The government that replaces Qadhafi will be a thousand times worse."
The division, the chaos and the resurgence of Islamists in Libya are inviting Europe to prepare to fulfill this vital prophecy. Mr. Flurry's free booklet The King of the South explains why these developments matter and how they will lead to the imminent end of all domestic and international conflict.