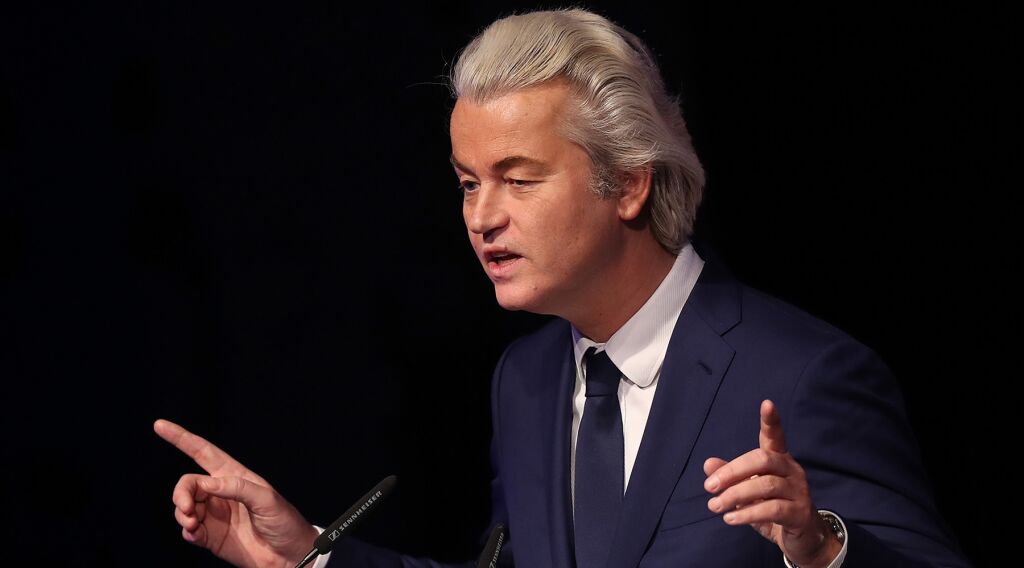 Geert Wilders Predicts a 'Patriotic Spring' for Europe
The first tremors of a political earthquake hit Europe.
Dutch politician Geert Wilders, hair slicked back and rhetoric at the ready, has said the coming March 15 election in the Netherlands is the start of a "patriotic spring" across Europe. After the Dutch elections, in which Wilders's Party for Freedom (pvv) is predicted to pick up the largest number of seats, the French will vote in May, the Germans in September, and the Italians whenever they get around to it.
Wilders has risen in popularity over the past decade. In 2008, his anti-Islam Fitna video put him on the international stage, and the subsequent death threats and assassination attempts failed to cage him.
When the pvv won a stunning 24 out of 150 seats in the June 2010 election, Trumpet writer Richard Palmer predicted the "rise in the right so far is just the beginning. … But don't expect fringe parties to come to power across all of Europe. Rather, mainstream parties will follow their voters, gradually adopting positions that would have been unthinkable a few years ago. This is just the beginning of the rise of the right."
Across Europe, to differing degrees, this is what has happened. France's mainstream parties have collapsed, leaving the campaigning to former outsiders. Austria only narrowly avoided electing the previously "unthinkable." Germany's AfD is ripping votes from the grand coalition. And Geert Wilders, or "Captain Peroxide," has the incumbent government changing its tune to avoid irrelevance.
The Economist's latest piece on Wilders, featuring a cartoon of incumbent Prime Minister Mark Rutte mimicking him, portrays the front-runner as dragging Dutch politics toward nationalism:
"There's something wrong with our country" began an open letter to the Dutch people published last month. It went on to moan about those who "abuse our country's freedom to cause havoc, when they came to our country precisely for that freedom" and warned them to "act normal or leave." The author was not Geert Wilders, leader of the anti-Muslim Freedom Party (pvv), but Mark Rutte, leader of the free-thinking Liberals (vvd) and prime minister of a country that presents itself as one of the most tolerant in the world. "Act normal" (doe normaal) is a common injunction in Dutch; it can mean "Don't be obnoxious" or "Don't be silly." But here it had a dark, exclusionary ring.
This is not the only instance of Rutte stealing words from Wilders. Earlier in the political season, Rutte told antisocial Turkish youths to "pleur op" or "piss off" back to Turkey. "Everybody knows immediately this is Wilders' style … it's almost a dialect word, a little bit archaic," said Henk te Velde, a professor of Dutch history at Leiden University who studies political language.
Previously Europe's modus operandi has been to brand the outsiders as "racists," or even better still, "fascists." When that approach loses its sting, it's time to bridge the ideological gap. As Germany's Edmund Stoiber would say, you can't let another party address the concerns of your conservative citizens.
Yet even with the Netherlands' highest poll ratings, it's still unlikely that Wilders will clinch the top job. The other parties will do all they can to prevent it. The pvv is expected to get 20 percent of the popular vote, with Rutte's vvd predicted at around 16 percent. The Netherlands' constitution requires a simple majority in order to govern. Many parties have refused, in advance, to join any coalition with Wilders.
"Yet keeping the election's winner out of government would bode ill for democracy," continued the Economist, "and substantiate Mr. Wilders's accusations that elites are ignoring the will of the people. And the 'Wilders effect' on other parties is immense. Few dare mutter a positive word about Europe or refugees. Parties across the spectrum talk about national identity or 'progressive patriotism' (a catchphrase that is as empty as it sounds)."
If Wilders wins the greatest number of votes—and doesn't receive the equivalent power—you can imagine the outrage. This seems the most likely outcome—Wilders gets the most votes, is excluded from power, and therefore sees his popularity soar even higher.
There's much to like in Wilders's determined stance against radical Islam. But he is part of a wave across Europe that contains many more extreme parties. As we wrote in 2010, "Many of these parties that are attracting 15 or 20 percent of the vote are violently racist. Wilders's party, which simply opposes Islam, is actually in the minority: The majority of right-wing fringe parties are anti-Semitic and would gladly bring back concentration camps."
Is that unthinkable? These parties are already coming close to being a part of national and regional governments! Their ideas are becoming mainstream.
The rise of Wilders and others like him points to a radical shift in politics across all of Europe. The entire political spectrum is shifting to the right. This shift certainly addresses real problems that Europe faces. But the less savory elements of this movement point to the dangers here.
The foreshocks in the Netherlands are the beginnings of a political earthquake that will restructure governments across the Continent. To learn what the effect of this earthquake will be, read "Europe's Old Demons Return."