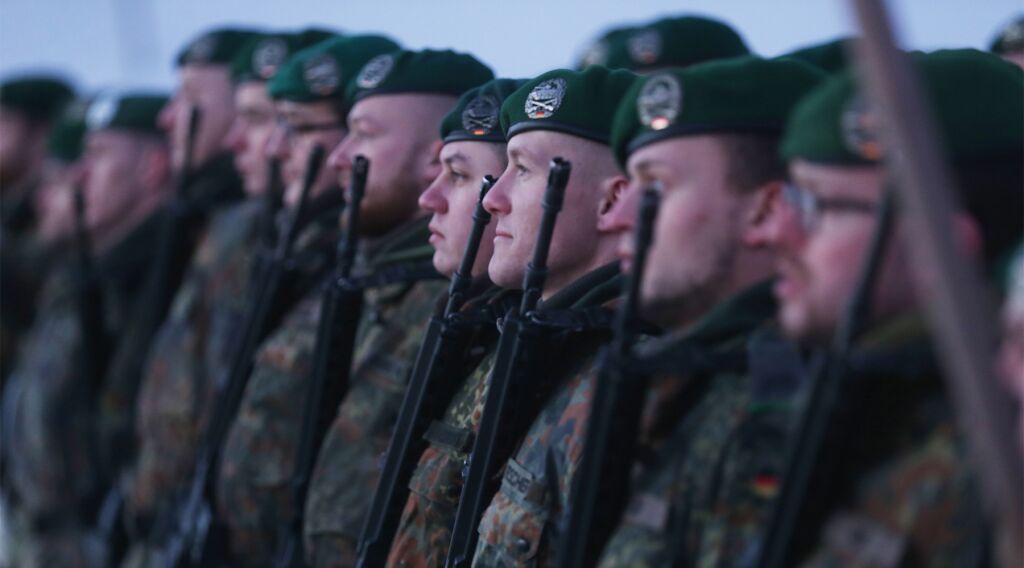 Germany's Rapid Military Shift
"Almost silently, Germany has changed its defense policy."
In early 2014, Germany announced a revolution in its military and world power. "Germany's foreign policy has just been dramatically and historically transformed," Trumpet editor in chief Gerald Flurry wrote at the time.
The shift was part of a new administration that pledged a new security policy. Now that the current administration is coming to an end, "it's time to take stock," wrote Claudia Major, a senior associate for international security at the German Institute for International and Security Affairs.
That is exactly what she does in an article for Carnegie Europe titled "Germany: The (Not So) Timid Leader." She wrote (emphasis added throughout):
Which European country is one of four allies to lead a battalion of nato's Enhanced Forward Presence in the Baltic countries and Poland, is the biggest European contributor to nato's deterrence measures in Eastern Europe, and has soldiers deployed in 12 operations from Mali to Iraq?It's Germany. The country usually portrayed as a civilian and economic power par excellence, but rather allergic to military issues. Almost silently, Germany has changed its defense policy over the last four years.
Immediately after the new government announced the changes at the Munich Security Conference, Germany was put to the test in Ukraine. "A large part of Germany's foreign-policy shift is a direct result of [Russian President] Vladimir Putin's recent behavior, especially in Ukraine!" wrote Mr. Flurry at the time. Major noted the shift after Russia's invasion of Ukraine:
In this context, Russia's annexation of Crimea in 2014 and the Ukraine crisis not only jolted the rule-based European security order unequivocally supported by Berlin. It pushed Germany to put its rhetoric into action.What followed was a remarkable political commitment by Germany, such as in the Minsk accords and Normandy format aimed at stopping the fighting in Ukraine. Berlin then substantially shaped the political and military course of nato's return to territorial defense, which the alliance decided at its 2014 Wales summit. In fact, Germany reestablished itself as a discreet backbone of nato.
Over the last few decades, Germany has been cutting back military spending, and some of its equipment has been falling into disrepair. That is now being reversed. Major wrote:
Berlin is now reversing those downward trends. The number of main battle tanks and armored personnel carriers will increase. Improved maintenance will also improve readiness. After several years of decline, Germany's defense budget will rise in 2017 for the second year in a row to reach €36.6 billion. While this increase is set to continue, it still does not reach nato's goal of spending 2 percent of gdp on defense (Germany currently spends 1.2 percent) but does come close to the 20 percent investment line.Change is most visible in Germany's military missions. Berlin now participates in operations more often, in different forms, and more offensively, particularly its strong participation in nato's defense and deterrence activities. A new approach was the introduction of the Enable and Enhance Initiative, in which Germany trains and equips regional actors, including in Iraq and Mali, to help build capacity to provide their own security.Another noticeable development was Germany's quick decision to participate in the anti-[Islamic State] coalition following the November 2015 Paris attacks, which, like the Iraq mission, stretched the legal framework for Bundeswehr deployments because the missions do not operate in collective security systems (such as the UN) but as part of an ad-hoc coalition. Within a short time frame, Berlin crossed traditional red lines, thereby moving the points of reference for military deployments.
Germany has only reluctantly increased its spending on its military. Major noted:
Overall, Germany has become most active when partners or events created the necessary pressure, such as in the Ukraine crisis, which forced Berlin to take over diplomatic and military leadership. In other cases, like the fight against the Islamic State, Germany only became active when the crisis turned into a domestic issue (for instance, as refugee flow to Europe grew), or when it was critical for an important partner (for example, following the November 2015 Paris attacks).
However, the pressure will continue to build. Major wrote that "the rapidly changing security environment combined with the West's current internal problems—from Trump to Turkey to populism—will not allow Germany to take a break."
Germany has quietly made major changes to its military. For where this is leading, read Mr. Flurry's 2014 article "Germany's Urgent and Dangerous Military Decision." For more on the further changes Germany has made, read "New German Paper Signals Dramatic Military Shift."