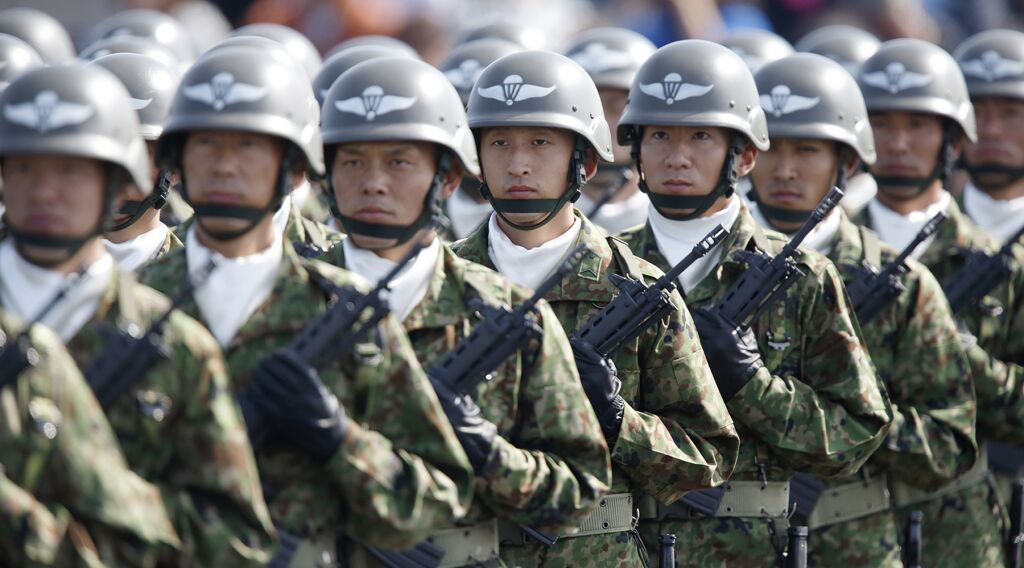 Japan Deploys Soldiers Authorized to Use Force for First Time Since World War II
Back in September 2015, the Japanese parliament erupted into a rowdy fracas, with some members piling on top of the committee chairman and yanking the microphone away from him. These members were fiercely opposed to new legislation that would let Japan take a major step toward becoming a full-fledged military power once again. Specifically, it would let Japan's Self-Defense Force (sdf) fight on foreign soil for the first time since World War ii.
After a few minutes, those in favor of voting on the measure prevailed over those in favor of keeping Japan pacifistic. They returned the mic to the chairman, the committee voted on the measure, and it passed.
That signaled the end, at least in nominal terms, of decades of Japanese pacifism.
On Monday of this week—14 months after that rowdy and historic parliamentary session—Japan's first gun-carrying soldiers since the end of World War ii were actually deployed overseas.
One hundred and thirty Japanese troops, authorized to use guns, landed in Juba, the capital of South Sudan. By mid-December, their numbers will reach 350.
The soldiers have joined United Nations peacekeepers, and their main task is to construct infrastructure in the nation that has suffered a raging civil war since December 2013. But due to the results of that September 2015 vote, these Japanese troops will also have a mandate that none of their countrymen has had for 70 years: They are permitted to use force to protect UN staff, civilians or themselves.
Julian Ryall wrote that "sdf personnel are now permitted to fire warning shots to make an armed group back off and have approval to fire directly at assailants if they determine themselves to be in life-threatening danger."
Plans are also in the works to allow the sdf troops to secure UN facilities, which have come under fire several times during South Sudan's civil war, and are likely to be attacked again.
At first glance, this may appear to be just a routine peacekeeping deployment.
But Tim Kelly, Reuters's Tokyo defense and security correspondent, said, "For Japan it actually represents a very, very big step and a very major stride away from those seven decades of pacifism."
Ever since Shinzō Abe became Japan's prime minister in 2012, he has pushed for the nation's military to take on a greater role. The September 2015 vote represented a major victory toward that end, and this week's deployment of troops—with a mandate to use force—is another. Abe's government also recently requested another increase in Japan's military spending to boost missile defenses. If approved, it will mark the country's fifth consecutive yearly increase in military spending, and yet another victory in Abe's battle for remilitarization.
Jeff Kingston, director of Asian Studies at Temple University, says Mr. Abe is "changing the post-war norms and expanding what the Japanese military can do. … So now Japanese troops have rules of engagement that are similar to those of other countries, and that is good because the government says it wants to 'normalize' the military here."
To understand the significance of Japan's shift toward "normalizing" its military, and to gain some insight into where it will lead, read "Why We Watch Japan's March Toward Militarism."