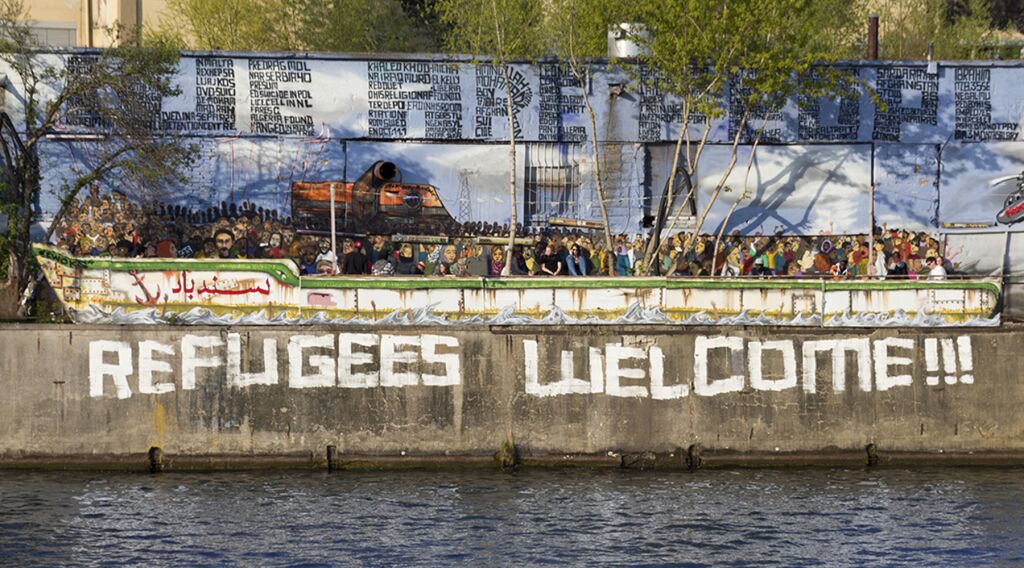 Migrant Gangs Rule German Streets
'Wear tennis shoes instead of high heels so that you can run away.'
Nearly 70 percent of Germans fear for their lives and property when they are at the train station or subway, according to a recent YouGov poll. The October 24 poll also found 63 percent of Germans feel unsafe at large public events, while 68 percent felt national security has deteriorated over the last few years.
Why do they feel this way?
Germany is no longer the relatively safe country it once was. The influx of over 1 million immigrants has changed the nation. Chancellor Angela Merkel's open-arms welcome to the refugees has endangered the livelihoods and lives of her own people. Women and children especially are feeling the consequences of her open-border policy.
German streets and parks have been transformed. A German girl can no longer ride to school without fear of being ambushed and raped by a migrant, as happened to a 10-year-old girl in Leipzig on October 27. In August, a peaceful walk and nap in the botanical gardens became a nightmarish experience for another woman when she was attacked by two young migrant men.
There are many, perhaps hundreds, more cases of women and children being raped and assaulted by migrant men. And how could anyone forget the infamous events during Cologne's New Year celebrations last January.
These are not isolated events occurring in tiny pockets of Germany; all 16 German states have been affected. This is a nationwide phenomenon.
Soeren Kern of Gatestone Institute published a report on the crisis facing Germany titled "German Streets Descend Into Lawlessness." In this report, Mr. Kern released some disturbing figures of the skyrocketing crime levels in Germany. "During the first six months of 2016, migrants committed 142,500 crimes, according to the Federal Criminal Police Office. This is equivalent to 780 crimes committed by migrants every day, an increase of nearly 40 percent over 2015."
But how bad was 2015? Kern reported that 2015 had been a record-breaking year; crime levels among migrants was a whopping 80 percent higher than 2014.
It can be easy to read over these figures as nothing more than numbers. But for the local German populace, these are not mere numbers; this is the painful reality of everyday life. Germans have been and will continue to be the victims of violent crimes committed by migrants.
Migrant gangs are running amok. All public areas have become hunting grounds for rape and assault, pickpocketing and drug trafficking. The police are stretched too thin and have lost control of the streets. City populations are growing faster than police reinforcements can be deployed.
Consider Dresden. "Migrants from Algeria, Morocco and Tunisia have effectively taken control over the iconic Wiener Platz, a large public square in front of the central train station. There they sell drugs and pickpocket passersby, often with impunity. Police raids on the square have become a game of 'whack-a-mole,' with a never-ending number of migrants replacing those who have been arrested" (ibid).
German police officer Tania Kambouri said of the current crisis, " For weeks, months, years, I have noticed that Muslims, mostly young men, do not have a minimum level of respect for the police. When we are out patrolling the streets, we are verbally abused by young Muslims. …The growing disrespect, the increasing violence against the police …. We are losing control."
It is not just lack of police control that is contributing to Germans feeling unsafe. Their justice system is also betraying them. On October 24, a Hamburg judge released four migrant youths who had gang-raped a German girl, videotaped the attack, and left her for dead in freezing conditions.
In the midst of these trying times, Kern reported, many Germans are leaving their home country to escape the escalating migrant violence. "Data from the German statistics agency, Destatis, shows that 138,000 Germans left Germany in 2015. … Germans have been moving to Hungary. A real estate agent in a town near Lake Balaton, a popular tourist destination in western Hungary, said that 80 percent of the Germans relocating there cite the migration crisis as the main reason for their desire to leave Germany."
German streets have been transformed. Migrant gangs are terrorizing local populations. Many Germans lament this new "norm," recalling the days when children could run freely on the streets. Today, German women are told they should wear tennis shoes instead of high heels so they can run away from becoming another rape victim.
How much longer can this situation go on? German streets have descended into chaos. The population may "tolerate" the migrants for now, but for how much longer? To understand where all of this is leading, read Trumpet columnist Brad Macdonald's article "Germany, Migrants and Angela Merkel's Big Lie."