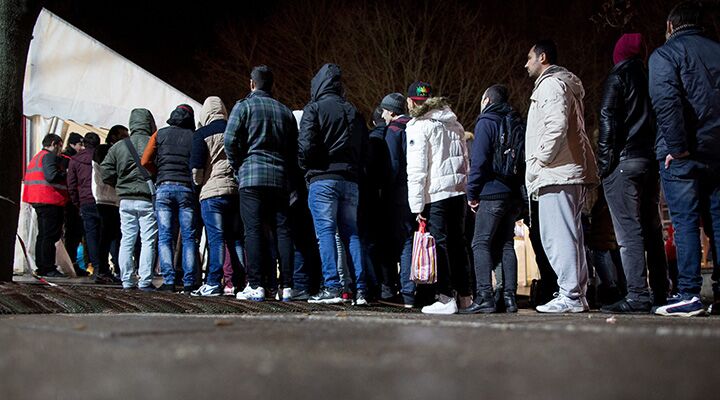 Germany, Migrants and Angela Merkel's Big Lie
A growing number of Germans are angry and feel betrayed. How will they respond?
During recent trips to Vienna, Hannover, Stockach and Zurich, I discussed Europe's migrant crisis with friends and other travelers. Each had his stories and anecdotes, his concerns and frustrations, and, of course, his particular solutions. But nearly every person I spoke with shared an interesting concern, and one with enormous and alarming consequences.
I was told multiple times that there is a growing belief among Germans that they are being intentionally misled—and even deliberately lied to—by Angela Merkel and her pro-migrant allies in the government and the media. Many Germans believe Merkel and the media talk only about the "advantages" of migration and deliberately misreport, ignore, and even cover up its many negative impacts. There is a growing perception that mainstream politicians and media are more on the side of the migrants than the German people.
A growing number of Germans are feeling betrayed and want change.
Across Germany, frustration, uncertainty and anger are welling up. A growing number of Germans are feeling betrayed and want
change.
They want a leader who will listen to their anxieties, defend their interests, and protect Germany.
In Stockach, I had coffee with a 20-year-old man who works as a security guard at a refugee camp containing more than 1,000 migrants. The camp, he explained, is a mix between a pigsty and a war zone. This man had witnessed migrants refuse to use the portable toilets and, instead, take care of business in the corner of the room or behind furniture. The camp was filthy. There was also rampant sexual abuse, rape, fights and knifings, and regular clashes between religious and ethnic foes (Shia vs. Sunni, for example). Are local politicians expressing concern about this in public? I asked. Is the local media reporting on what's happening inside these camps?
They are totally silent, he said.
There are plenty more anecdotes like this, though you have to search for them. Tania Kambouri is a police officer in Germany and a bestselling author. In a recent radio interview, Kambouri discussed the migrants and Germany's deteriorating security situation.
"For weeks, months and years I have noticed that Muslims, mostly young men, do not have even a minimum level of respect for the police," she said. "When we are out patrolling the streets, we are verbally abused by young Muslims."
I wish these problems were recognized and clearly addressed! If necessary, laws need to be strengthened. It is also very important that the … judges issue effective rulings. It cannot be that offenders continue to fill the police files, hurt us physically, insult us, whatever, and there are no consequences. Many cases are closed, or offenders are released on probation …. Yes, what is happening in the courts today is a joke. The growing disrespect, the increased violence against police …. We are losing control of the streets.
Why isn't Angela Merkel talking with the German people about this? Why is the mainstream media burying stories like this?
And what will happen when the German public realizes that it has been deceived by its leaders?
And what will happen when the German public realizes that they have been deceived by their leaders?
On November 24, the Gatestone Institute published an article titled "
Germans Opposed to Mass Migration Are 'Free to Leave.'
" The title came from a statement by the district president of Kassel, a city in the state of Hesse, who stated that German citizens who disagree with the government's open-door immigration policy are "free to leave Germany." The article described a recent proposal by the mayor of Berlin to create emergency legislation that allows local authorities to seize private residences and office buildings to accommodate asylum seekers.
The mayor's legislation "would effectively suspend Germany's constitutional guarantee of private property." It "would authorize police forcibly to enter private homes and apartments without a warrant to determine their suitability as housing for refugees and migrants." And the mayor tried to keep the proposal secret from the German public!
Gunnar Schopelius, a popular columnist in Germany, didn't believe this story and decided to investigate himself. "So I went on a search for the source of this strange report and found it," he wrote November 10. "There is a 'proposal,' which the Senate Chancellery (Senatskanzlei) has apparently circulated among the senators. The Senate Chancellery is another name for the mayor's office. … The proposal is clear: The police can enter private property without a court order in order to search for housing for refugees when these are threatened with homelessness. You can do that 'without the consent of the owner.' And not only should the police be allowed to do this, but also the regulatory agencies."
Why wouldn't more mainstream media outlets report on this? It's a blockbuster story—the mayor of Berlin wanted to illegally change German law in order to invade the homes of German people in search of accommodation for migrants. Why wasn't this diabolical conspiracy—which unfolded in Germany's capital, right under her nose—addressed by Chancellor Merkel or her government?
As Schopelius noted, "This delicate 'proposal' attracted little public attention. Only Berlin fdp General Secretary Sebastian Cjaza spoke up and warned of an 'open preparation for breach of the constitution.' Internally, there should have been protests."
In Bad Tolz, Bavaria, local government officials recently condemned a nightclub owner after he banned male migrants from his club when female patrons complained that they were being harassed. Local politicians and media branded the manager a "Nazi" and a "racist." Incidents like this are happening daily in towns and cities across Germany, yet the authorities, local and federal, simply refuse to talk about it. Worse still, they are attacking those who do express alarm and concern!
My security guard friend in Stockach relayed an incident in which 30 to 40 refugees visited the local grocery store, filled their trolleys with food, and then left without paying. The police were overwhelmed and did nothing. On another occasion, 50 police vehicles had to be called to one migrant camp to break up a massive fight between migrants from rival religious factions. Another friend in Hanover told me about how her niece, who owns a butchers shop in a small village, is daily visited by migrants, often behaving rudely and aggressively, expecting free food.
Incidents like this occur daily. Yet other than a handful of politicians and media outlets, they hardly make the news and certainly not as feature stories.
The migrants are proving to be a significant burden on Germany's healthcare system. Yet, as the Gatestone Institute reported, "German media outlets are downplaying the extent of the healthcare problem, apparently to avoid spreading fear of provoking anti-immigrant sentiments. …"
[I]t refused to reveal this to the German people—even after Bild reported on the 1.5 million figure!
The Merkel administration isn't being honest with the German people, and it hasn't been since this crisis began. Last October,
Bild
reported that the government was secretly expecting 1.5 million migrants to arrive in Germany in 2015. The official government figure at the time was 800,000, and the government flatly rejected the
Bild
story. The figure surpassed 1 million a few weeks ago, and the total for 2015 is expected to be closer to 1.5 million than 800,000. The point is, the Merkel government
knew
the figure was going to be significantly higher than 800,000 back in October,
but it refused to reveal this to the German people—
even after Bild reported on the 1.5 million figure
!
In October, Die Welt reported on a government document leaked to the paper by German intelligence officials. The document warned, "We are importing Islamic extremism, Arab anti-Semitism, national and ethnic conflicts of other peoples, as well as a different understanding of society and law." The document also warned that integrating hundreds of thousands of "illegal migrants" would be "impossible." This dramatic document garnered very little attention inside Germany, either from the media or from the government.
Instead, the message emanating from Germany's chancellor and many others is, "We can do this!"
Think about the consequences of Angela Merkel's grand deception. It is destroying the trust between Germany's government and the public. What happens when the majority of Germans realize they have been deceived? What happens when the majority of Germans lose confidence and trust in the mainstream leaders? Frustrated and angry, the German people, as any people would, will seek an individual, a political party, ideologies, willing to heed their concerns and solve Germany's migrant crisis. This trend is already evident in the dramatic rise of pegida, the Dresden-based, right-wing political movement, and the AfD, a right-wing political party whose popularity is soaring at all-time highs.
Many of the Germans becoming disillusioned with mainstream politics and turning to these groups are not hardcore neo-Nazis. They don't want to persecute the migrants or see them imprisoned, beat up or killed. They are not radical extremists seeking mass genocide. They are regular, sound-thinking, rational people, many of whom have terrific empathy for those suffering in Syria and elsewhere. These people are simply concerned about the impact millions of migrants will have on their nation, its institutions, its infrastructure, its economy, its culture, and on the German people. They are concerned about Germany's future. But Angela Merkel refuses to give too much serious attention to these concerns and refuses to tell the truth about the impact the migrants are having and will have on the German nation.
Angela Merkel is turning the German people into a ticking time bomb!
If she continues to do this, Germany's chancellor risks transforming the German people—and Germany itself—into something very different and much more frightening than the democratic, peaceful, friendly, nation Germany is today.
Angela Merkel is turning the German people into a ticking time bomb!
The more disillusioned, frustrated and angry the German people become, the more vulnerable they will be to radical politics and radical leaders with radical solutions. Even now, all that's needed is a match, some sort of catalyst to ignite the national frustration and fury. An Islamist terrorist attack on Berlin or Munich would do it. Greater publicity of the migrant-related incidents that are already occurring on an almost daily basis would probably be enough. Don't be deceived by the images of Germans embracing the migrants or Germany's chancellor making the cover of Time magazine as its "Person of the Year."
All is not well in Germany. Growing numbers of German people are becoming unhappier by the month, not just with the migrants, but with Chancellor Merkel and her pro-migrant friends in the government and the media.
Pay attention. An explosion is coming.