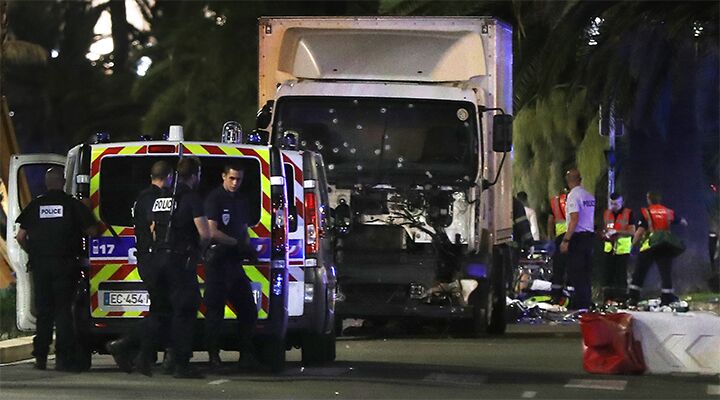 Nice Attacks: France Faces Political Turmoil
Hollande: 'Never since World War II have democracies been so threatened.'
After the July 14 Nice attack, the French are turning on their leaders. In the wake of earlier attacks, most approved of President François Hollande's reaction and believed he was doing a good job of responding to terrorist threats. But in the aftermath of Nice, two thirds said they did not trust the government to fight terrorism. When French Prime Minister Manuel Valls attended a minute's silence in Nice, he was booed, while people shouted "Murderer" and "Resign."
It's easy to see why. In an interview with Journal du Dimanche published on July 16, Valls warned, "There will be more attacks."
"This is difficult to say, but other lives will be lost …," he said. "Terrorism will be a part of our daily lives for a long time."
That's a message no one wants to hear. But that is France today. In France alone, since Nice there have been two more attacks—not including the many attacks in neighboring Germany. On June 19, a Moroccan-born man stabbed three girls and their mother while they were on holiday in southern France. The youngest girl, age 8, was rushed to the hospital with a punctured lung.
On June 26, two terrorists shouting Islamist slogans slit the throat of a priest in his 80s and tried to take his congregation hostage. "For all the Republic's secularist pretensions, Catholicism remains part of France's national identity, and the murder of an elderly priest is just the kind of attack that could provoke sectarian tensions of the sort we are more used to seeing in the Middle East, as opposed to the heart of Europe," wrote defense editor for the Telegraph Con Coughlin.
In this case, the church was known to be on an Islamic State hit list, one of the attackers was being tracked as a potential terrorist. But France couldn't stop it—there are just too many potential targets and potential terrorists.
No wonder President Hollande's approval rating continues to set new record lows. Voters "want someone they feel is in charge at the top," said Jérôme Fourquet, from the polling agency ifop. "In those moments, they want a commander-in-chief." It's clear they don't see Hollande as that commander.
The head of France's General Directorate of Internal Security, Patrick Calvar, told a closed-door session with a parliamentary committee on May 10 that the pressures on French society are so great that "we are on the verge of a civil war."
He warned, "If there are one or two more attacks," a major confrontation will occur between France's "ultra-right" and Islam. This is coming from the French equivalent of America's director of the fbi or the head of Britain's MI5.
"Excessive?" asked the Wall Street Journal about these comments. "Look at the Salafists (an estimated 15,000 among France's 5 to 7 million Muslims) whose radical-fundamentalist creed dominates many of the predominantly Muslim housing projects at the edges of cities such as Paris, Nice or Lyon. Their preachers call for a civil war, with all Muslims tasked to wipe out the miscreants down the street. At the same time, the right-wing extremists singled out by Mr. Calvar would be ideologically capable of shooting any Muslim."
Its article, titled "Averting France's War of All Against All," went on to state:
The Nice attack contains a unique point of agreement: It represents the end of an epoch and the start of one in which France must come to terms with the near certainty of new tragedy and new victims. Socialist President François Hollande was quoted as saying over the weekend that, "Never since World War ii have democracies been so threatened." It's reasonable today to add that France hasn't appeared this dysfunctional and politically riven since 1939.
Douglas Murry sounded a similar warning in a blog post for the Spectator titled "When the French Mood Finally Snaps, Marine Le Pen Will Be Waiting":
The publics are increasingly losing confidence in the ability of this political class to protect them. And so the politics which has been kept to the margins is becoming tolerable to the mainstream. I have said for over a decade that if mainstream politicians didn't address this issue, then they would leave it to Marine Le Pen. And so they have.
The Trumpet has long warned of the rise of a strongman in Europe. As Europe's leaders continue to prove that they cannot defend their citizens from terrorism, those cries will grow louder. The more the attacks, the more desperate citizens across all of Europe will be for strong leaders.