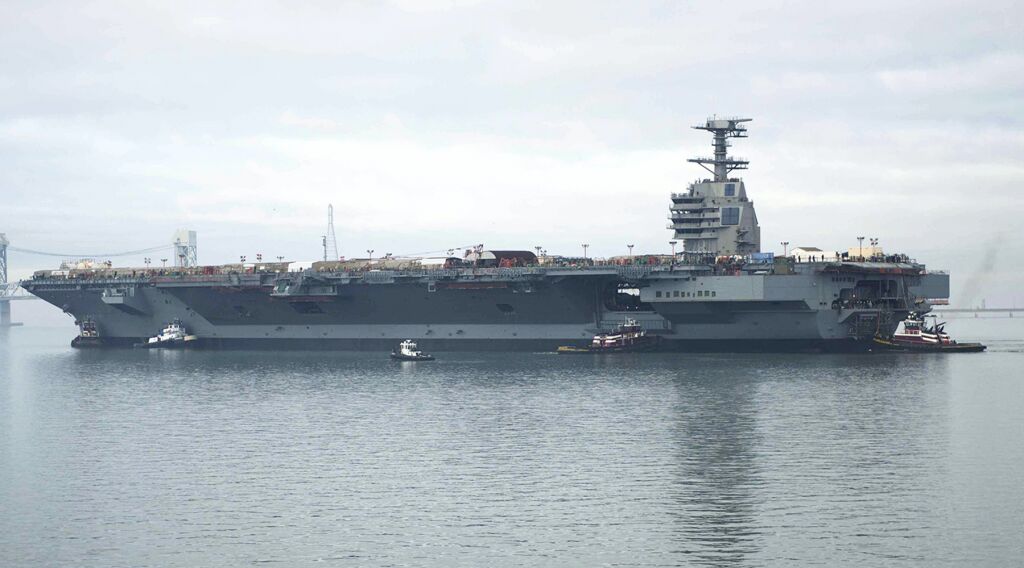 Broken: America's Latest Failed Supercarrier
The most expensive warship ever built can't go to war.
America's new, most expensive, most advanced aircraft carrier doesn't work properly.
According to a June 28 memo obtained by Bloomberg News, the $12.9 billion uss Gerald R. Ford "may struggle to launch and recover aircraft, mount a defense, and move munitions."
Defense Department Director of Operational Test and Evaluation Michael Gilmore wrote to Pentagon and Navy weapons buyers: "Unless these issues are resolved, which would likely require redesigning, they will significantly limit the cvn-78's ability to conduct combat operations."
The ship's aircraft launcher can only allow 400 takeoffs before critical failures hamper launches. That is well below the standard 4,166 launches. The ship's radar system is still relatively untested; leaving a big question mark over the vessel's defensive capabilities. And the elevator systems used to carry munitions between decks remain untested, so "their reliability is unknown and is a risk" according to Gilmore.
Altogether, the delays mean the cvn-78 "is unlikely to conduct high-intensity flight operation" such as those required at the outset of a war.
Already years behind schedule and billions of dollars over budget, the carrier will sit on the docks for another few months. According to Bloomberg, the first deployment may not be until 2021.
The revelation adds to the woes of the United States military, which has suffered embarrassing mechanical setbacks and allegations of misspending and blown-out budgets for debunked programs. Trumpet writer Richard Palmer wrote extensively on this subject in the July issue. As his article "Not Much Bang for the Buck" points out, the wasteful spending is rampant in the U.S. military. For example, the Defense Logistics Agency was recently exposed for spending $7 billion on things it didn't even need.
Elsewhere, $6 billion was spent on faulty submarines that now sit in the docks. The uss Minnesota nuclear submarine, only three years old, is one of three suffering from faulty parts and unable to deploy.
Simultaneously, budget cuts and sequestration have cut military ability to repair and maintain. A recent Fox News exclusive reported, "U.S. military spending has dropped from $691 billion in 2010 to $560 billion in 2015." Adjusted for inflation, that is a decrease of 21 percent over five years. As a result, the vast majority of the U.S. Air Force is not airworthy.
And the new ones being built are no better. The F-35 jet has cyber vulnerabilities which the military won't even adequately test for fear of creating more problems to its fleet. But with the cvn-78 debacle, the F-35 may now have a competitor for ineptitude in the military.
As Trumpet contributor Andrew Locher wrote in April:
The U.S. military is replacing hardware with flawed, poorly engineered and expensive hardware. As the United States (and other English-speaking nations, such as the United Kingdom, Canada, Australia and Israel) suffers under God's curse for our failed morals and rebellion against His law, watch the "pride of our power" break even further (Leviticus 26:19). Without a political will to fight with appropriate financial backing, our combatants will only suffer more ignominious defeat and embarrassment as provocative engagements multiply.
We live in a time when the world's policeman is not combat ready and operates in a broken system. The uss Gerald R. Ford is a near-$13 billion lesson that we all need to heed. Palmer wrote, "Defense wastage exposes a rot at the heart of the military."
The blessings that once empowered America are gone, and we all need to know why. For more on America's weakening military and why it is happening, be sure to read "Not Much Bang for the Buck."