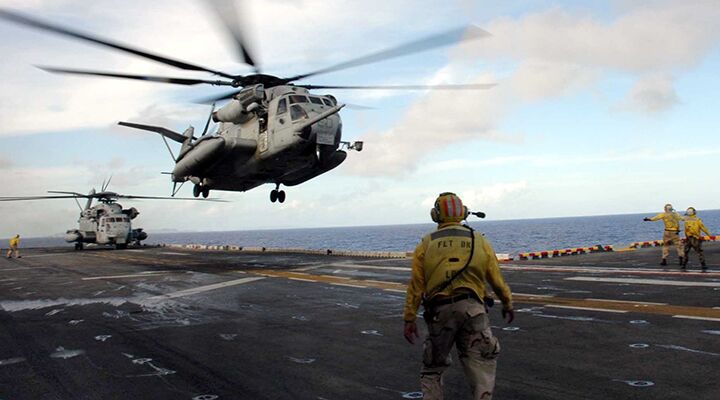 Not Combat Ready: U.S. Marine Corps
The United States Marine Corps aviation wing is suffering from the burden of 15 years' worth of fighting and budget cuts. Fox News ran an exclusive story about this predicament on April 17. The article reported that the vast majority of U.S. strike fighter aircraft are not airworthy. But it wasn't just F-18s grounded due to a lack of parts, maintenance or other complications. "Only 42 of 147 heavy-lift CH-53E Super Stallion helicopters are airworthy," Fox reported.
Wars in Afghanistan and Iraq have taken their toll on combat aircraft. For more than a decade, the Marine Corps has been called upon to provide close air support, strategic bombing and air supremacy sorties beyond the recommended flight-hour expectation per aircraft.
Exacerbating the problem, budget cuts and sequestration have reduced anticipated budgets for repairs and maintenance to an inadequate level. Fox reported that "U.S. military spending has dropped from $691 billion in 2010 to $560 billion in 2015." That is a 19 percent decrease in five years. Adjusted for inflation, it's nearly 21 percent. (Other sources say the 2015 estimate is closer to $596 billion.)
Adding even more fuel to the fire is the replacement pipeline to meet the mission requirements heaped upon the corps. The Super Stallion helicopters (CH-53E) are to be replaced with upgraded "K" models. The MV-22B Osprey was to be the solution for the rotary-wing aircraft used by the corps. Yet the Osprey has failed to live up to expectations, and several accidents have degraded confidence in this "upgrade." The F-18 Hornets were to be replaced with the F-35 Joint Strike Fighter—but as the Trumpet has reported, known flaws, significant budget overruns, and delays in deployment have delayed the F-35's release.
According to the Fiscal Times, "The time line for launching the long-troubled F-35 Joint Strike Fighter just moved to the right. Again. The program, already years behind schedule, won't be ready for operational testing until mid-2018, a year later than expected, Michael Gilmore, the Pentagon's chief weapons tester, told a House Armed Services Committee subpanel on Wednesday."
The Marine Corps claims to be the first to arrive to a combat role. Yet while it is ordered to be most ready when the nation is least ready, it is being asked to do so with less equipment and fewer marines. Current budget allocation from the Department of Defense falls short of meeting the growing maintenance needs for its aircraft. The Fox News exclusive elaborated on another consequence of fewer operational aircraft: diminished time in the air:
The aircraft shortage means pilots spend less time in the air. "This last 30 days, our average flight time per pilot was just over four hours," said [Lt. Col. Harry] Thomas.Marine Corps F/A-18 Hornets are supposed to have a shelf life of 6,000 hours, but they are being refurbished to extend the life to 8,000. There is talk that some aircraft might be pushed to 10,000 hours while the Marine Corps waits for the 5th-generation Joint Strike Fighter, which is slated to replace the F-18, but has been plagued by cost overruns.
Pilots are being asked to remain operational ready with aircraft that are well beyond their engineered limits. Not only has time spent refining their skills in the air been reduced, but pilots are now limited by aging aircraft that could pose safety risks outside of combat roles.
If the U.S. can't afford to maintain what it has and the Marines are asked to wait for new equipment, how can they maintain morale while potential enemies flex their muscles? Just within the past month, the U.S. military has faced harassment with combat-simulated flybys, shadowing of reconnaissance aircraft, and other highly provocative actions. If American forces aren't equipped with reliable equipment, how can they respond effectively?
The U.S. military is replacing hardware with flawed, poorly engineered and expensive hardware. As the United States (and other English-speaking nations, such as the United Kingdom, Canada, Australia and Israel) suffers under God's curse for our failed morals and rebellion against His law, watch the "pride of our power" break even further (Leviticus 26:19). Without a political will to fight with appropriate financial backing, our combatants will only suffer more ignominious defeat and embarrassment as provocative engagements multiply.
Today, the engagements merely illuminate our weaknesses. But soon, those provocative "attacks" will give way to the real thing. Helpless to respond, America will face a reality foreign to it: It is no longer the dominant power. The U.S. no longer has the best equipment and most highly trained forces on the planet. Those days have given way to budget realities and broken will. America is becoming a paper tiger—and our enemies are becoming increasingly aware of it.