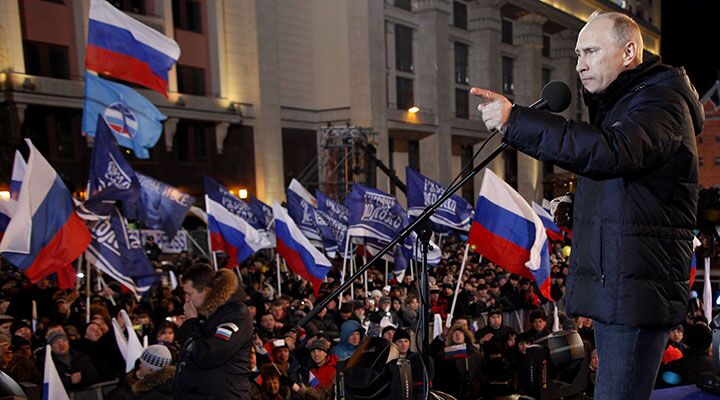 More Than Half of Russians Want the Soviet Union Resurrected
A quarter century after the Soviet Union's collapse, the majority of Russians say they regret that it happened, and would welcome its revival. An April 19 Interfax report discussed the statistics, which were derived from a Levada Center survey (Trumpet translation):
More than half of Russians believe that the Soviet Union's collapse could have been avoided (51 percent) and regret that it happened (56 percent) …. The majority of respondents (58 percent) said they would welcome the revival of the Soviet Union and the socialist system, while 44 percent said that currently it is unrealistic. At the same time, one in three (31 percent) said they would not want to rebuild the old Soviet socialist system.
The Levada survey was conducted from March 25 through March 28 by a representative nationwide sample of urban and rural population. About 1,600 adults in 137 settlements of 48 regions of Russia participated.
Alexey Mukhin, ceo at the Center for Political Information, commented on the survey in an interview with Vestnik Kavkaza:
The citizens of Russia feel a concern due to the increased aggressive behavior of nato. There was an idea in the Soviet Union that our nuclear-missile shield could protect us from any aggression. But, apparently, the feeling of uncertainty, which was cultivated in 1990s, played its role, and citizens simply have a fear for their safety ….People are used to living in a consumer society; they remember about the deficit, queues and certainly don't regret it. In addition, the rejuvenation process plays its role. It gave us a lot of number of people who don't remember the Soviet Union, all its benefits.
The government of President Vladimir Putin has said that he views the collapse of the Soviet Union as "the greatest geopolitical tragedy of the 20th century." He has been working to reverse this tragedy in part by reviving many relics of the Soviet era, including the Intervision Song Contest, a military prep fitness program, the "Hero of Socialist Labor" award, and a grip on domestic media that would earn a hat tip from Comrade Joseph Stalin himself.
The new Levada poll shows that these efforts are paying dividends among Russia's population.