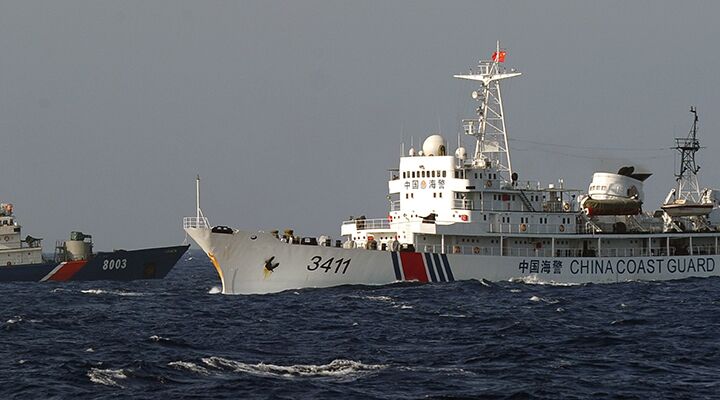 Rule of the Sea: China Pushes Boundaries
As China's coastguard bullies its neighbors into submission, America looks on.
At 10 p.m. Saturday night, an Indonesian special task force intercepted a Chinese fishing boat at the southern end of the South China Sea. The event took place within Indonesia's 200-mile exclusive economic zone off the Natuna Islands, which are far from mainland China.
Onboard the Chinese vessel were nine crewmen, all of whom were taken into custody by the lightly armed Indonesian force. The Indonesian vessel, with the compounded Chinese vessel in tow, began the trip back to an Indonesian base in the Natuna Islands.
At midnight, however, as the two ships reached Indonesia's territorial waters, they were intercepted by a third party.
A Chinese coastguard vessel, which had been following the Indonesian ship, moved to intercept. It rammed the Chinese fishing boat, sending a clear warning to the Indonesians.
"To prevent anything else occurring, the Indonesian authorities let go of the Chinese boat and then left towards Natuna, still with the eight fishermen and captain on board," said Arrmanatha Nasir, a spokesman for the Indonesian Foreign Ministry.
According to China, the Chinese fishing vessel was in "traditional Chinese fishing grounds," and the intercepting coastguard ship didn't enter Indonesian territory.
China's blatant violations of international boundaries—whether or not it happened in this case—are well known, as are its bullying tactics.
In March 2013, an Indonesian Maritime Ministry ship caught a Chinese fishing boat in the same area around Natuna. Once again, the Indonesian vessel was confronted by a Chinese ship armed with mounted machine guns and light cannons. And in similar response to Saturday's incident, the Indonesians backed down, releasing the ship and fishing crew.
Such incidents are rarely heard of outside Southeast Asia, because China is Indonesia's largest trade partner. These aggressive acts are kept under wraps, lest Indonesia feel the brunt of China's economic wrath.
However, the latest spat has not been quieted. Nor have incidents with other nations in the region.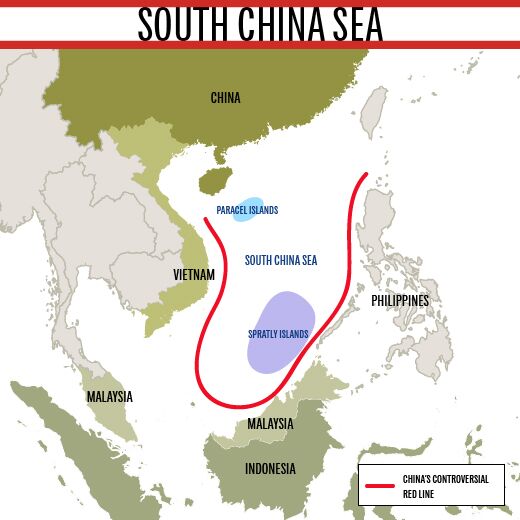 Filipino fishermen have repeatedly called for the United Nations to intervene, saying China is harassing them and taking away their livelihood. Similar problems exist between China and other nations that share the waters of the South China Sea.
Many issues have stemmed from China creating its controversial "redline" through the South China Sea, claiming more than 90 percent of the region as its own. This has led to an increasing number of run-ins and disputes with China's neighbors.
Some of China's self-claimed ownership extends over Indonesia's exclusive fishing zone around the Natuna Islands. Indonesia has no claim over any other part of the South China Sea. While China has recognized Indonesia's ownership of the Natuna Islands, it evidently does not recognize exclusive economic zones.
China has taken control of numerous reefs and small islands throughout the South China Sea—some are important military locations and others are important fisheries.
For instance, the Scarborough Shoal, which China took from the Philippines, is just 120 miles from the Philippine Subic Bay—once home to a large United States naval base. Then there are the Spratly and Paracel Islands. As China's control of these islands and shoals strengthens, the number of incidents concerning Chinese military vessels rise.
The latest run-in between Indonesia and China shows how Beijing is using its coastguard to push—in some cases, quite literally—its rivals out of the region.
Expect such incidents to continue as China wrestles for broader control. So far the incidents have been defused with angry discussions and condemnations, but it may not last. China is set on increasing its claim to and presence in the South China Sea. With Beijing now placing weapons on its man-made islands, it is clear which direction China is heading.
The attack on the Indonesian vessel reflects China's desire for dominance and shows the aggressive action it uses to get it. For more on the militarization, bullying and incursions of Beijing in the South China Sea, read our article "How the World Changed in 2015 in Asia."