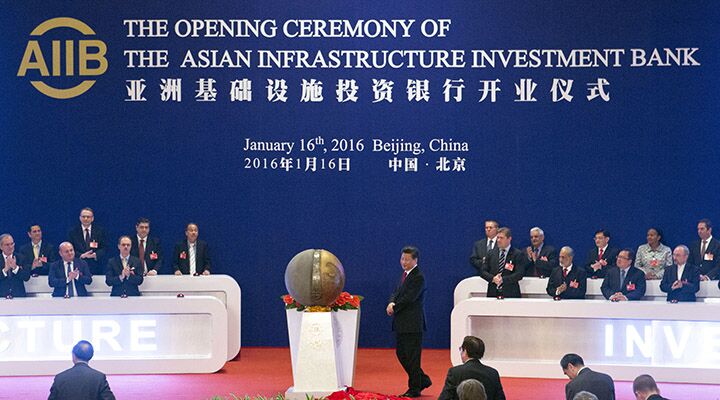 China Unveils a Dangerous New Economic Weapon During a Perfectly Timed Distraction
China's new Asian International Investment Bank could upset the balance of power in Asia.
On January 16, China inaugurated its new international investment bank. In a lavish, ribbon-cutting ceremony at the renowned Diaoyutai State Guesthouse in Beijing, Chinese President Xi Jinping told the assembled dignitaries that they were part of "a historical moment."
Yet most people totally missed the significance.
While Xi was inaugurating the Asian Infrastructure Investment Bank (aiib)—a project that former United States Treasury Secretary Larry Summers earlier called a "wake-up call" for America and the most important economic event since America led the world off the gold standard in 1971—the world was focused on collapsing stock indexes.
And for good reason.
During the weeks preceding January 16, turmoil and fear gripped world markets. Trillions in wealth vanished in China, Europe and America. For America, it began as the worst opening in U.S. market history. It quickly became the worst four-day start, then 10-day start. Then two-week start.
So far, 2016 has been one of the worst starts in Wall Street history.
World-renowned financier George Soros told an audience on January 6, "When I look at the financial markets, there is a serious challenge which reminds me of the crisis we had in 2008."
A day later, Bill Gross, the founder of the world's largest bond fund, said things are going to get so bad this year that a lot of people are going to need a Xanax.
And this was just in America. Stock exchanges around the world trembled. In China, circuit breakers were tripped twice due to panicked selling. Markets were shuttered. In Italy, investors feared a run on Monte dei Paschi—the world's oldest surviving bank. In London, the ftse has entered bear-market territory.
Meanwhile oil prices are plummeting—deluged by the perfect storm of technological breakthrough, sluggish demand, and economic war among Saudi Arabia, Russia and Iran. According to the Bank for International Settlements, there is an astounding $2.5 trillion of energy debt outstanding globally.
The fear in America is that the oil-fracking boom is on the verge of an epic bust. Half a trillion in high-yield oil debt was lent assuming $80 per barrel of oil. Last year, a JPMorgan analyst estimated if oil stayed below $65 a barrel, 40 percent of all energy junk bonds would default. West Texas Intermediate is currently bobbing around $30 per barrel. In Dallas and Houston, real-estate markets are showing signs of stress. The share prices of home builders who have exposure to Texas, like EastGroup Properties, Cousins Properties and Parkway Properties, are plummeting too.
"This is different than in 2008," says home construction products sales rep Eric Orleans. "Things never slowed down then, and they are now. You can feel it."
And the oil bust may just be starting. Many oil companies locked in their oil sales years ago—at higher prices. Most of those hedges are rolling off in 2016, reported Agora Financial last year. "Even conservative energy companies … could run into trouble."
Shell Oil announced last month that it would lay off an additional 2,500 employees, taking the total to 10,000. So far the U.S. has lost 140,000 oil jobs, this year. If prices don't turn around soon—and with Iran set to start selling oil again they probably won't—it could turn into a fracking graveyard.
But for the real danger, look to the banks. Just like the oil bust in the 1980s, expect contagion.
Throw in the lifting of Iranian sanctions and the Taiwan elections on January 16, and there was a lot going on in January.
It is easy to see why the inauguration of the aiib went largely unnoticed. But it shouldn't have.
As Larry Summers wrote: "[T]his may be remembered as the moment the United States lost its role as the underwriter of the global economic system" (emphasis added). Luxembourg's finance minister said it was "further proof of the rebalancing of the world economy."
For China, the aiib is about asserting its leadership of Asia. It is also about offering an alternative vision to the post-World War ii institutions championed by the United States.
But ultimately it is about driving the U.S.-dominated World Bank and International Monetary Fund from mainland Asia—and eventually all the way back to Hawaii.
Speaking at the opening ceremonies, the aiib's first president, Jin Liqun, said the bank would focus on building connectivity in Asia.
Jin said the sustainable development of the Asian economy and regional economic integration rely on the infrastructure construction and connectivity, which would help facilitate the flow of trade, investment, personnel and information. As such the aiib will focus on building connectivity between Asian nations. This would take the form of road, rail, port, high-speed Internet, wireless communication and other infrastructure initiatives designed to link Asia more closely together.
Jin also said that while the bank would initially make loans in dollars, it would eventually transition to using euros and yuan.
China is openly challenging America. And many of America's closest allies—Britain, Germany, Italy, Australia, New Zealand, France, Taiwan—are giving their approval. Even nations like the Philippines, who depend on America for political support, fear China more.
The infrastructure is being built for a world without the United States. It is a sign that although the U.S. dollar may appear strong right now, its long-term fundamentals are swiftly eroding. And with it, American power and prosperity.
The balance of power is shifting in Asia. European money is backing Chinese willpower. It is a potentially potent combination. China gets to decide who gets how much, and European companies get a shot at building the projects and investing alongside China. The United States gets … left on the sidelines.