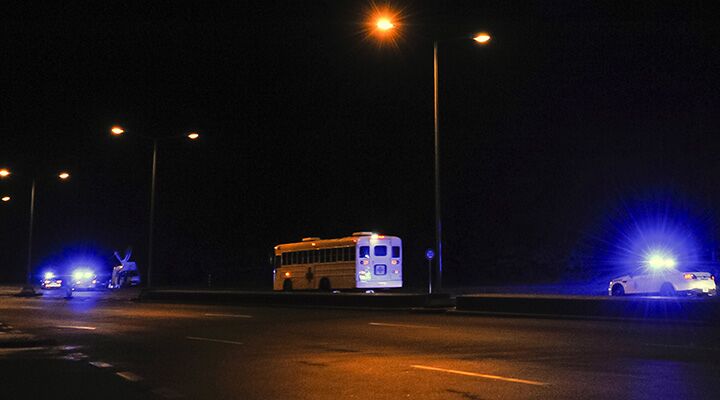 Trading Villains for Victims
President Obama's disastrous prisoner swap
"Several Americans unjustly detained by Iran are finally coming home," said United States President Barack Obama January 17. After 14 months of secret negotiations, his administration had secured the release of four American citizens.
Although the prisoner exchange took place the same day sanctions were lifted, officials involved in the swap insisted that the exchange had nothing to do with the sanctions relief. It seems far from coincidental, but even if true, the negotiation of captives with Iran—just increases the likelihood that they will do something like this again.
Of course the liberation of innocent civilians from Iranian jails should be cause for celebration. However, the event should not be celebrated as a victory for diplomacy.
The Victims
The Americans freed under the negotiation were: Washington Post Tehran correspondent Jason Rezaian, former U.S. Marine Amir Hekmati, Christian pastor Saeed Abedini and Nosratollah Khosravi-Roodsari. Matthew Trevithick, an American student, was also released, but he was not a part of the negotiated agreement between Tehran and Washington.
Rezaian was charged with espionage in a closed-door trial in 2015. The length of his imprisonment was never announced—an ace-in-the-sleeve for Iran to call upon when needed.
Hekmati was also accused of spying for the U.S. and had been awarded the death penalty.
Saeed Abedini was arrested on charges of undermining national security through private Christian meetings.
Little is known of Nosratollah Khosravi-Roodsari, but he chose to remain in Iran following his release.
The point is, most if not all, of these men were being held on what the U.S. claimed to be drummed up, falsified charges. Granted, the U.S. wouldn't openly admit it if it was using the men as spies, but considering Iran's historic relationship with the U.S., the likelihood is that the men were held unlawfully. That, or the Iranians are exceptionally good at capturing American spies. Add to that the closed-door, murky court proceedings, and the only thing that comes across clearly is the fact that these men were not given due legal process.
These are the victims we are happy to see released from behind bars. Now let's meet the villains.
The Villains
"In a reciprocal humanitarian gesture," President Obama said in his announcement, "six Iranian Americans and one Iranian serving sentences or awaiting trial are being granted clemency." He went on to reassure the American public: "These individuals were not charged with terrorism or any violent offenses. They are civilians and their release is a one-time gesture to Iran given the unique opportunity offered by this moment and the larger circumstances at play…."
So who were they? Iranian state television identified them as Nader Modanlo, Bahram Mechanic, Khosrow Afghahi, Tooraj Faridi, Arash Ghahreman, Nima Golestaneh and Ali Saboonchi.
Modanlo was an aerospace expert convicted of helping Iran launch its first satellite into space. While seemingly benign at a glance, it is actually a serious crime. Iran has long worked toward enhancing its ballistic missile program, occasionally using its space program as a facade to complete its objectives.
The satellite in question was launched in 2005. This was when Iranian Present Mahmoud Ahmadinejad was racing full-throttle to acquire nuclear weapons!
Mechanic, along with his nephew Tooraj Faridi, and Khosrow Afghahi operated a Texas-based sister-company to Tehran's Faratel Inc. They were arrested in 2015 for selling electronics to Iran that were embargoed by America. One of their customers was the Atomic Energy Agency of Iran.
The Federal Bureau of Investigation report stated that the electronics the men shipped were "frequently used in a wide range of military systems, including surface-to-air and cruise missiles."
According to the U.S. Department of Justice, Ghahreman was convicted for "violations of U.S. export and money laundering laws, arising from his involvement in a scheme to purchase marine navigation equipment and military electronic equipment for illegal export to, and end-use in, Iran…."
The penultimate perpetrator was Iranian hacker Golestaneh. According to federal authorities, Golestaneh hacked into the computer system of a Vermont aerodynamics company to steal millions of dollars worth of software. The hack was carried out in April 2012 and May 2013—when Iran was possibly just moments away from acquiring nuclear weapons.
The last man, Saboonchi, was arrested and convicted of conspiracy and seven counts of exporting American manufactured industrial products and services to Iran. Saboonchi would send the products to China or the United Arab Emirates, and then on to companies in Iran.
All the cases were circulated in the media and had little to no ambiguity—a stark contrast to the allegations thrown on the U.S. citizens in Iran.
Fair Trade?
Obama called the prisoner release a "one-time gesture to Iran." But the fact still stands that Washington just pardoned seven felons to secure the release of four innocents. Leaders in the White House can say all they want about this being a historic moment for diplomacy, but their own words betray them. The U.S. government has always labeled the charges against the four men "trumped up." On the other hand, federal courts have lawfully convicted the seven men who were aiding Iran. The courts have hard evidence to support the arrests and convictions.
The exchange shows that the U.S. willingly played into Iran's hands. Tehran used innocent U.S. civilians to secure the release of its partners in America!
This was no fair trade. This was extortion.
It is no coincidence that also on January 17, Secretary of State John Kerry agreed to pay Iran $1.7 billion in interest for a $400 million debt dating back to before the 1979 Iranian Revolution. That is a small fraction of the estimated $55 billion released under the sanctions deal, but it is $1.7 billion that was taxed from the American people. Now it is going to fund the world's largest state sponsor of terror.
But the deal gets worse. The U.S. also agreed to drop 14 international arrest warrants. Two of those warrants were for men accused of funneling weapons to Bashar Assad and Hezbollah. The two men are connected to Iran's Mahan Air, the airline conveying the troops and support from Iran to its allies in Syria and Lebanon.
According to the Treasury's Under Secretary for Terrorism and Financial Intelligence David Cohen, Mahan Air is "yet another facet of the Iranian Revolutionary Guard Corps's extensive infiltration of Iran's commercial sector to facilitate its support for terrorism."
Setting a Precedent
The problem isn't necessarily what the prisoners and former fugitives will do now that they are out from under Washington's sword of Damocles. Many of those released in America are staying in the nation and will undoubtedly be monitored. More concerning is the message sent to America's enemies abroad.
For enemies of America, who have friends in prison in the U.S., kidnapping now looks like a viable option. It doesn't matter that President Obama said this was a "one-time gesture." He did it. He again showed the U.S. to be a weak negotiator.
The prisoner exchange sends a message to the world: America may not negotiate with terrorists, but in the right circumstances it's OK to make an exception.
The exchange calls out Washington as a toothless tiger—a power that is ready to be extorted and manipulated. It paints an enormous target on the back of the U.S. and its representatives abroad.
Iran kidnapped civilians, then had the audacity to negotiate the release of pro-Iranian felons from America, settle a $1.7 billion payout from America, and get America to drop warrants for criminals fueling the humanitarian crisis in Syria. And it worked!
January has already seen Iran positioned to receive around $55 billion. Now it has another $1.5 billion plus operatives. It has also shown its power over the U.S. Watch this month set the stage for a similar role-reversal in the Middle East as Washington's diplomatic victories continue to embolden and empower Iran and her allies around the world.