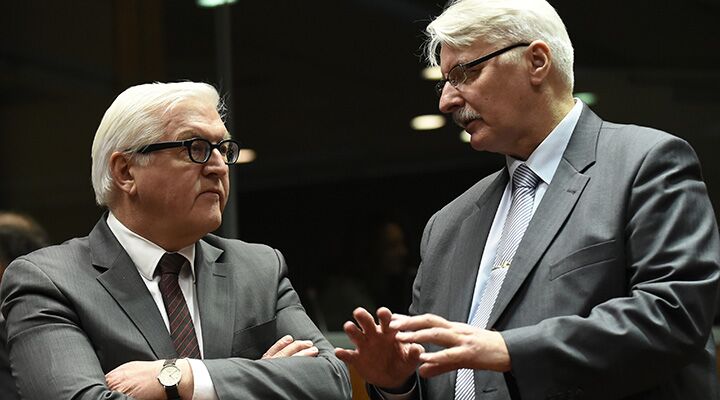 EU Leaders Finally Wake Up to Crisis
After burying their heads in the sand for years, Europe's elite are finally realizing that their project is on the brink of destruction.
Top European Union leaders are forecasting that 2016 could potentially bring even greater rounds of crises to Europe than the ones experienced in 2015.
German President of the European Parliament Martin Schulz gave a grim outlook for 2016 in his New Year's reception speech in Brussels last week. He said 2015 was the worst year in his political career. "I can't remember such a year," he continued. "Starting with terror, ending with terror, and multiple crises from one day to another.
"And nobody knows … what will happen in 2016. We should be, and we must be prepared to face a similar year in 2016."
President of the European Commission Jean-Claude Juncker also had a dreary outlook on the coming year. The Times quoted him saying at the same event, "The EU was tested to its limits [in 2015], and I cannot see anything to indicate this year will be any different."
Most notably, Germany has now moved from being just about the only nation in the EU not in crisis to being its biggest problem.
The London Times wrote that Mr. Schulz "broke with protocol" in his speech to say "Germany faced existential pressures this year that could, in turn, destroy the EU."
The Times also quoted one veteran EU diplomat saying, "The worst nightmare for the European project is an outbreak of populism or political upheaval in Germany. Now it is looking like a real possibility. … Looking at Germany, especially after Cologne, there is the objective basis for a political explosion if someone lights the fuse."
Geopolitical analyst and founder of Geopolitical Futures George Friedman recently posted an article about his experiences speaking to a group of business executives and EU diplomats in Amsterdam. He spoke about a "storm gathering" with tension mounting in China, Russia, Europe and the Middle East. He also said that the "future of the European Union is untenable."
Normally Friedman's speeches aren't well received by EU proponents, but this time was different. "What was remarkable in this meeting," he wrote, "was that most of the audience took no exception, save a few mild souls who said there was some hope of a solution to Europe's problem.
"The lack of animus toward these views is in my mind a tremendous indicator of the state of Europe."
The entire world recognized Europe's problems in 2015, and in 2016, it's likely to be worse. In 2016, Europe won't be able to hide behind nice-sounding, liberal solutions, which, if we've learned anything from 2015, actually bring more troubles. Europe's leaders, if they're serious about solving these crises, are going to have to honestly address and face these problems head on.
Solving Europe's crises will take leadership. Politicians admit there are problems, but, as Friedman noted from his experience in Amsterdam, most people aren't expecting "a solution from the politicians."
In a special report published by our staff at theTrumpet.com, we wrote:
The Continent is experiencing a complex and historic crisis—one that threatens the financial and political underpinnings of the EU and postwar Europe—one that increasingly pits the German public (anti-German intervention) against the rest of Europe (desperate for German intervention)—and one that will get much worse before it gets better.
Experts like Friedman are right, in that, over the next year or so we could see the end of the EU as we know it. It simply cannot survive in its current form.
Meanwhile, the migrant crisis has the potential to radically change German politics—something that will have a huge impact on the EU.
Rather than going quietly into the night, however, the EU instead will be forced to change radically.
The stage is being set in Europe, particularly in Germany, for a strong leader to come on the scene. Europe has dithered for years, but without big change it will fail. But in an increasingly dangerous world, the nations of Europe will not simply allow the Europe project to quietly retire. Instead, in the face of the crises confronting Europe, the Bible reveals that a smaller group of nations will band together behind a strong leader to form a much more closely integrated superstate.
The first step to forming this superstate is acknowledging the crisis. After years of willful blindness—with various Eurocrats insisting year after year that the euro crisis is over, for example—the EU is finally taking that first step.
"Watch closely," Trumpet editor in chief Gerald Flurry wrote in 2011. "Germany will use this crisis to force Europe to unite more tightly. In the process, some eurozone countries will be forced out of the union. When that happens, the pundits will say European unification is dead, that the European Union has failed. Don't listen to them! Every country that leaves the EU puts us one step closer to seeing the German-led 10-nation European superstate!"
More people are saying the European unification is dead than ever before. Even its biggest fans are questioning whether it will survive. To learn why these forecasts of Europe's demise are premature, read Mr. Flurry's article "A Monumental Moment in European History!"