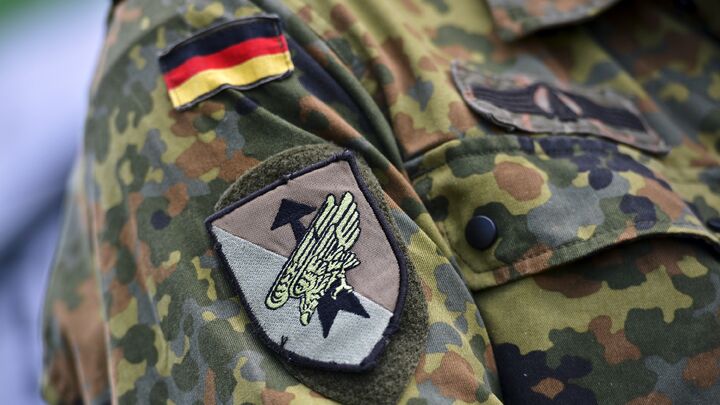 Germany Is Building a European Army Before Your Eyes
The Dutch Army is being absorbed into the German military, and Poland's could be next.
The Dutch Army is made up of three brigades, plus support staff and Special Forces. On June 12, one of those brigades, the 11th Airmobile, officially joined the German Army.
This was the first time ever that European country has handed part of its army over to another country. "Never before has a state renounced this elementary and integral part of its sovereignty," wrote Die Welt's political editor, Thorsten Jungholt.
The hour has come, finally, for concrete steps towards a European Army.
Chairman of the German Parlaiment's Defence Committee Hans-Peter Bartels
Now, Germany is making it clear that this was not an isolated event. Instead, it is a pattern Germany intends to follow as it absorbs more units from foreign militaries. "
Germany is driving the European Army Project
" was the title of Jungholt's
Die Welt
article.
Expanding the German Army
Germany is pursuing a second Dutch brigade. The German Army's Chief of Staff, Lt. Gen. Bruno Kasdorf, recently wrote a letter outlining plans for future cooperation. "The integration of the Dutch 43rd Mechanized Brigade into the [German] 1st Armored Division shall be encouraged," he wrote. This would leave the 13th Mechanized Brigade as the only brigade in the Dutch army still under Dutch command.
This subject has received little attention in the Netherlands, but think about what is happening here. The Dutch Army also includes special forces and support staff, so it is not quite accurate to say that two thirds of the Dutch Army would be under German control, but certainly a very large part of it would be. This is no small experiment simply to pay lip service to the idea of multinational cooperation. This is the Netherlands signing the heart and core of its army over to Germany.
All this is in addition to extensive training and cooperation that already goes on between the two armed forces.
Never before has a state renounced this elementary and integral part of its sovereignty.
Die Welt's political editor Thorsten Jungholt
Kasdorf wrote that Germany wanted to employ the Dutch model in cooperation with other nations. "The bilateral cooperation with Austria and Poland is currently gaining much momentum," he wrote.
In Austria, this cooperation is mainly in the form of "mountain-specific" activities, he continued, but "a more intensive … cooperation … in a form similar to the Netherlands" is being considered with Poland. The two nations have agreed "to study the exchange of units/organizations," Kasdorf wrote.
These nations already train and exercise together often. Could we see Polish battalions joining the German Army soon? Last year the two nations signed a naval agreement to train together and cooperate in the Baltic Sea. In the wake of the Ukrainian crisis, there may soon be more.
The Ultimate Goal
Hans-Peter Bartels, the chairman of the German parliament's defense committee and the recipient of Kasdorf's letter, left no doubt as to the final destination of all these additions. "The hour has come, finally, for concrete steps towards a European Army," he told Die Welt.
Germany's Defense Minister Ursula von der Leyen has a similar goal. "Today we embark a new era of integration," she said as the Dutch Airmobile brigade official joined the German Army back in June. "This cooperation will continue and even intensify. Our new partnership can also be seen as a model for Europe and its common security and defense policy," she announced.
In his letter, General Kasdorf wrote that Germany is a "driver and a pioneer" when it comes to international cooperation between armed forces.
As part of this effort, Bartels suggested that Germany may put some German soldiers under the command of other nations. This may happen, but it will have limits. Germany's constitution, and its subsequent interpretation by the Constitutional Court, ensures that the German parliament must remain in ultimate control of the German Army.
Besides, the job of the defense committee that Bartels chairs is to advise and scrutinize, not to make decisions. Bartels is a member of Social Democratic Party (sdp), not the Christian Democratic Union (cdu), which is the senior coalition member. The decision makers in the German Defense Ministry have given no indication that they would be willing to sign over parts of the German Army to other nations.
Forced by Russia
So far, financial pressures have been prompting Germany's neighbors to seek military cooperation. They can achieve the same bang for fewer bucks by working together. But Russia's aggression in Ukraine is prompting another push.
"Something is sprouting in Germany," Jan Techau, director of the Think Tank Carnegie Europe, wrote. "As Europeans ponder the necessity of military strength after Russia's annexation of Crimea, and nato charts its course for the post-Afghanistan era, Europe's reluctant central power is doing some serious soul-searching on its role as a military player."
Techau continued, "This reflective process started years ago, when former Defense Minister Karl-Theodor zu Guttenberg started to set things straight by calling the war in Afghanistan a war and a fallen soldier a fallen soldier—things that had previously been taboo. But now, after those linguistic adaptations to reality, it seems that a more profound change is happening, one that might eventually lead to a shift in political behavior."
Germany has sent planes to help patrol the Baltic states' airspace and sent a ship to nato's Baltic task force, as well as doubling the number of staff offices it has at nato's Multinational Corps Northeast headquarters in Szczecin, Poland, from 60 to 120, thus "enabling the corps to increase its level of readiness significantly," Techau wrote. "This nato headquarters is predominantly dedicated to territorial defense—in other words, more than anything else, it looks at Russia."
"Most importantly, Germany decided to integrate its land forces into the exercise scheme nato is currently putting together to strengthen the alliance's troop presence on its Eastern flank," he wrote. The scheme will probably be approved in September and would give nato a constant presence in Central Europe, but without actually stationing any soldiers there permanently.
"Only months ago, Berlin would have categorically ruled out such a step," continued Techau. "Now, Germany has put itself firmly at the center of a substantial nato compromise that is addressed, of course, at Moscow. This is not a revolution in Germany's military posture, but it is substantial progress."
Germany was already working on a European army before the Ukraine crisis. Now, there is a new urgency.
Germany is once again a major power in the world and now, with the help of its neighbors, it is on the road to become a major military power. The cooperation Germany has initiated with the Netherlands could become a template for all of Europe—and now with added urgency provided by Russia. For more on how Germany is pushing for Europe's militaries to come together, read our article "Under Construction."