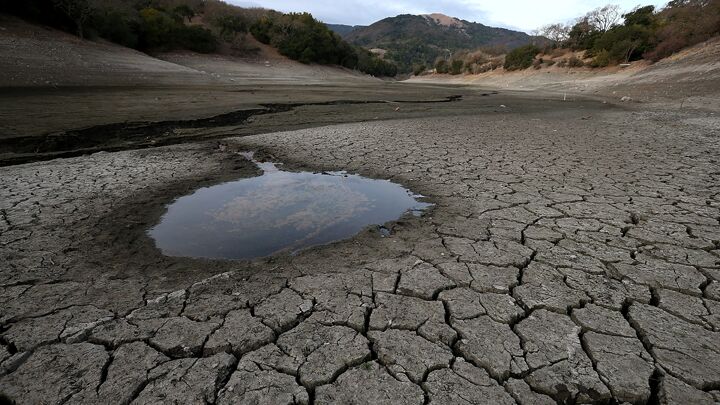 California Facing Yet Another Record Drought
Severe drought is crippling the state of California. One hundred percent of California is in a severe drought; 77 percent is in an extreme drought; and 33 percent is in an exceptional drought. Regions of California recorded rain deficits of between 16 and 32 inches since last October.
"Those are remarkable numbers," Mark Svoboda said, climatologist and leader for the National Drought Mitigation Center's monitoring program.
The ongoing drought is not only felt in California, the whole American populace is starting to feel the pinch in their wallets. Consumers can expect to see vegetable prices rise by as much as 6 percent. The Golden State produces over half of the nation's fruits and vegetables. But with the lack of rain, 500,000 acres of farmland has been forced to lie fallow.
"Consumers will see rising food prices because farmers have had to significantly curtail production due to lack of water," said April Mackie, adviser for the American Farm Bureau. Rise in food costs could add as much as $500 to a family's annual bill, according to Californian Farm Bureau president Paul Wenger.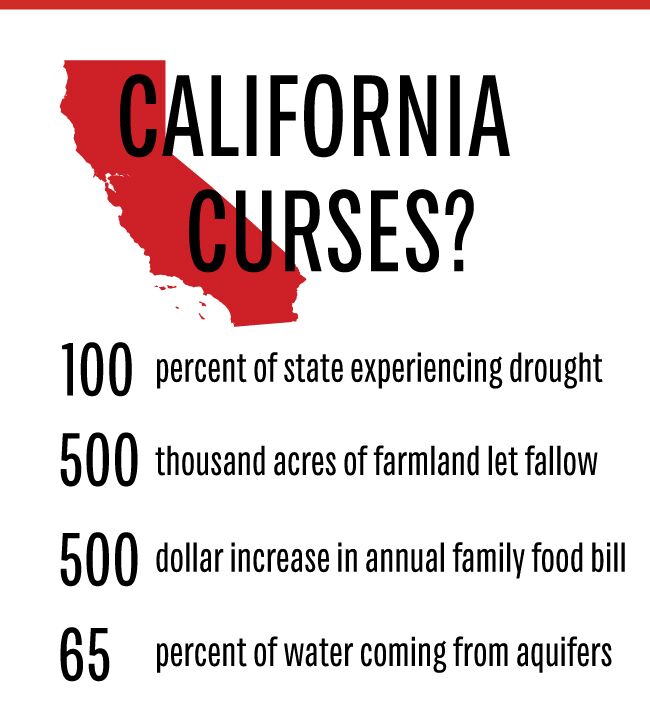 "You're probably going to see the biggest produce price increases on avocados, berries, broccoli, grapes, lettuce, melons, peppers, tomatoes and packaged salads," warned Timothy Richards, chairman at the Morrison School of Agribusiness at Arizona State University.
These water shortages in California's most productive agricultural region could lead to the loss of 14,500 jobs and cost the agricultural industry $1.7 billion.
Some say this is the worst drought the state has faced in more than 40 years, since the 1970s. In fact, this drought could be a lot worse considering the state now supports 40 million people instead of the 20 million it supported during the '70s.
The drought has prompted many farmers to drill wells hoping to prevent crop losses. Although a short-term fix, experts warn of long-term consequences for drawing so much water out of the ground.
A lot of the underground water basins in California are currently at record lows. Sixty-five percent of the state's water this year will be supplied by California's aquifers; that is a 15 percent increase over previous years. This uptake in water is unsustainable. Already, it is estimated that water tables in the Central Valley have dropped 100 feet below previous historic lows.
"We're on a one-way trajectory toward depletion, toward running out of groundwater," University of California hydrologist and leading expert on groundwater Jay Famiglietti said. "[I]t's not unlike having several straws in a glass, and everyone drinking at the same time, and no one really watching the level."
Anyone paying attention will have noticed the increasing severity of droughts in the Golden State. Why is all this happening to California?
"One disaster after another is striking California," Trumpet editor in chief Gerald Flurry wrote in 1993. "These deadly disasters are repeatedly labeled the 'worst ever'! … With all the disasters that have struck California the past few years, it's as if the state is under a curse."
Is God cursing California?
To fully understand why California is facing such significant drought problems, read Mr. Flurry's article "Is California Under a Curse?"