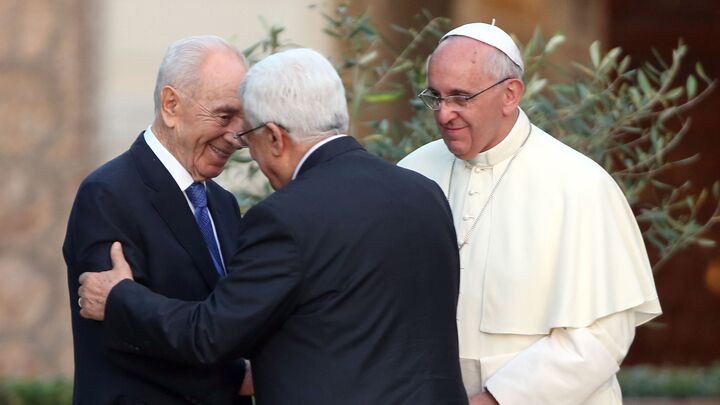 What to Make of the Pope's Prayers for the Peace of Jerusalem
Pope Francis united Shimon Peres and Mahmoud Abbas in prayer. But the Jews have every reason to view the pope's overtures with suspicion.
On the surface, it all appears so rosy.
This past Sunday, Israeli President Shimon Peres and Palestinian Authority President Mahmoud Abbas met at Pope Francis's home at the Vatican. The three men discussed and publicly prayed about establishing peace in the Middle East.
The landmark meeting ended with the Jewish and Palestinian leaders exchanging kisses on the cheek and then breaking ground to plant a peace-symbolizing olive tree.
This was the first time the Vatican has ever hosted a prayer gathering of two leaders engaged in conflict. "I hope that this meeting will be a journey toward what joins us, to overcome what divides us," Francis said. He added that the meeting is a response to people who want to live, not as enemies, but as brothers and sisters.
Does the pope really believe Mahmoud Abbas wants to be a "brother" to Shimon Peres? Does Peres really believe that?
Whatever the case, the pope appears to be single-handedly renewing interest in the moribund peace process. As Peres told the pope during his trip to Israel, "The humility in your nature and the power in your spirit raised a spiritual elation and a thirst for peace."
It was during that visit that Francis invited Abbas and Peres to visit the Vatican for prayer. His success in bringing them together was particularly remarkable given the failure of United States' efforts earlier this spring to get them to the negotiating table. As Associated Press reported after his invitation to the two men, "[T]he pope's gesture seemed to send a powerful message to the region's leaders not to give up, weeks after the latest round of peace talks collapsed."
Inserting himself into the Middle East peace process is a significant political move for the religious leader. As the Washington Post wrote, "The pontiff had said his visit [to Israel] would be 'strictly religious,' but it was not" (May 26).
Outgoing Israeli President Shimon Peres, Palestinian leader Mahmoud Abbas, and Pope Francis hold peace prayers at the Vatican on June 8.
In truth, the impartial-looking Vatican is no stranger to playing politics. Though many people view it as purely a religious entity, it is in fact a state, with independent sovereignty, diplomatic immunity, ambassadors, a central bank, a capital and a very centralized government. It also has strong political interests in Jerusalem.
Christopher J. Hale, a senior fellow with CathinAlliance, made this interesting observation after the prayer session: "[C]ommentators have tried to downplay the meeting, but to reduce June's meeting to an act of mere symbolism fails to understand the role religion can and should play in addressing difficult political and ethnic issues. Throughout world history, religious prophets have creatively navigated tense situations to advance peace and justice. Within the past century, Gandhi, Martin Luther King and St. John Paul ii showed us that religious witness can win a war without raising a hand."
Hale is correct in a sense—and we can expect the Roman Catholic Church to continue to press its way into Middle Eastern affairs. History shows, however, that in this case, the Jews have ample reason to view the pope's overtures with suspicion.
For one, by every measure the peace process that the pope is advocating has been a disaster for the Jewish state. Each time Israel has entered into negotiations and made agreements with the Palestinians, it has resulted in a loss of land and a subsequent increase in violence and terrorism.
Abbas made a fine show of making friends with Peres. However, just this month, Abbas forged a unity Palestinian government with Hamas, an active terrorist organization, and widely recognized as such. Hamas has repeatedly reiterated its charter goal to eliminate Israel. It routinely fires rockets into the Jewish state from its territory in the Gaza Strip. It completely objects to any and all negotiations with Jews.
Abbas, by uniting his Fatah political party with the intractably violent Hamas, has exposed his true colors for all to see—and essentially turned the entire Palestinian Authority into a terrorist entity.
Yet this is the man Pope Francis obsequiously called "a man of peace and a peacemaker" while visiting his palace in Bethlehem last month.
Despite the pope's pronouncements, all evidence proves that any efforts to restart the peace process with a Palestinian government led by Mahmoud Abbas will produce the same bloody results that past efforts have. It is impossible that the pope is blind to this glaring reality.
Beyond that, the pope's own dealings with Jews—despite some convenient photo ops that suggest otherwise—reveal an unmistakably anti-Israel orientation. During his recent visit, he made several moves that were decidedly anti-Israel. Keep a watch for the cover story of the next Trumpet issue, by editor in chief Gerald Flurry, explaining how these were evident on his trip to Israel.
Looking further, the Vatican's history with the Jews—going back to World War ii—should be closely scrutinized. The shady historical record is actually consistent with the pope's awkward moves, and belies the rosy staged event at the Vatican this past Sunday that appears to be capturing the Jews' imaginations.
Even a peek just below the glossy surface reveals serious problems with the promise the pope is offering. Israel continues this association at its own peril.