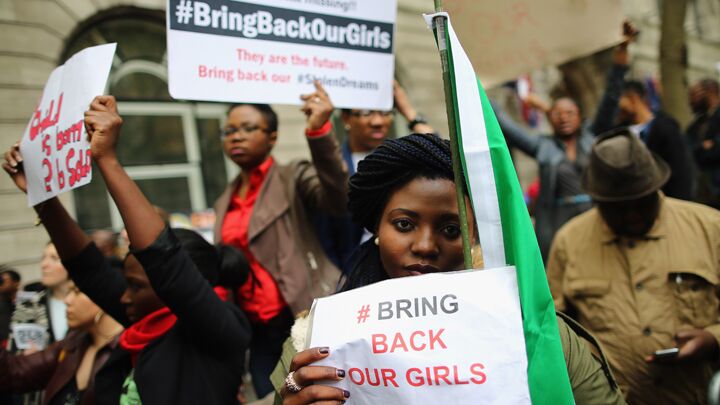 U.S. to Help Bring Back Nigeria's Kidnapped Girls
The international community is stepping up efforts to confront radical Islam in Nigeria.
The Pentagon reported May 7 that it will dispatch a small team of intelligence and negotiating experts to Nigeria to aid in the search and rescue mission for over 200 kidnapped schoolgirls.
The girls were abducted on April 14 from an all-girls boarding school in the northeastern Bono state by the world infamous Boko Haram Islamist terrorist group. Boko Haram—whose name means "Western education is forbidden"—threatened to trade the girls as slaves, arguing that they shouldn't have been in school anyway. "I abducted your girls," taunted the group's leader Abubakar Shekau. "There is a market for selling humans. Allah says I should sell. He commands me to sell."
Though this particular act of villainy is now making world headlines and drawing interest from politicians and celebrities alike, it wasn't the worst crime Boko Haram committed that day in April. That morning, a car bomb detonated at a commuter bus terminus in the capital of Abuja, killing 71 and wounding 121. This suspected Boko Haram attack represents the first time since 2011 that the group infiltrated the capital city from their strongholds in northeast Nigeria.
https://www.youtube.com/watch?v=drtcDs88D-w&feature=youtu.be
President Obama commented on the kidnapped Nigerian girls on May 6.
All in all, the group has killed over 1,200 civilians this year alone, and its declared goal is to establish an Islamic state in Nigeria.
The kidnapping of young girls has now attracted more international attention that might aid in terminating Boko Haram. Nigerian President Goodluck Jonathan said he believed "the kidnap of these girls will be the beginning of the end of terror in Nigeria." In addition to the personnel that the United States will provide, Britain, France and China will also send teams of experts to aid rescue efforts.
While the international community is stepping up its efforts to find the abducted girls and deal with Boko Haram, its response is long overdue and pitifully weak. The hashtag activism (#BringBackOurGirls) that has enlightened most people about this crisis is not enough to dissuade Islamic militants who have killed more people than they have kidnapped. These terrorists are "obeying Allah"—they will not be swayed by social media. More robust action will be required to stop these deranged radicals.
All said, it is evident that a formidable presence of international forces will work to stem the tide of radical Islam—not only in Nigeria, but also in Central and North Africa and in the Middle East. "Radical Islam Explodes in Nigeria" shows we expect that presence to become predominantly European, considering Europe's vulnerability due to geographic proximity and unpleasant historic associations.