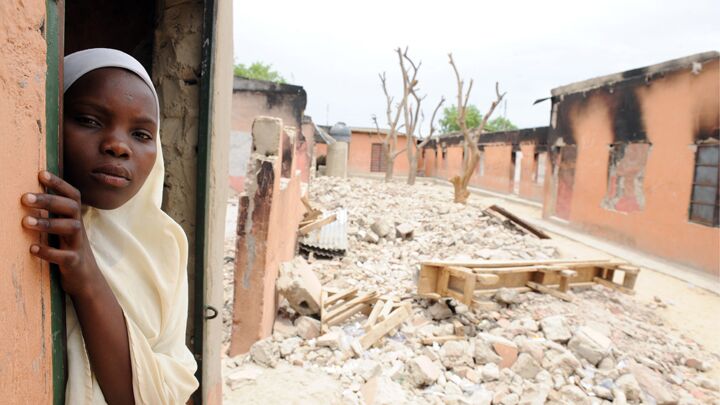 Will Iran Try to Take Over Nigeria?
Africa's largest oil producer is almost in a civil war. Is Iran about to make it worse?
"Are we at war?" asked Nigerian writer Victor Ehikhamenor in an article for cnn last month. He painted a shocking picture of a cycle of violence that we hear too little about in the Western media.
"Suicide bombing, towns and villages getting blown up, allegations of extra-judicial killings by the police and the military, kidnappings, terrorist attacks on government establishments—total confusion and a lack of solutions to the violence is no longer just news, but a terrifying daily reality show," he wrote (May 20).
Nigerian President Goodluck Jonathan declared a state of emergency in three of Nigeria's 36 states on May 15 as the Nigerian military began to push back against the Islamic terrorist group Boko Haram.
Just over a week before, on May 7, Boko Haram killed 22 policemen, 14 prison officials, two soldiers and five civilians during an attack on a prison, according to the Nigerian military.
That was merely the latest in a whole series of attacks. Between April 19 and April 21, at least 185 died in one of the terrorist group's biggest attacks.
Sixteen students and two teachers were killed last week as Boko Haram attacked two schools. Many students are too afraid to attend.
Government officials report that 19,000 farmers have fled their homes due to attacks and threats from Boko Haram. Borno state agriculture commissioner Usman Zannah warns that the region is now expecting serious food shortages.
Boko Haram has also reportedly been moving through towns telling Christians and anyone working for the government that they have a week to leave, or be killed.
"The insecurity is spreading to other parts of the country," warns Ehikhamenor, saying the nation's largest city, Lagos, is coming under threat (ibid). "Many churches in the city have fully armed policemen holding AK-47s guarding entrances during Sunday services," he wrote. "And it is no longer odd to walk into a café or restaurant and find armed policemen guarding diners, with guns resting among cutlery."
"When we now appear in foreign news segments we are right there with Syria, Afghanistan, Iraq … places that are in full-blown war and used to seem so far away," he concluded. "And the question trembling in most people's lips now is—are we also at war in Nigeria?"
The bad news for Ehikhamenor is that things seem set to get worse. Iran is getting involved in Nigeria.
Iran and Hezbollah
Nigerian authorities arrested three Hezbollah operatives between May 16 and 28 in northern Nigeria's biggest city, Kano, and later they arrested a fourth. The operatives had thousands of rounds of ammunition, 17 AK-47s and 11 60-mm anti-tank weapons, as well as rocket-propelled grenades, anti-tank mines and other weapons.
Just days earlier, on May 13, two men were sentenced to five years in prison for their involvement in a 2010 plot to smuggle weapons to Gambia. One of the men, Azim Aghajani, is believed to be a member of Iran's Revolutionary Guards' infamous Quds force.
In February, authorities arrested three men whom they accused of being members of an Iranian-trained terrorist cell that planned to attack U.S. and Israeli targets.
No wonder Israel's left-wing newspaper Haaretz concluded that "more recently it became clear that Nigeria, Africa's most populous nation, has become a hotbed for Iranian/Hezbollah terrorist activities."
Nigeria already has its own home-grown version of Hezbollah. In the wake of the 1979 Iranian revolution, members of Nigeria's Muslim Student Society traveled to Iran, where they were trained to repeat the revolution in Nigeria, according to Dawit Giorgis, a visiting fellow at the Washington-based think tank Foundation for Defense of Democracies. These students formed the Islamic Movement in Nigeria (imn), which "flourished with cash, training and support from Iran," he wrote in an article for cnn.
"The imn has provided Hezbollah-style military training to hundreds of Nigerians in camps throughout northern Nigeria," he wrote. "And although the group has yet to launch an attack, it is surely not unreasonable to expect an attempt at some point. As Muhammad Kabir Isa, a senior researcher at Nigeria's Ahmadu Bello University, told the bbc: 'When you embark on military drills, you are drilling with some sort of anticipation. Some sort of expectation.'"
Giorgis also warns that the leader of the imn "has reportedly worked to ensure that his members are recruited into the army, the police force and the state security establishment."
Iran obviously has a powerful tool already in place in Nigeria, just waiting to be mobilized.
The other major fear is that Boko Haram could link up with Hezbollah and Iran, if it has not done so already. When the arrest of the most recent Hezbollah members was announced, Nigeria's military said it was investigating the possibility of a link between the two terrorist groups.
Bassey Etang, director of the State Security Service in Kano, said "we cannot link them with Boko Haram until the conclusion of investigation, but we suspect such group like Hezbollah can have links with Boko Haram."
The bbc recently noted that Boko Haram's latest attacks suggest "that they are becoming better-resourced." Could those resources be coming from Iran?
Boko Haram follows the Salifist Sunni tradition of Islam, while Hezbollah and Iran are Shiite. Boko Haram is also believed to be receiving support from al Qaeda, whom Iran is fighting in Syria. But such an alliance would not be unprecedented. Iran has already demonstrated that it is willing to work with al Qaeda on occasion, in order to attack the West.
Boko Haram also appears to have been strengthened by other African Islamist groups. Some of Nigeria's militants fought in northern Mali and have returned with heavy weapons that presumably came from Libya.
Iran's Motive
But what does Iran have to gain through this involvement? Adel Assadinia, a former Iranian diplomat who fled to the West, said in an interview with freelance journalist Dan Brett published in 2009 that in working with groups like the imn, "Iran's objectives are to establish a local power base to exert influence over the national government and to act against Western interests."
Nigeria has been on the West's side in the war against radical Islam in North Africa, sending troops to fight the Islamists in Mali.
The Nigerian government has already been forced to withdraw troops from Mali in order to gain control of its own country, according local media.
Nigeria is also Africa's largest producer of crude oil, and the 12th largest in the world. It has the second-largest proven oil reserves in Africa, after Libya. The oil production takes place on the coast, away from the Islamist groups' centers of power. But if they could destabilize the country enough, they could disrupt this oil industry. Add to that Iran's control of the Strait of Hormuz, influence in Libya and alliances with nations along the Red Sea, and it becomes clear that Iran has formidable power to disrupt the world's energy supply.
With a population of 175 million, Nigeria is also Africa's most populous country—the seventh most populous country in the world. This alone makes it one of the most strategically important countries in the region.
In February this year, Trumpet editor in chief Gerald Flurry warned that "Northern Africa is turning into a battleground with enormously important prophetic implications," in an article that appeared in the April print edition.
"Iran has designs on being the strongest power throughout the region, and is extending its reach throughout North Africa," he wrote.
Iran's push into Nigeria is part of this same strategy, though it will not necessary win, especially as Europe has shown that it is willing to step in if things get too bad.
Iran's pushy strategy is bringing it increasingly into conflict with Europe. For more on this important battle in North Africa, see Mr. Flurry's piece "Watch Algeria!"