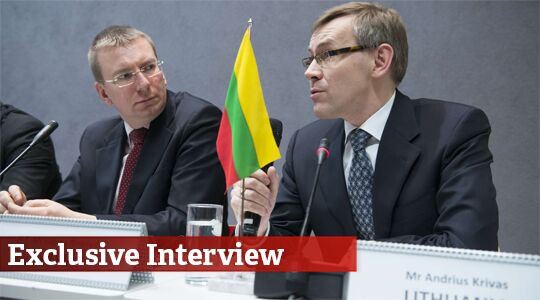 Lithuanian Foreign Vice-Minister: 'We View Military Activity in Kaliningrad With Concern'
Lithuania is concerned about Russia's May 5 decision to unilaterally suspend a deal under which Moscow agreed to provide information to Vilnius about Russian weaponry in the region of Kaliningrad.
"This is of great concern," said Andrius Krivas, Lithuania's vice-minister of foreign affairs, in a May 7 interview with theTrumpet.com. "This unilateral decision by Russia dismantles a confidence and security arrangement in the conventional arms control area that we previously managed to build together with Russia in our region," said Mr. Krivas, who is in charge of Lithuania's eastern relations.
The agreement Moscow suspended was bilaterally established by Russia and Lithuania in 2001. It said the two countries would exchange information regarding their armed forces, and that each could conduct military inspections of the other. The agreement required Lithuania to disclose information about the entirety of its armaments, but Russia was required only to share data about its armaments in Kaliningrad Oblast—the Russian enclave situated on the Baltic Sea between Poland and Lithuania.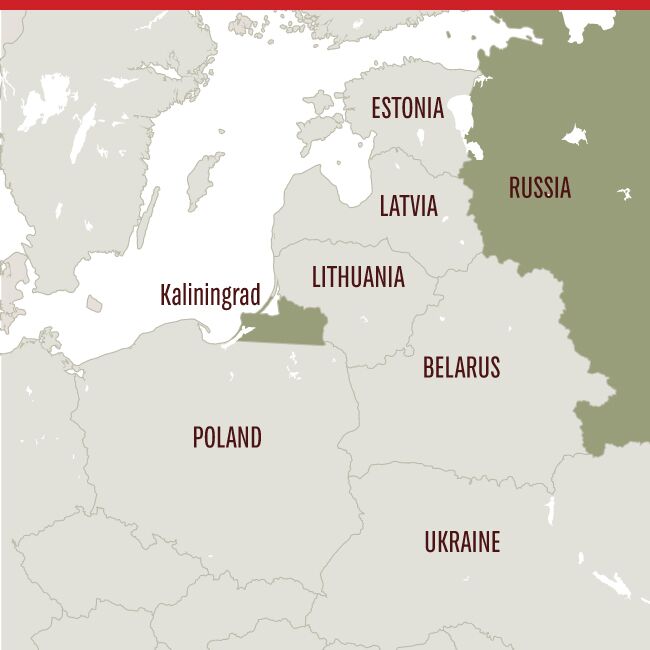 Kaliningrad, which the Soviet Union annexed from Germany in 1945, remains of key strategic importance to Russia. It is home to Russia's Baltic Sea Fleet and also hosts the Donskoye and Chernyakhovsk air force bases.
Now Russia says it is no longer willing to uphold its end of the deal, which has fueled worries among many in Lithuania and beyond. "In a broader sense, it is yet another element of Russia's strategy to revise the cooperative security architecture built in the Euro-Atlantic area after the Cold War," Krivas said, adding that it is a "serious concern" to Lithuanians.
Mr. Krivas said that the Kremlin's ongoing aggression in Ukraine has spawned fears among many in Eastern Europe that Russia might try to destabilize their nations next. "[A]s long as the Russian leadership pursues the policies of reinstating in one form or another Moscow's control and domination over the area once ruled by the Soviet Union or, even further back in history, Russian Empire," Krivas said, "such risk is always present."
Russia's actions with regard to Ukraine … command an ever more cautious approach to possible and even likely attempts by Russia to do the same with regard to its other neighbors ….
Andrias Krivas, Lithuanian Vice-Minister of Foreign Affairs
He continued: "Russia's actions with regard to Ukraine … command an ever more cautious approach to possible and even likely attempts by Russia to do the same with regard to its other neighbors, including but not limited to, the Baltic States."
Nuclear Weapons, Too?
The suspension of the treaty is particularly worrying because of the possibility that Russia has nuclear weapons in Kaliningrad. In 2001, the United States infuriated Russia by announcing plans to put missile defense systems in Poland. Reports emerged saying Russia's response to the announcement included the deployment of nuclear weapons in Kaliningrad—outside the range of the defense system.
Moscow denied the reports, but asserted it is under no legal obligation to keep nuclear weapons out of Kaliningrad, since it is, after all, Russia's own territory.
In 2009, Wikileaks released a secret document from the 2002 Congressional Research Service report saying U.S. intelligence had, in fact, detected the presence of nuclear weapons in Kaliningrad using satellite technology. In December of last year, a spokesman for Russia's Ministry of Defense said the Kremlin did have nuclear-capable missiles in Kaliningrad, but Putin again denied it.
In light of these reports and the great likelihood that Russia's Kaliningrad arsenal includes nuclear weapons, the Kremlin's decision to put the kibosh on Lithuanian inspections takes on great significance. Some analysts wonder if the decision may be designed to give Putin space to move armaments around during this time of heightened Russian aggression. "We view military activity in Kaliningrad with concern," Mr. Krivas said.
He also said that Moscow's ongoing belligerence has prompted Lithuania to map out a plan to boost its defense expenditure, and also to support those suffering under Russia's foreign aggression. "Much thought is also given and action taken to show solidarity with, and support in practical terms, Ukraine and some other partners of the EU and nato who may (or have already) become targets of Russia's provocations or direct aggression," he said.
Krivas says that the first step to restoring stability in Eastern Europe is for Moscow to move its troops away from its western border. "First and foremost, Russia should pull back the combat military forces it concentrated along the Ukrainian border to the places of their permanent location; and it should discourage the pro-Russian separatists in Ukraine, many of whom seem to operate on direct orders from Russia, from aggressive actions and armed violence."
Whether Russia pulls its troops back in the days ahead or not, its aggression is already having a profound impact on Lithuania and all of Europe. To learn the details and significance of the European response, read "The Crimean Crisis Is Reshaping Europe."