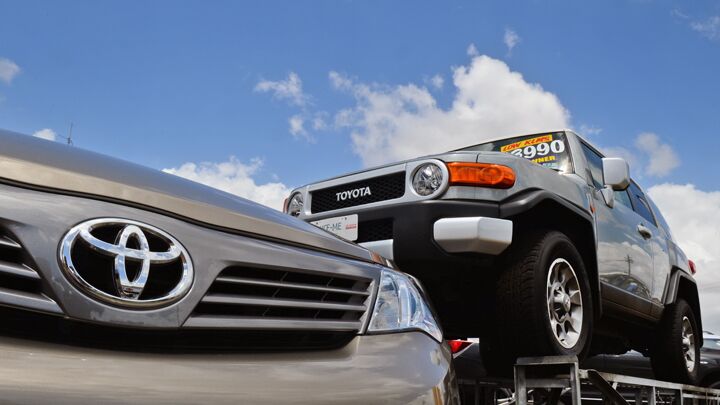 The Death of Australia's Auto Industry
'It is not viable to continue building cars in Australia.'
Toyota Australia announced on February 10 that it will end vehicle manufacturing Down Under by the end of 2017. With this announcement, Toyota joined the mass exodus of foreign companies that have been Australia's sole car-makers.
After Toyota leaves, every new car in Australia will be imported. That's dire news for an industrialized nation like Australia. After 2017, Australia will be the only G-20 economy without a major auto industry, other than Saudi Arabia.
Of Toyota's 4,200 local staff, 2,500 will have to find new jobs, the company said. But the ripple effect goes much further.
The Federation of Automotive Products Manufacturers' chief executive, Richard Reilly, said of the repercussions: "[M]ultinationals [such as Bosch or Aisin, that deal directly with carmakers,] are only here because of the car companies, so when they go, the multinationals will generally go as well. They're big employers and the shake-out at the multinational level is going to be pretty severe."
Australia's car-parts industry is set to lose at least 30,000 jobs. Trade unions estimate that 50,000 jobs will disappear in the entire auto industry. Other experts believe that after all is said and done, as many as 200,000 jobs relying indirectly on the vehicle-manufacturing industry will be threatened—including the heavy mining equipment industries. Even what little is left of Australia's maritime ship-building industry could be threatened. All these losses are expected to slash roughly $19 billion from the Aussie economy.
The exodus of vehicle manufacturers from Australia began with Mitsubishi in 2008. Ford then announced its 2016 pullout in May of last year, and in December, Holden, a General Motors subsidiary, announced that it will cease manufacturing in 2016.
Back then, there seemed to be hope that Australia would keep Toyota. "I certainly hope Toyota can stay," said Prime Minister Tony Abbott. "They have a very different business model to Holden. It's a business model that relies substantially on export and that's why I think we've got good prospects of keeping them. … I think there's every chance that we can keep Toyota."
In a statement to employees, Toyota's president, Akio Toyoda, said the company believed it should continue producing vehicles in Australia, and that every effort had been made to ensure that. "We did everything that we could to transform our business," said Toyoda, "but the reality is that there are too many factors beyond our control that make it unviable to build cars in Australia."
Some of those include high manufacturing costs, expensive unionized labor, and low economies of scale.
But the danger to Australia also goes far beyond the initial turmoil of lost jobs and the resulting painful economic consequences. From a national security perspective, there could hardly be a bigger blow against Australia's ability to defend itself. During World War ii, Australia was able to convert its manufacturing base to produce war matériel. With the looming death of the automobile industry, that option will be off the table, and the nation will be much more vulnerable to an economic siege. Many nations throughout history have learned the hard way the dangers of being dependent on foreign materials and weapons for fighting wars.
Opposition leaders were quick to blame the government's policies for the catastrophe. But the overall problems run deep. Australia's soaring debt is severely crippling its economy and Australia has turned from the one factor most responsible for making it prosperous. For more, read "Australia's Looming Debt Crisis" and "Australia's High-Risk Economy."