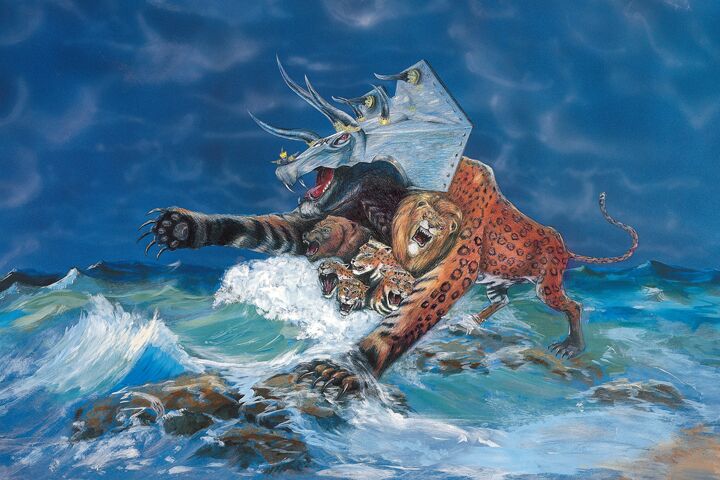 This Book Was Won in Court for You
A historic battle over the right to publish prophecy
"Who or what is the 'beast' of the Apocalypse, or book of Revelation, chapters 13 and 17?" This question was asked by Herbert W. Armstrong in his acclaimed book, Who or What Is the Prophetic Beast?
The publication was one of many which were won out of the courts at the conclusion of an arduous legal battle between the very organization its author founded in 1934, and the founder and sponsor of The Philadelphia Trumpet.
Thousands worldwide have asked us, "What happened to the global humanitarian empire of Herbert W. Armstrong, one of the foremost religious leaders of the 20th century?" No publication better answers that question than Raising the Ruins. As its cover declares, the contents of this thrilling book detail "the fight to revive the legacy of Herbert W. Armstrong" amid overwhelming odds.
"Here is the shocking, gripping untold story of the doctrinal hijacking and spiritual destruction of the Worldwide Church of God after the death of its founder. It is the story of a cabal of leaders who destroyed Mr. Armstrong's work, sold the church's assets and hoarded the money. It is the story of the life-and-death, six-year court battle that ensued when a faith-filled few held fast to his mission and sought to defend his legacy—by raising the ruins."
Today, much of what our global readership freely access in our online literature library was accumulated during that historic unprecedented battle. Each publication incorporates revealed prophecies spurned, denied and maligned by its former owners. The fact that they are offered free for the asking, without obligation or follow up, cannot be taken for granted considering the fight for their acquisition.
"Today, America, Canada, Britain—Israelitish nations descended from the ancient so-called lost 10 tribes of Israel—are actually in the ways of this 'Babylon,'" concluded Mr. Armstrong in his 42-page blockbuster booklet. He recalled the Apostle John's scribing of divine warning to these people's while imprisoned on the Greek island of Patmos, today a surrogate of the German-led European Union. "Come out of her, my people, that ye be not partakers of her sins, and that ye receive not of her plagues," John penned as a final exhortation to these very nations prophesied to be taken captive by the prophetic beast (Revelation 18:4).
The publication's message additionally reveals the way of escape for those who heed its warning and are sheltered under Supreme protection from the prophesied storm of Tribulation soon to touch the lives of every person on Earth (Luke 21:36).
Mr. Armstrong further asked, "What does Bible prophecy reveal about world events now leading to Armageddon and the end of this age? This two-part booklet deals with governments and wars that will bring this world to its final end." As an educational gift in the public interest, we proudly offer you a free downloadable or print copy of Who or what Is the Prophetic Beast?