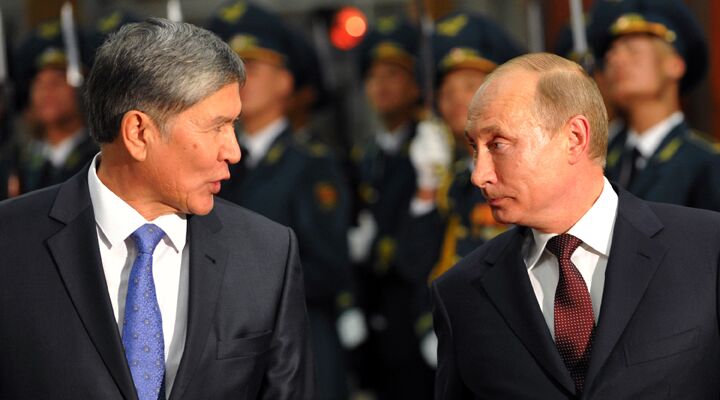 Will Kyrgyzstan Become a Client State to Russia?
Russia will send $1 billion in weapons to Kyrgyzstan this year, according to reports last Thursday, which represents an acceleration of earlier plans saying the shipments would begin next year. The deal represents a key step in Moscow's plan to turn the former Soviet nation into something akin to a client state.
Russia's deliveries will include "tanks, armored vehicles and personnel carriers, as well as rocket launchers, artillery, small arms, and surveillance and communication systems," said Igor Korotchenko, the editor of a Kremlin-affiliated defense publication. Other sources said helicopters could also be included.
Just a few days earlier, the Kyrgyz government announced it would soon begin selling its shares in the Soviet-legacy Dastan torpedo plant, and that "Russian investors would be given priority in purchasing the shares in the factory … at an auction in the fall" (Moscow Times, July 3).
Both of these reports illustrate the success Russia is having in its efforts to turn Kyrgyzstan into a client state, especially as Uzbekistan is sliding away from Moscow and toward German influence. "Following Uzbekistan's departure from the [Russian-led Collective Security Treaty Organization] in June 2012, a new Russian strategy of 'divide and rule' seems to be accelerating," a July report by ponars Eurasia said. The report continues:
Rather than trying to maximize and balance relations with the Central Asian states, Russia is now aggressively entering into a classical client-state relationship with Kyrgyzstan and, to a lesser extent, Tajikistan, the region's smallest and poorest countries but also the ones where Russian influence has remained strong for 20 years. In exchange for supporting them materially and in their local rivalries, Moscow seeks closer ties and fealty to its foreign-policy directives.
Russia's loss of influence in Uzbekistan to German sway (as evidenced in part by the German military's operation of an air base there) has prompted Moscow to redouble its efforts in other Central Asian states—namely Kyrgyzstan and Tajikistan. Russia has been trying for years to convince Kyrgyzstan to evict the United States from its air base at Manas, but prior to 2012, Kyrgyzstan—like all the Central Asian nations—tried to maintain a balance between Moscow and Washington. If the Kremlin's efforts to fashion Kyrgyzstan into a client state are successful, U.S. influence would quickly be routed from the former Soviet nation, and with it the Manas base.
Russian President Vladimir Putin has long been working to rebuild Russia's influence in its former Soviet periphery, and this news shows that he is making great strides toward that end.
Trumpet editor in chief Gerald Flurry has explained that the most significant aspect of Russia's resurgence would be its catalytic effect on European unification: "A more dictatorial Russian government is coming fast …. That power will be able to challenge Europe when nobody else can, including the U.S. … Russian elections have recently moved President Vladimir Putin much closer to becoming a dictator. This strikes intense fear in Europe. The Europeans still remember how violent Russia was in World War ii, and Russia is a close neighbor with massive piles of nuclear weapons. … The Russian election is triggering a fear that will hasten the uniting of the European Union. The Russian election will cause Germany and other European nations to want a stronger leader. Throughout history, Germany has often sought a strong leader. Bible prophecy says it will do so again—for the last time!" (January 2004).
To understand more, read "Russia's Dark Rider."