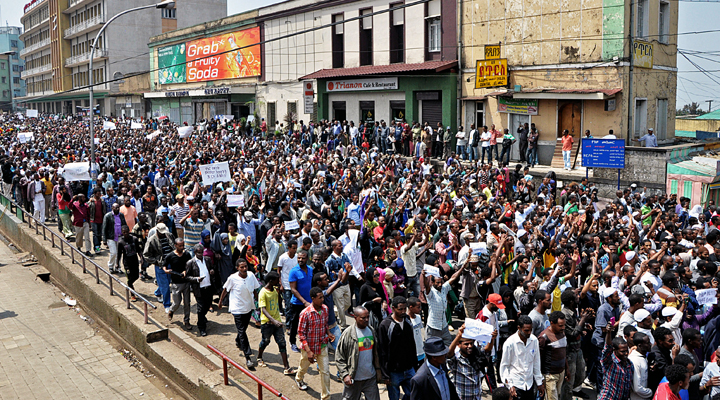 Antigovernment Protests in Ethiopia Supported by Egypt
As the Arab Spring revealed, Mohamed Morsi and the Muslim Brotherhood are masters at co-opting democratic revolutions for Islamist causes. Will Ethiopia be the next nation to fall to this strategy?
A startling new revelation has emerged about the recent antigovernment protest in Ethiopia. In light of increasing tensions between Egypt and Ethiopia over Nile River rights, the Muslim Brotherhood government in Egypt has decided to cooperate with the Muslim Brotherhood government in Sudan to support Ethiopian radical Islamist leaders sitting in exile in Khartoum. These Egyptian-supported, Islamist leaders were largely responsible for prompting the 10,000-strong, antigovernment demonstrations that took place in Addis Ababa during the first days of June.
This antigovernment demonstration may have been officially organized by the secular Semayawi (Blue) Party and it may have attracted the support of many Christian youth, but the majority of the 10,000 demonstrators were Muslims calling for increased religious freedom and the release of political prisoners.
As the Egyptian "Arab Spring" revealed, Mohamed Morsi and the Muslim Brotherhood are masters at co-opting democratic revolutions for Islamist causes. According to analyst George Copley of the International Strategic Studies Association, the Egyptian military knows that Egypt is not in a position—even allied with neighboring Sudan—to take direct military action against Ethiopia at this time. For this reason, the Morsi government has initiated a return to covert war against Ethiopia via Islamist proxies.
Not coincidentally, a senior delegation of the Egyptian ministry of defense traveled to Somalia on June 4 to officially start talks on how Egypt can best help rebuild and train the Somali Armed Forces, with the intent to support a Somali move to assume control of the Republic of Somaliland to the country's north. By ensuring that the Republic of Somaliland remains under the control of southern Somalia, Egypt also ensures that landlocked Ethiopia remains cut off from the economic opportunities presented by a Red Sea coastline.
Egypt is advancing on several fronts to control the Nile by isolating Ethiopia: through Somalia; through Sudan; through Eritrea; and through sponsorship of Ethiopian Islamist and other opposition movements (e.g. the Oromo Liberation Front).
As editor in chief Gerald Flurry said in a Key of David program last September, based on Daniel 11:42-43, Egypt is prophesied to help swing both Libya and Ethiopia into the Iranian-led, radical Islamic camp. Once these national reorientations are complete, Iran will then have the power to close down seaborne trade through the Red Sea and kick off a process that will lead to the last world war.
While other scriptures, such as Psalm 68, foretell of a soon-coming time of peace and prosperity for Ethiopia (and the rest of the planet), the sad truth is that humanity is going to have to go through a time of intense suffering before it is willing to accept God's rule on Earth. Be sure to read Libya and Ethiopia in Prophecy to see for yourself exactly how events will unfold in north Africa, and how they will ultimately lead to the establishment of peace throughout the world!