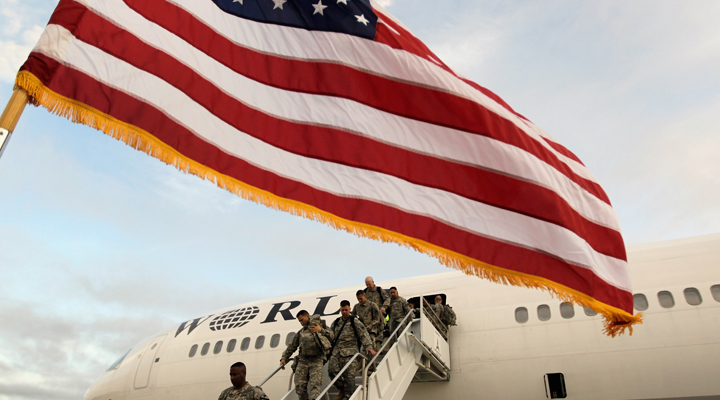 America—Hollowing Out the Military
Sequestration hollows out America's military preparedness.
As I downloaded the Washington Post's article quoted below, an interesting thing happened. A huge advertisement for the German industrial giant Siemens popped up at the head of the article. Siemens has been a vital component of Germany's defense industry for well over a century.
That graphic advertisement was akin to sending a message that even as sequestration will rob the U.S. defense budget of $52 billion over the next two years, Germany is highly gearing for increased expenditure on the expansion of its military hardware.
This is the inevitable pattern emerging in geopolitics as the strength of the Anglo-Saxon nations rapidly wanes and that of the Teutons rises most dramatically.
Over recent weeks we have published a number of items on this website pointing to Germany increasing its military preparedness by expansion of its force strength in terms of both hardware and the wider deployment of the Bundeswehr in foreign theaters.
We have produced a Key of David television program, to be aired later this week, specifically dedicated to demonstrating just how far Germany has come down the road of developing its foreign deployments since initiating the Balkan wars of the 1990s.
We have reported on one of the most recent studies commissioned by the German Ministry of Defense recommending a drastic upgrade of both Germany's spy networks and its military forces, plus the expansion of their deployment, to fill the gap created by U.S. drawdown in the Northern Hemisphere.
Yet to truly understand the grave dangers this all poses to the Anglo-Saxons, one needs to balance reports of a new German militancy against reports emanating from Washington about drastic cuts in U.S. defense expenditure.
"The Pentagon is likely to face steep, across-the-board budget cuts beyond the end of this fiscal year, the two top lawmakers on the Senate Armed Services Committee warned on Friday, as they asked the secretary of defense to lay out in detail the consequences of slashing $52 billion from its budget next year" (Washington Post, May 3).
Expressing concern at the drastic effect these cuts would have on U.S. force readiness, Sen. James Inhofe declared, "Our military was told last year not to worry about sequestration, that it would not happen. But the failed promise has led to an enormous amount of uncertainty that has prevented our military leaders from properly planning to ensure the capabilities and readiness of our force" (ibid; emphasis added throughout).
The Post quotes Lt. Col. Elizabeth Robbins, a Pentagon spokeswoman, as commenting that "The readiness of our force is rapidly eroding due to mandatory sequestration cuts. We are deeply concerned about sequestration continuing into the next fiscal year."
The defense budget cuts have America's military leaders deeply disturbed about the effect on the nation's security.
The Post further reports that "Since sequestration took on an air of inevitability last spring, military leaders have made dire predictions about the impact the cuts will have on a force grappling with the wear and tear of two lengthy wars."
Reinforcing this point, "Secretary of the Army John McHugh said that failing to do away with sequestration before the end of next fiscal year would be 'irresponsible' and 'devastating' and call into question the military's ability to 'provide sufficiently trained and ready forces to protect our national interests'" (ibid).
One would surely have to consider that military strategists within the most powerful nation in Europe, having already reacted to fill the gap after U.S. drawdown in that theater, would be very attuned to the drastic effects on America's military preparedness posed by these current and projected cuts in the Pentagon's budget.
Such a situation will only work to accelerate the rise of Germany as a military power to be reckoned with. The extent to which Germany may have already developed its future nuclear weapons capability was highlighted well over a decade ago by former weapons systems analyst Carey Sublette. In his well-known analysis on the spread of nuclear weaponry, he noted that "Germany has an advanced science and technology base capable of supporting an aggressive nuclear program should it be deemed necessary to do so. Although hard information about this is lacking, it is likely that Germany has undertaken advanced design work on a full range of nuclear weapon types. [T]his would be almost mandatory for national security reasons if only to create a base of expertise for conducting intelligence assessments of the nuclear programs of other nations. In addition there have been influential proponents of acquiring nuclear arms in the German government, such as the first Minister for Nuclear Affairs Franz Josef Strauss, who would most likely have sponsored such work" (Nuclear Weapons Frequently Asked Questions, Section 7.5; Aug. 9, 2001).
One wonders the extent to which nuclear weaponry was a hot topic at a recent closed-door meeting of German defense elites, billed as an "International Symposium on Ballistics," dealing with "explosives and projectiles as well as armoring." Media representatives were refused access to this symposium under threat of using force.
Why such secrecy? Were nuclear ballistics on the agenda? It would be difficult for any "international symposium" on "explosives and projectiles" to not include some reference to the most powerful form of ballistics available for use in a nation's defense strategy.
Whether or not that was the case, one thing is for sure. The general advice being channeled from German military think tanks to the government is to spend more, not less, on armaments and military preparedness.
This is but one more—yet one very significant—aspect of Germany's rising power in the face of America's rapidly waning ability to "protect its national interests."
I'd like to know, where are the scoffers that held the Bible prophecies predicting this phenomenon in such disdain for decades? Perhaps their heads are so deeply buried in the sand of delusion that even now, with the facts so clearly evident, they find it impossible to admit the reality.
That cold hard reality is that the Anglo-Saxons are on a downward spiral to ultimate enslavement by an old archenemy. An enemy which held them captive over 2,700 years ago (2 Kings 17), and which during the past century sought twice to overrun them by initiating aggressive warfare.
It's an uncomfortable message, one that is extremely hard for the average Joe to face up to. Yet your Bible, the infallible Word of God, prophesies of a third and final, successful attempt by old Assyria, in its modern clothes as a united German nation, to enact a siege against the Anglo-Saxons to the point of reducing them to slavery once again, as was anciently the case (2 Kings 17:20, 23).
This has been our consistent message for over 70 years—initially under the administration of Herbert Armstrong, and latterly under the direction of our editor in chief, Gerald Flurry. The big difference between the two administrations is that the prophecies that Herbert Armstrong publicly broadcast and published for over 50 years have, since his death in 1986, become, increasingly, the cold hard reality of geopolitics today.
Our general concern is for the ignorance of the public at large to the rapidity with which these events are falling into place, exactly as the Bible prophecies forecast. Our greatest concern is for the effect they are destined to have on the Anglo-Saxons and their brother nations in particular.
Yet, God knows His people—He knows the ways of all nations. He knows the extent of their rebellion against His law, that law of love which is the only true way to genuine happiness (1 John 4:8; 5:3)—and He knows exactly the type of punishment for their sins that will move them to repent, en masse! (Revelation 7:9).
That's the great hope bound up in all of this inevitable suffering to come, initially brought upon a nation that is in rank rebellion against its God by the one other nation alone that He has selected as the rod of His anger with which to mete out that punishment (Isaiah 10:5-7).
Read our booklet The Epistles of Peter: A Living Hope for a moving vision of that which becomes the greatest of hopes to the genuinely repentant! It may just stir you to the very action which will end up saving you from the drastic effects of the punishment soon to come upon the Anglo-Saxons and their brother nations for their massive rebellion against a loving and merciful God!