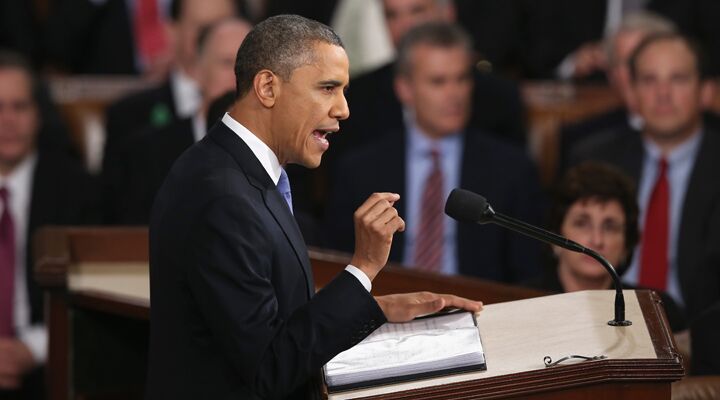 U.S. and EU Plan to Create 'an Economic NATO'
America looks to Europe to stimulate its economy.
America will attempt to negotiate a free trade deal with the European Union, U.S. President Barack Obama announced during his State of the Union address on February 12. The next day, EU leaders published a joint statement with Mr. Obama announcing that the two blocs "will each initiate the internal procedures necessary to launch negotiations on a Transatlantic Trade and Investment Partnership."
Before negotiations can begin, the United States needs to notify Congress, and the EU needs approval from its member states. Each plans to have this completed by the end of June.
The potential economic gains from such a deal are huge. It would add 0.5 percent to the annual growth of the EU's economy by 2027—that's an extra €86 billion (us$115 billion) a year—according to estimates recently referred to by the EU. For the U.S., the benefit would be 0.4 percent—or $87 billion (€65 billion).
But the deal that America and Europe envision encompasses far more than removing tariffs on each other's products. They want to harmonize regulations and even address differences in intellectual property and labor laws.
The end goal would be that a car, for example, produced in the U.S. would not have to undergo any significant modifications in order to conform to the EU's safety standards, and vice versa. This would significantly lower the cost of selling goods in the other trade bloc.
The agreement would be so far reaching that it has been referred to as "an economic nato." European Commission President José Manuel Barroso, said that "this negotiation will set the standard—not only for our future bilateral trade and investment, including regulatory issues, but also for the development of global trade rules" at a press conference on February 13 (emphasis added throughout).
If the EU and the U.S. adopt the common rules, they will be setting the standard for the whole world. With such a huge chunk of the global economy conforming to one standard, it would be hard for the rest of the world not to follow. If Europe gains the upper hand in its negotiations with the U.S., it will be setting the standard for the world.
But a successful agreement is not a forgone conclusion. Harmonizing regulation means months of painstaking negotiation, while entrenched lobby groups of farmers, lawyers and businesses try to bend the rules in their favor.
But even if the two blocs fail, this renewed push toward a free trade deal demonstrates a subtle change in course in America's foreign policy. It is investing more of its hope and trust in Europe. Both U.S. Vice President Joseph Biden and nato Secretary General Anders Fogh Rasmussen have called for European nations to improve their militaries and play a more active role in the world, to take the burden off America. America is looking to Europe to solve its military problems. And now it's looking to Europe to solve its economic problems too.
America can see its global power failing. Its solution: look to Europe for help. To understand why this is a terrible idea, see Trumpet columnist Brad Macdonald's recent article, "U.S. Vice President Dotes on Germany, Europe."