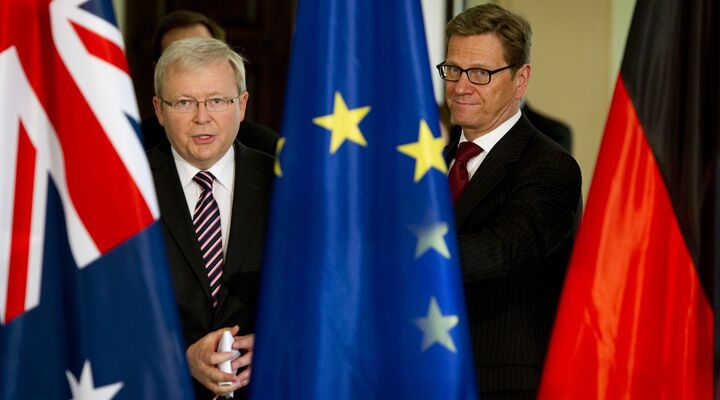 Australia—Germany's Strategic Pacific Partner
Germany strengthens its ties with Australia as its springboard for projection of power in the Pacific.
Students of Bible prophecy are aware that in the latter days a northern power is set to spread its imperial reign "south and east" and ultimately into Jerusalem (Daniel 8:9).
Yet, just how far south and east will this monolithic power project its influence?
Perhaps we can catch a glimpse of that by observing a seemingly unusual strategic alliance that is forming between Germany and Australia.
For the third time since the signing of the initial trade alliance between Germany and Australia in 1995, that agreement has been recently updated and strengthened.
In 1995 Australia and Germany signed the Australia-Germany Partnership 2000 Action Plan. This agreement, vigorously supported by Australia's prime minister at the time, Paul Keating, and the then German Chancellor Helmut Kohl, mapped out Germany's future in Australia.
The Germans wanted to use the Western outpost of Australia as their regional headquarters of operations, in a cash-for-power-base deal. To Australian leaders, the deal sounded almost too good to be true. Sorely in need of foreign capital investment, like a kid in a candy store they agreed to the deal.
As a result, German investment in Australia more than doubled between 1995 and 1997. Germany began to flood Australia with goods and services, becoming the country's third-largest importer behind the United States and Japan.
Then, in February 1999, German Foreign Minister Joschka Fischer, in cooperation with Australia's Liberal-National government, revised the Australia-Germany Partnership 2000 Action Plan, expanding economic relations between the two countries significantly. The revamped deal covered a huge array of industries, from trade, investment, tourism, education, the environment and science to technology, culture and the arts.
Deutsche Bank soon decided to establish its regional Asia-Pacific headquarters in Sydney for euro currency trading. Deutsche then purchased Bankers Trust Corp. Australia, becoming the country's largest foreign bank.
In late 1999, Deutsche Bank turned over its Australian-based Bankers Trust Corp. for au$2.1 billion, netting a handsome profit. In the meantime, the Munich-based Allianz AG, the world's largest insurer, increased its stake in Australian insurance giant mmi Ltd. to take control of that company.
As time progressed, Thyssen, Daimler-Benz, Hochtief, Lurgi, Bilfinger, Berger, vdo, Hoechst, Siemens and Hella all created networks of partnerships throughout the country, and the German airline Lufthansa established its Asian booking headquarters in Melbourne.
Considering the outcome of World War ii, it is an intriguing paradox that Germany now exports more material to Australia than does Australia's founding mother country, Britain. Not only that, German-dominated Europe now exports more to Australia than does the United States.
In 2011, Germany's Foreign Minister Guido Westerwelle visited Australia, and at that time discussions took on a tone more geared to mutual cooperation in security and defense matters.
"Germany and Australia are both members of the international group to support nuclear disarmament and non-proliferation. Kevin Rudd took part in the most recent meeting of this group in Berlin at the end of April. Additionally, the two countries are both represented in the Libya Contact Group and their foreign ministers will likely encounter each other again in the coming week at the group's next meeting. Events in North Africa and the broader region, including the brutally suppressed unrest in Syria, were thus also on the agendas of both foreign ministers in Canberra" (German Embassy, May 31, 2011).
Last week it was Australian Foreign Minister Bob Carr's turn to visit Berlin and shore up the agreement of cooperation between the two countries.
During their meetings, the two foreign ministers addressed questions relating to the further expansion of bilateral, regional and security policy. In the process they signed the Berlin-Canberra Statement.
So it is that, using its classic postwar tactic, Germany first established a dependency by Australia on the provision of needed services and sources of capital and trade, only to then turn to the real motivation behind such moves, which is to establish a strategic platform from which to extend its political influence throughout a wider region.
"Berlin is preparing itself for the decentralization of world politics from the Atlantic to the Pacific and is strengthening its position in Australia. The land is a 'strategic trampoline into the Asian-Pacific room,' explained Foreign Minister Guido Westerwelle while signing a 'declaration of intent on a strategic partnership' with Canberra at the beginning of this week in Berlin.
"The 'strategic partnership' will make it possible for Germany to take much more influence over Australia than before in the immediate environment of the unbroken rising People's Republic of China and so play a more active role in future central conflicts between the West and Beijing. This document includes references to specifically military and political measures in the planning for a 'strategic partnership'" (German-Foreign-Policy.com, January 31; translation ours).
"South and east"—one could hardly get further south and east on this planet when it comes to strategic possessions than Australasia.
Are we witnessing the leading EU nation setting up its farthest southeastern outpost as a springboard into Asia?
It certainly seems that's the case.
This is a situation worth watching as the two great "marts" prophesied to dominate the globe at this time vie for influence in the Far East. It is but another powerful sign of the imminence of the fulfillment of a host of Bible prophecies leading up to the return of the world's Savior in the very near future (Isaiah 23).
Study The United States and Britain in Prophecy and Australia—Where to Now? for a deepened understanding on this subject.