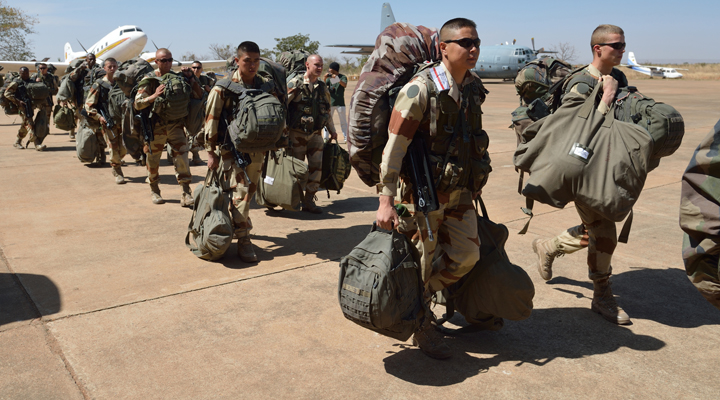 French Intervening in Mali
Desperate times in Mali: France is taking desperate measures, several months ahead of schedule, to save Mali.
French forces hurriedly swept into Mali last Friday after the acting government in Mali came under a surprise attack by the coalition of radical Islamist rebels the day before. The rebels already control the greater part of Mali, and their attack prompted interim President Dioncounda Traore to call for emergency intervention.
France had always favored swift intervention in Mali in its current crisis because of its deep economic interests there, the potential for significant political benefits, and grave security concerns. The European Union had already agreed on December 10 to send a team of experts in to help train Mali's frail army, and the Economic Community of West African States (ecowas), had already committed to sending 3,300 combat troops. But various challenges had forced the international community to push back intervention until around September 2013.
This delay was meant to allow the international community to be better prepared for intervention. But at the same time, delayed intervention would allow the Islamist militias to carve out their own autonomous area in northern Mali, as the Associated Press reported. Stratfor wrote on December 11 that this holdup would provide space for the Islamist rebels to beef up their arsenal and prepare for attacks. And this is exactly what has been happening.
Instead of waiting defensively for international intervention, the Islamists went on the offensive, with about 900 fighters and 200 vehicles, and seized control of the town of Konna. The French then swiftly responded to the distress calls from the Mali government and quickly intervened to drive back the invading Islamists. But holding off the Islamists "is a far cry from retaking the north," said the New York Times. According to Agence France-Presse, ecowas rushed to send its 3,300 troops on Sunday, to try to retake the north. Islamic radicals are now deeply entrenched in a part of Mali that's almost twice the size of Germany. Retaking the north will not be easy. The Times quoted an anonymous Western diplomat affirming, "What's sure now is that things will not happen as we thought they would a month ago." EU foreign policy chief Catherine Ashton encouraged an "accelerated international engagement" for intervention.
France has taken the lead in Mali, but Germany is not opposing the mission the way it did in Libya. Far from it - their promise to provide logistical support for France, as well as medical and humanitarian aid, caught Spiegel Online by surprise. They also said they would speed up plans to create a training program for Mali's army.
Even today, a German troop deployment attracts more attention than a similar deployment from another nation. German troops in Mali would be controversial at home and abroad. But Germany is doing all it can short of invading. They're certainly worried about Mali, but they don't want to expend the political capital necessary for an invasion right now.
Islamist rebels in northern Mali pose a grave threat to North Africa and Europe, and the onus is clearly not on a reluctant America, but on France and the EU to lead the intervention in Mali. Trumpet editor in chief Gerald Flurry's free booklet The King of the South explains the Bible prophecies that foretell a European empire confronting radical Islam in the Middle East and North Africa. The Mali crisis is a preliminary stage toward the fulfillment of those prophecies. It clearly shows that Europe is taking the lead in pushing back against radical Islam. If you would like to learn more about these rapidly accelerating events, download or request The King of the South.