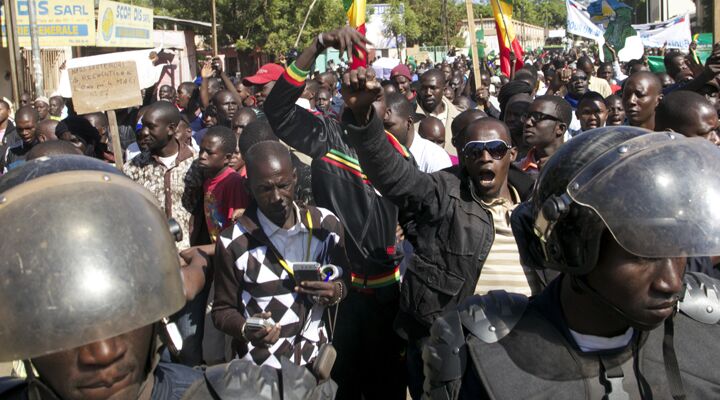 Europe's Mali Dilemma
Europe is facing a major dilemma with the radicalization of Mali. Will sending troops there really be a viable solution?
Mali is yet another anarchical, deeply divided African state whose continued instability is increasingly posing a security threat to Europe and presenting an international dilemma on intervention.
On Thursday, a French-sponsored resolution to send international troops to intervene in Mali was unanimously approved by the oft-divided United Nations Security Council. Under the resolution, 3,300 combat troops will be deployed by a bloc of West African nations to regain the northern part of Mali that fell to radical Islamist groups in April. The European Union will be responsible for training the 5,000 remaining frail Malian forces.
The EU, particularly France, is deeply concerned about Mali's political and security crisis. Europe fears northern Mali will be the newest hotbed for international terrorism and crime that could hit the Continent, which is just 900 miles away. While visiting Mali, French Foreign Minister Jean-Yves Le Drian said, "It is our own security that is at stake." The EU's head of Foreign Affairs, Catherine Ashton, said that "the presence of terrorist groups and the oppression of local populations in the north of Mali, as well as human rights violations, not only pose a grave threat to the Sahel region, but also to North Africa and to Europe."
Impoverished Mali fell into turmoil when a military coup in March created a power vacuum that allowed terrorist groups to take over the north of the country, a chunk of territory about the size of France. One of these groups, al Qaeda in the Islamic Maghreb (aqim), is linked to the Benghazi terrorist attacks in Libya. Already, hostages have reportedly been seized, including six French nationals. Parts of this region are firmly now under sharia law, with mass rape, amputations and killings. The Observer noted that families are being coerced to give their children over to the militia in northern Mali. A former Malian teacher testified, "Families are being forced to give up their children. They [the children] are told to kill, rape. Children do whatever they are told."
France had been hoping for a swifter intervention, but the approved military force may not be operational until September 2013. Mali needs first of all to ensure that there is a clear contact person for international allies. Mali's coup leaders have continued to meddle in the transitional government that has been set up. On December 10, for example, at around 11 p.m., the military coup leaders arrested interim Prime Minister Modibo Diarra and apparently forced him to resign on national tv about two hours later. The UN resolution is demanding political stability first in Bamako, then transparent elections, perhaps in April 2013, before any intervention. Political dialogue with some of the separatist movements is also a prerequisite.
Meanwhile, France fears "the terror cells now occupying Mali's north will use any delay to further embed themselves in the vast territory, and use it to recruit and train foreign fighters for global jihad," wrote the Associated Press. Their forces number an estimated 10,000. The whole situation in Mali is complex and dire, and possible scenarios are bleak.
Mali is presenting Europe in particular with a serious dilemma, and Europe is taking this seriously. With radical Islam raging in nearby North Africa and the Middle East, Europe will soon be forced to intervene and deal with radical Islam. The United States is bogged down and reluctant to commit troops on the ground in another North African country; the onus is on Europe to deal with Mali.
Bible prophecy reveals that Europe is destined to become much more involved in the Middle East, while America is set for a rapid exit. For more information on these prophecies, study The King of the South.