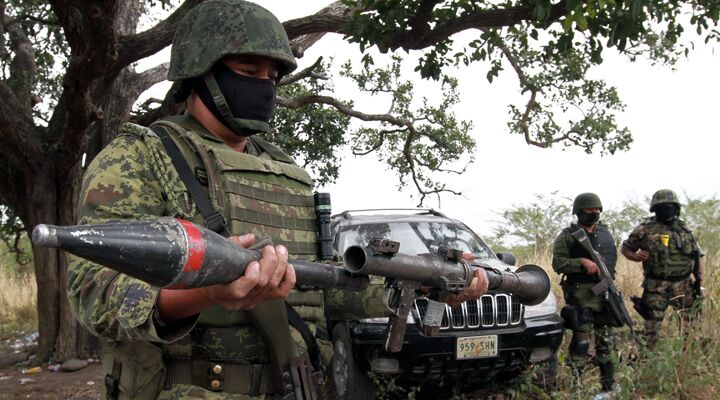 Sanctions on Iran Bringing Terror Closer to the U.S.
Curtailed funding from embargoed Iran to its terrorist proxies may be causing Hezbollah to partner with Mexican drug cartels to raise funds for potential attacks in the United States.
The economic sanctions that have been slapped on Iran for its nuclear weapons program have caused Tehran to cut back its funding to Hezbollah, according to the Israeli military. U.S. officials say Hezbollah operatives in Mexico are enhancing their cooperation with murderous drug cartels, like Los Zetas, in the northern districts bordering the U.S. in order to minimize dependency on Iranian funding.
In an article titled "Hezbollah's Cocaine Jihad," Ynetnews writes:
Western intelligence agencies have been able to gather ample evidence suggesting that the drug cartels in Mexico—which are the de facto rulers of the northern districts bordering the U.S.—are in cahoots with Islamic terror organizations, which are eager to execute attacks against American, Israeli, Jewish and western targets; but most of all, the Islamic terror groups are eager to make money, so they can fund their nefarious aspirations.
Hezbollah is helping the cartels in weapons and explosives production. The terror entity is also training drug lords to build elaborate tunnels under the U.S.-Mexico border, much akin to the maze of tunnels running under the Gaza-Egypt border. These tunnels would be mutually beneficial to both syndicates. The cartels would use them to smuggle humans, drugs and weapons, and Hezbollah would use them for its own terrorist activities in the United States. In 2009, the Department of Homeland Security caught wind of an al Qaeda recruiter's boasts of the ease with which these tunnels could be used to bring terror to the U.S. on a scale that would "make 9/11 look like peanuts."
Congresswoman Sue Myrick is losing faith in the Department of Homeland Security because she feels not much is being done to secure America's southern border.
America's half-hearted efforts in confronting terrorism will only lead to more trouble. In "Is Iran Infiltrating the United States with Terrorist Sleeper Cells?" we wrote:
This network of Hezbollah operatives already has detailed surveillance information on American infrastructure and access to vast reserves of drug-trafficking money. This puts them in a prime position to unleash societal chaos if so directed by the Iranian mullahs.The U.S. government may have the ability to defeat Iran in an outright military attack, but it lacks the ability to squash all the hit-and-run terrorist operations that may result from such an attack.Anciently, the Prophet Ezekiel foretold of a day when end-time Israel would be beset by terrorism, rioting and societal collapse. This time of chaos is prophesied to result primarily from a great economic siege against America, but it no doubt could be enhanced by violence coming from the hands of foreign terrorists. As it is written in Psalm 127, "Except the Lord keep the city, the watchman waketh but in vain."
The United States is cursed and is no longer being blessed by God. That is why America's weak attempts to curtail Iran are leading to potentially bigger problems at home. Request our free book The United States and Britain in Prophecy. It reveals why America's problems today seem unsolvable and how they can be solved.