Was Jesus a Prophet?
This simple question has caused considerable religious controversy recently.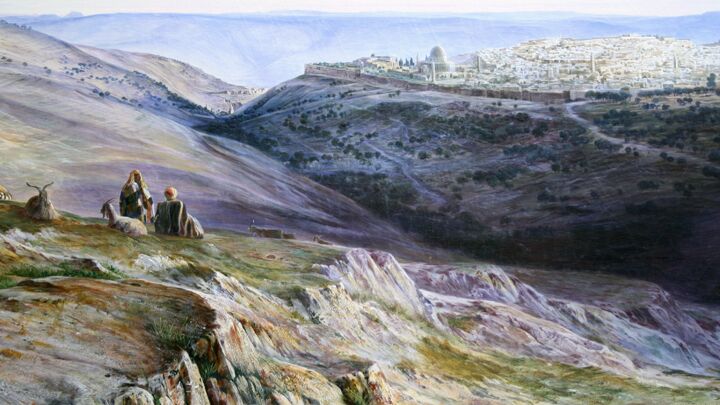 Was Jesus a Prophet?
This simple question has caused considerable religious controversy recently.
How can we answer such a question? There is only one way.
Jesus Christ said we are to live by "every word of God" (Matthew 4:4; Luke 4:4). He was actually quoting the Old Testament (Deuteronomy 8:3), so His statement obviously includes the Old Testament as well as the New Testament. Christ also said, "Thy word is truth" (John 17:17).
Was Christ a prophet? There's been a recent religious controversy about that, because the leader of 1.1 billion Roman Catholics says no. But we need to prove from God's Word, the Bible, the answer to that question. People can prove it for themselves very easily.
Jesus's Testimony
Look at Revelation 12:17: "And the dragon was wroth with the woman, and went to make war with the remnant of her seed, which keep the commandments of God, and have the testimony of Jesus Christ." This verse says that repentant Christians "keep the commandments of God, and have the testimony of Jesus Christ." What is that? Considering that it is what Christ spoke—His testimony—we need to know what it is!
God says that no scripture is of any private interpretation (2 Peter 1:20). We should always let the Bible interpret the Bible. That is the only way we will understand it. In this case, there is another scripture that defines exactly what "the testimony of Jesus" is!
That definition is found in Revelation 19:10: "the testimony of Jesus is the spirit of prophecy." In other words, what Jesus Christ spoke is in the spirit of prophecy!
That is a strong statement! If you know anything about the Bible, you know Jesus Christ came preaching the gospel, or "good news," of the Kingdom of God (e.g. Mark 1:14-15). He said that Kingdom was "at hand," but not here yet.
What is the gospel? It's the good news of the coming Kingdom, or Family, of God! Christ's message about it was a prophecy direct from His mouth! It is a wonderful prophecy of the beautiful World Tomorrow that is about to come to this Earth when Jesus Christ rules and brings peace and abundance and joy! The gospel is the context of all the Bible's prophecy!
What happened right before Christ began to proclaim that gospel? In verses 12-13 of Mark 1, you read that Jesus had to fight a titanic struggle with Satan the devil (see also Matthew 4; Luke 4). Do you know why? It was because He had to qualify to replace Satan on his throne, from which the devil rules this Earth! Yes, Satan has a throne, and he does bear rule. 2 Corinthians 4:4 tells us that he is "the god of this world"—the world worships him!
Nevertheless, Christ won that struggle and overcame Satan, and He qualified to kick him off his throne and to govern the Earth. He will assume that rule at His Second Coming.
That is why it was right after that struggle that Christ came declaring the gospel of the Kingdom of God!
God is offering positions of rulership today, as well, to those who conquer the devil as Christ did (e.g. Revelation 3:21). Though it is not on the same level as what Christ did, the firstfruits also qualify to rule with Jesus Christ by overcoming the devil today. That truth is very much a part of Christ's glorious gospel!
Really, all the truth in the Bible should be viewed in the context of that gospel.
Christ's Most Important Prophecy
In his November 18 Angelus to the faithful, Pope Benedict xvi declared, "Jesus does not describe the end of the world, and when He uses apocalyptic images, He does not act as a 'seer' [or prophet]. On the contrary, He wishes to ensure that His disciples in every age remain unmoved by dates and predictions."
That is a startling statement. What does the Bible say about it?
Jesus Christ issued many prophecies while He was on Earth. The most important of these was the Olivet prophecy, recorded in Matthew 24, Mark 13 and Luke 21. All prophecy revolves around it. I believe it is the most pivotal prophecy in the Bible.
And what is it about? In it, Christ describes the end of this age.
Matthew 24:3 sets the stage: "And as he sat upon the mount of Olives, the disciples came unto him privately, saying, Tell us, when shall these things be? and what shall be the sign of thy coming, and of the end of the world?" The Greek word translated "world," aion, should read "age." It's referring to the present age of Satan's rule on Earth; when Christ returns, there is actually a new world coming!
So this chapter shows Jesus Christ prophesying what's going to happen at the end of this age! How could anyone say He's not a prophet?
Some commentaries call this prophecy "the little apocalypse," and for good reason. An account of it appears in Matthew, Mark and Luke—but not the Gospel of John. Why is John the only Gospel writer who did not record the Olivet prophecy? Actually he does, but not in his Gospel. He records it in the book of Revelation, chapter 6.
There John discusses seven seals, the first four of which are known as the four horsemen of the apocalypse. The word apocalypse is an untranslated Greek word that means revelation. The seven seals in the book of Revelation are interpreted in the Olivet prophecy! You can read about this in my article last month, "The Seven Seals of Revelation Have Been Opened!" So actually, all four Gospel writers had a version of the Olivet prophecy!
Revelation 5 shows that Christ is the only Prophet qualified to unloose the seven seals of Revelation. Christ is the Prophet of all prophets!
There are many instances in the Bible where Christ is referred to as a prophet (e.g. Deuteronomy 18:15, 18; Luke 7:16; 24:19; John 4:19; 6:14; 9:17; Acts 3:20-23; Hebrews 1:1-2). There are many more where He gave prophecies (e.g. Matthew 16:21; 17:22-23; 25:31-34; 26:64; Mark 13:1-2; John 7:37-40).
Prophecy is revelation from God about what He is going to do. Christ prophesied, and every bit of that prophecy has comes to pass or is about to!
The prophetic signs Christ gave in Matthew 24 are intended to help us to be watchful and to prepare for His Second Coming. "Watch therefore: for ye know not what hour your Lord doth come. But know this, that if the goodman of the house had known in what watch the thief would come, he would have watched, and would not have suffered his house to be broken up. Therefore be ye also ready: for in such an hour as ye think not the Son of man cometh" (verses 42-44). Christ said we wouldn't know the day or the hour, but we should know when it is near—at the door (verse 33). We must understand that!
War With the Dragon
End-time prophecy describes a great, fearsome political power that has "a mouth speaking great things and blasphemies …. And he opened his mouth in blasphemy against God" (Revelation 13:5-6). This "beast" is prophesied to ally with another "beast" that looks like a lamb but speaks like a dragon (verses 11-12). This is a powerfully deceptive religious entity prophesied to kill millions and even to martyr the saints of God (e.g. verses 13-15).
What a condemning prophecy! Thus, it should be no surprise that the powers it describes would seek to take people's focus off prophecy, and off the prophetic message of the greatest prophet ever, Jesus Christ.
In reality, a statement that Jesus is not a prophet is an attack on Christ—and on those who have the testimony of Christ!
Consider this end-time prophecy: "And the dragon [Satan the devil] was wroth with the woman [the biblical symbol of a church], and went to make war with the remnant of her seed, which keep the commandments of God, and have the testimony of Jesus Christ" (Revelation 12:17). The devil hates that testimony and tries to discredit and suppress it. And he does so by warring against those who have it.
Again, that "testimony" is "the spirit of prophecy" (Revelation 19:10). Those who have this revelatory spirit look to the one who gave that testimony—the one who alone can unloose the seals of Revelation so we can understand it—the Prophet of prophets, Jesus Christ! They then turn around and proclaim and publish that prophecy, which exposes Babylonish religion and reveals the deceitful, blasphemous spirit that dominates it (Revelation 17).
Revelation 12 tells the story of this battle, throughout history, between God's saints who have Christ's spirit of prophecy, and a church inspired by this "old serpent" that seeks to silence them in order to avoid that exposure!
Act Now!
It is a rather brazen statement to say that Christ wasn't a prophet. He is the Prophet of all prophets! If He hadn't unsealed the seven seals, which is the whole story of Revelation, we wouldn't know anything about the time frame or sequence of all other prophecies in the Bible.
This error ought to powerfully motivate anyone who has the testimony of Jesus Christ remaining in their memory to repent and cleave to the Father of lights where His lamp of truth burns so brightly!
The time for taking such action—and receiving God's protection from the devastating end-time Tribulation prophesied by Jesus Christ (Matthew 24:21)—is fast running out! Was Jesus a Prophet?