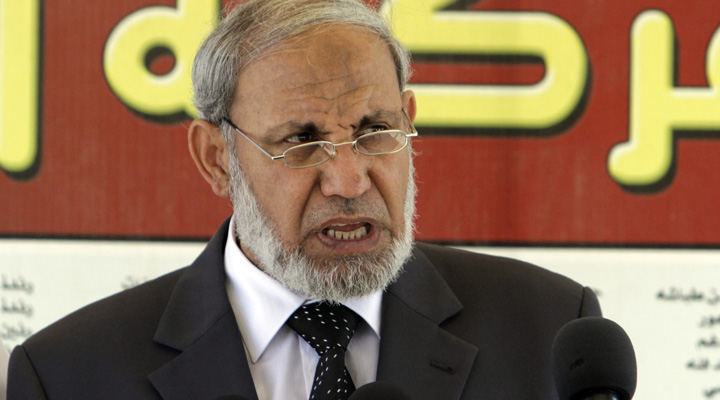 After the Ceasefire: Hamas Scorns Negotiations
Hamas's second in command has said that amassing weapons and combat—not negotiations—is the solution to the Israel-Hamas/Palestinian conflict.
In an interview with the Associated Press, Hamas's Moussa Abu Marzouk said history proves that talks with Israel are useless unless backed by aggression. "Hamas believes the General Assembly is not the one to create states," Abu Marzouk said, referring apparently to Palestinian Authority President Mahmoud Abbas's push for United Nations recognition of a state of Palestine. "Occupation needs resistance, not negotiations," he added.
"There is no way to relinquish weapons," Abu Marzouk said. "These weapons protected us and there is no way to stop obtaining and manufacturing them." Along the same lines, Hamas co-founder Mahmoud al-Zahar declared to reporters, "We have no choice but to continue to bring in weapons by all possible means." The missiles that have been raining on Israel from Gaza came almost exclusively from Iran. Now, "the Jews will think twice" before attacking Iran, Zahar said. "We have a right to take money and weapons from Iran. They give to us for the sake of Allah, no conditions attached, and I am a witness to that."
With Wednesday's ceasefire, Associated Press says Hamas has won "unprecedented political recognition"—from Israel to the United States; Turkey to "moderate" Gulf states like Qatar. Some of these Arab states are competing with Iran in trying to lure Hamas. Zahar defended Iran's support of Hamas, and took a gibe at the competitors: "If they don't like it, let them compete with Iran in giving us weapons and money."
These rants come just three days after the U.S.-backed, Egyptian-brokered ceasefire—a deal that now requires Israel and Hamas to negotiate further easing of a blockade on the Gaza border that Israel and Egypt imposed in 2007 after Hamas's hostile takeover of the Gaza Strip. When these comments were issued on Saturday, they "signaled trouble ahead" for these border negotiations, as the Associated Press noted.
Israel has not yet completely given up on negotiations with the Palestinians. But a time is soon coming when "the Israelis will finally see that their peace pact with the Palestinians has failed," as Trumpet editor in chief Gerald Flurry wrote in Jerusalem in Prophecy. However, instead of trusting in God, the Bible reveals that the Jews will turn to Germany and the Vatican. To learn how the Israel-Hamas/Palestinian conflict is prophesied to be conclusively resolved, read online or request our free booklet Jerusalem in Prophecy.