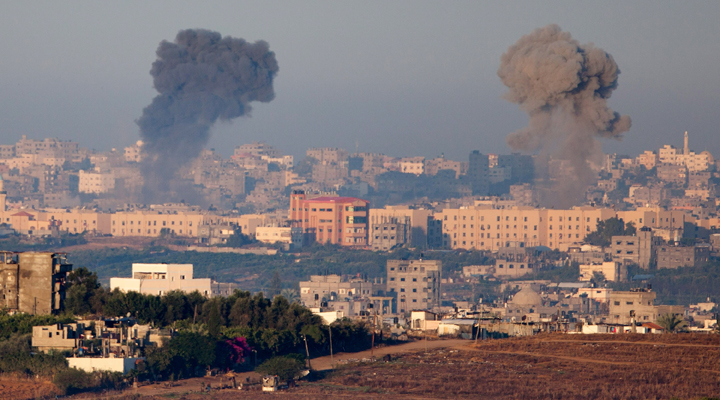 The Arab Spring Arrives in Israel
Emboldened by the ascendency of radical Islam, Hamas draws Israel into another war.
As quiet as it was in Israel during the Arab Spring, you had to know it wouldn't last. It was only a matter of time before the radical Islamists turned their wrath on Israel.
Over the past 24 hours, Israel has been bombarded by 200 rockets fired from Gaza. Three Israelis were killed in Kiryat Malachi, after a Grad rocket blasted the roof off the top of a four-story apartment building.
Of course, many will claim these attacks are in response to Israel's "Pillar of Defense" operation, which began yesterday with the assassination of Hamas's top military chief, Ahmed Jaabari. But operation "Pillar of Defense" only began after Hamas started a non-stop barrage of rocket fire into Israel.
In 2010, before the Arab Spring, Hamas fired 231 rockets into Israel. Last year, that number nearly tripled to 627. So far this year, the rocket attacks are somewhere around 900 and there is still more than a month to go.
Three weeks ago, on October 23, the emir of Qatar visited with Hamas representatives in Gaza. It marked the first time a national leader has landed in Gaza since the Hamas takeover in 2007. To mark the occasion, Hamas launched 79 rockets at Israel.
On the same day Hamas celebrated the emir's visit by attacking Israel, the terrorist organization received another hearty endorsement from an Arab leader—Egyptian President Mohammed Morsi. "We cannot rest or relax if we see our Palestinian brothers and sisters attacked, blockaded and cornered," Morsi said. "We are not declaring war on anyone. But we announce clearly that the Palestinian people will not be abandoned. We stand with them against any aggression."
So leading up to Israel's "Pillar of Defense" operation, Hamas was clearly feeling pretty good about itself. As Yaakov Lappin wrote this morning in the Jerusalem Post, "With Hamas feeling confident over the ascendancy of its fellow Islamists in the region, and the emergence of a new patron in Cairo, it and Islamic Jihad chipped away at Israeli deterrence, attempting to set new rules by preventing the idf from carrying out vital security missions on the Gaza border."
Now that Israel has responded powerfully by pounding terrorist targets in Gaza, Lappin believes Hamas might have overplayed its hand—mistaking Israel's restraint for weakness. That might be true. But the much bigger concern here, looking at it from Israel's perspective, is how Egypt reacts to this conflict.
Yesterday, President Morsi recalled Egypt's ambassador to Israel in protest against Israel's military operation. According to a statement released by Morsi's spokesman, "President Morsi has followed the Israeli brutal assault in which a number of martyrs and sons of the Palestinian people were killed. On this basis he has recalled the Egyptian ambassador from Israel; has ordered the Egyptian representative at the United Nations to call for an emergency meeting at the Security Council … and summoned the Israeli ambassador in Egypt in protest over the assault."
Added to this, Egypt's Freedom and Justice Party—the political wing of the Muslim Brotherhood—has threatened to get involved in the conflict. According to a statement released by the Brotherhood, Egypt "will not allow the Palestinians to be subjected to Israeli aggression, as in the past" (emphasis added).
Now based on a prophecy in Psalm 83, we have been telling you that Hamas will eventually break away from the Iranian-Egyptian camp. And this latest escalation of fighting between Israel and Gaza may well lead to that. As Stratfor noted yesterday, the interests of Egypt and Hamas "are not fully aligned and could diverge further under the stresses emerging from this situation." Additionally, Israel will do everything it can to emphasize those differences.
But this conflict will also drive a much bigger wedge between Egypt and Israel. Anti-Israeli sentiment runs deep in Egypt, Stratfor notes. Egyptians "largely view the state of Israel as illegitimate, unjust and unfairly backed by the world's only superpower."
When America helped push former Egyptian President Hosni Mubarak out of power, it made the Middle East a much more dangerous place. Egypt's new rulers abandoned the treaty with Israel that brought peace to the region for more than 30 years. They have remilitarized parts of the Sinai. And they have sought out a new alliance with Iran.
And so, irrespective of how operation "Pillar of Defense" plays out, there are much bigger battles ahead for Israel.