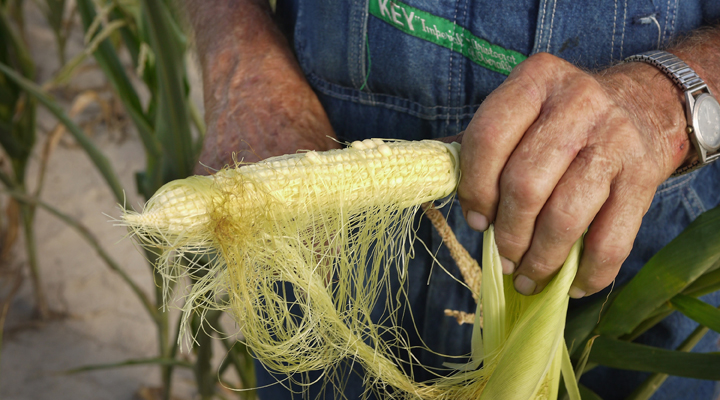 Severe Drought Means Food Shortages
One thing most Americans take for granted is food—life-sustaining, affordable food! People are known to get very angry and riotous if they don't have enough food. Is it possible that America could ever face life-threatening food shortages? Should we open our minds to the possibility of famine plaguing our country?
We must take warning from the U.S. drought 2012.
By some estimates, this year's drought was the worst since the Dust Bowl era of the 1930s and the lengthy droughts of the 1950s. The searing heat and extremely dry weather held its grip on over one half of the country through most of the summer. Yet, the drought hit suddenly and hard in the farm belt.
As people cooled off in swimming pools or at beaches, the nation's crops were scorched, stunted and snuffed out by a relentless sun. The hardest hit crop was corn. I mentioned this in passing to a neighbor and they said something to the effect, "Well, that's okay, I don't eat much corn." The truth is, we eat a lot of corn—we even drive our cars with corn.
The New York Times reported on September 12 that the corn crop for this year had been projected to hit a record 15 billion bushels because farmers had planted the most acreage in 70 years. By June, corn growers knew the crop was in trouble. At harvest time, for some growers things have turned out worse than feared.
In some areas of the corn belt, acres of corn stalks never grew beyond three feet. Most stunted stalks never produced ears at all. For stalks that did grow, husks were dry and empty. The few ears that did grow had just a few kernels. Some acres that were expected to produce high yields produced zero.
The United States Department of Agriculture's (usda's) projections on the corn harvest became more gloomy as the summer progressed. In September, the Wall Street Journal reported that "the government forecasts total corn production of 10.727 billion bushels this year, down 0.5 percent from its August estimate. The nation's corn harvest would be the smallest in six years." This number, although better than expected, is still significantly less than the expected 15 billion bushels projected in the spring.
In contrast, corn prices are expected to reach a record high of $7.20 to $8.60 a bushel because of the crop shortfall. Now let's talk about the corn crop shortage's effect on food prices.
When corn (or other grain) prices rise it is a given that the cost of our food also rises. Good food label readers know that corn is one of those products that's in many of the items on grocery store shelves including cereals, chips and packaged foods. Corn syrup is used as a sweetener in soft drinks and other products. Corn is a primary feed source for livestock.
Because feed prices have risen, we can expect that milk and other dairy products, eggs, beef, poultry and pork prices will rise in 2013. By how much? Associated Press reported that "beef prices as a whole are expected to see the biggest jump at 4 to 5 percent, according to the usda." Dairy products are forecast to climb 3.5 to 4.5 percent, while poultry and egg prices are projected to rise 3 to 4 percent. Consumers are definitely going to feel the price increases in food. Unfortunately, lower income families will be the hardest hit by the drought-driven food price hikes.
What most Americans do not recognize is the effect that our drought-damaged corn crop will have in international areas. The U.S. is the largest corn grower in the world. A rise in American corn prices affects world wheat prices. In addition, many nations depend on grain imports from the U.S. to supplement their own harvests. Further, add to the trouble the fact that the U.S. is not the only nation to experience severe drought this summer. The Black Sea region—Russia, Kazakhstan and Ukraine—also had crop-damaging drought. Russia has implemented grain export restrictions. World food supplies are expected to shrink, and prices will rise across the planet.
By late summer, world leaders feared a repeat of the 2007-2008 food price crisis that set off riots in countries including Bangladesh, Cameroon, Egypt, Haiti, Indonesia, Senegal and Yemen. French President Francois Hollande proposed the creation of strategic stockpiles of agricultural produce to build a hedge against drastic price hikes. PressTV reported that he told farmers in Rennes, "I am pushing with heads of state and government for protection against [market] volatility in the form of emergency food stocks, and I will continue to do this." The United States, which eliminated its long-term grain stockpiles in 1996, generally opposes large regional or global stockpiles to buffer prices.
Even though the usda's recent report on America's corn crop has calmed international nerves somewhat, Robert Thompson, a food security expert at the Chicago Council on Global Affairs, told Reuters on September 12, "Probably we overshot a little bit on the scare a month or so ago but it sent a strong signal that we were going to have to ration a smaller crop. It definitely got everybody's attention …. It was a shot heard around the world." Yet, some analysts and traders are still wary of calling an end to international grain price surges.
Now that fall has made its debut, drought conditions have eased in some areas and expanded in others. Climate Central reported on September 13 that "Drought Monitor statistics showed that moderate to exceptional drought covered a new high of 64.16 percent of the lower 48 states as of September 11 …." In addition, Climate Central reported that almost 80 percent of the U.S. is still experiencing some drought. These numbers give American farmers sleepless nights. There is even worse news. Drought conditions are expected to continue through the end of the year.
What happens if drought conditions continue in the U.S. through 2013? Depending on the severity, we should expect more food shortages and higher food prices! U.S. food shortages will affect many nations already struggling to feed their people. Millions could suffer hunger. Food riots similar to those of 2007/2008 will reoccur.
Remember, America has stopped stockpiling food reserves! Another year of severe drought will bring into sharp focus that the days of plenty are over for the U.S. The specter of famine is looming on the horizon. Yet, you can escape the famine that is sure to come. Request a free copy of The United States and Britain in Prophecy. This book clearly explains why a famine is coming on America and what you need to do to escape this frightful event.
For decades, the Trumpet and theTumpet.com have been warning that America will experience a national food shortage leading to horrific famine. Be sure to read our article "When the Food Runs Out" in our archives. In addition, be sure to watch the Key of David program "God's Secret Weather Prophecies." This program clearly explains why America is experiencing severe droughts and extreme floods.