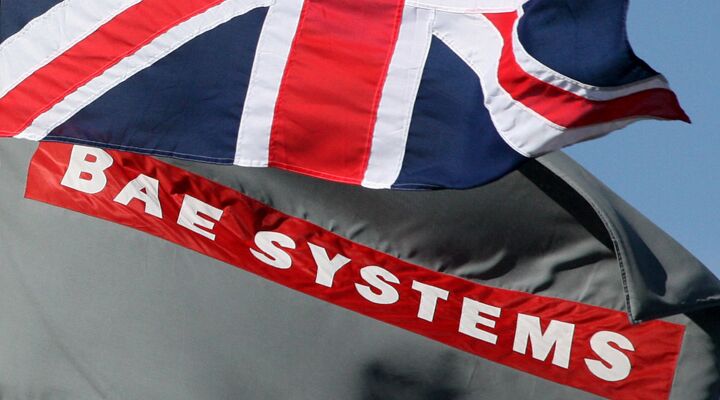 Britain to Give Up the Crown Jewel of Its Defense Industry
A proposed merger would make Britain's defense completely dependent on France and Germany.
Britain is planning to hand over the single most important company in its history to a European conglomerate. British defense giant bae Systems is in talks about merging with European Aeronautic Defense and Space Company (eads), the Franco-German company that owns Airbus, it announced September 12.
bae is literally the stuff of legends. The names of the planes manufactured by the companies that eventually merged to form the conglomerate have been stamped on the minds of generations of young boys: the Sopwith Camel, the De Havilland Mosquito, the Hawker Hurricane, the Harrier jump jet, and the most legendary of Britain's airplanes, the Supermarine Spitfire.
Just over 60 years ago, the Spitfire and Hurricane were used to save Britain. These two planes denied Germany the air superiority it needed to launch an invasion. Now Britain is planning to hand over the company that saved its life to a foreign conglomerate.
The deal would give away control over Britain's most important defense contractor, and make the new conglomerate the top arms seller in the world.
For plans to have progressed this far, the deal must have already received preliminary approval from the British government.
Under the proposed merger, bae systems would make up 40 percent of the new company and eads 60 percent.
Without bae, Britain will have little left of an independent defense industry. It is overwhelmingly Britain's most important defense company. Nearly one in every five pounds spent by the Ministry of Defense went to bae or one of its subsidiaries in the financial year 2009-2010. It received around £4 billion. The next biggest recipient of defense spending, Babcock, received £1.1 billion.
And it's not just an aerospace company. Its subsidiaries built the Navy's first operational submarine and Britain's main battle tank.
cnn money wrote that the deal "looks like a no-brainer on the economic and financial front." It's probably right. It looks like bae is heading for trouble, as it gets most of its money from Britain and America, which are cutting their defense budgets. eads gets more of its money from civilian projects and has a larger presence in Europe, where defense expenditure is expected to grow as the U.S. focuses on the Pacific. The merger would help bae through a tough time and give eads access to the American market.
But if the merger goes ahead, in the long term Britain will be completely dependent on France and Germany for its defense. It would lose control of its most important aircraft manufacturer, the builder of its main battle tank, next-generation aircraft carriers and nuclear submarines, as well as its supplier for many other weapons and electrical systems.
Today, it's considered foolish or bigoted to be concerned about Britain surrendering its defense industry. But even France and Germany aren't doing anything as foolish as Britain. They haven't given up control of their key defense companies.
French defense giants Dassualt Aviation and Thales Group retain their independence. eads owns 46.32 percent of Dassault, but 50.55 is independent. It didn't sign control over to eads. Germany, too, retains control of key companies like ThyssenKrupp, Rheinmetall man Military Vehicles and many others.
eads is important for the Germany and French industries. But they could get by without it—they have other companies they could turn to.
But for Britain, bae is essential. If this deal goes ahead, Britain would have to rely on companies beyond its control for its nuclear submarines, many of its ships and planes, its tanks and much of the other equipment for its army.
Britain would be doing what even France and Germany haven't dared. It put almost all of its key defense industry eggs in one basket, and now it wants to hand the basket to someone else to look after.
It should be obvious that this is extreme foolishness. But even Britain's conservative newspapers have supported the scheme.
One of Winston Churchill's many prescient quotes, from his book on World War i titled The World Crisis, attacks the attitude that surfaces time and time again in peace time—that war is "too foolish, too fantastic to be thought of" in our modern times. "Civilization has climbed above such perils," people say. They give their multitude of excuses for why this time it is different. "Are you quite sure?" asks Churchill. "It would be a pity to be wrong. Such a mistake could only be made once—once for all."
He warned of Germany's history of striking like a "bolt from the blue."
The government may not believe a bolt from the blue is coming. But surely defense planning is all about planning for the worst. Britain is betting its long-term defense on the friendliness of France and Germany.
The merger isn't definitely set to go ahead. And the prime minister hasn't given his final consent. But the fact that such a foolish idea has been entertained so seriously, and even been tacitly approved by the government, is deeply worrying. It shows a surprising level of foolishness for Britain.
But this is exactly what the Bible said would happen.
Hosea 7:11 calls Britain "a silly dove, without sense" (for more information on Britain's identity in Bible prophecy, write for our free book The United States and Britain in Prophecy). It says that "they go to Assyria," which, as we've pointed out, is Germany.
Who could have foreseen that Britain would hand over the company that helped save it from the Nazis? Only those relying on Bible prophecy.
For more information on what the Bible says is now coming to Britain, read The United States and Britain in Prophecy.