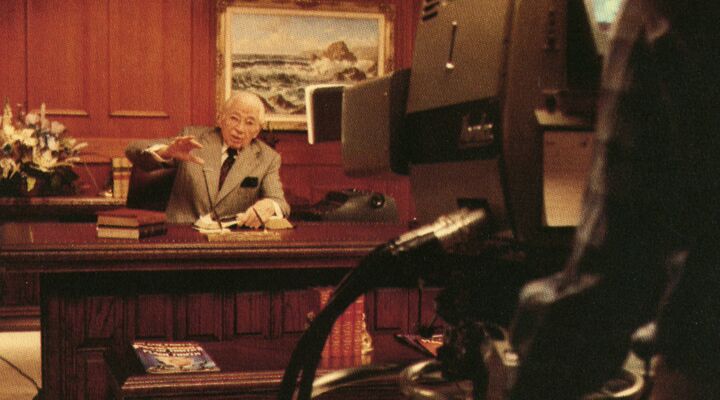 U.S. Congress Preserving Herbert W. Armstrong Video Archive
Republican Sen. Bob Dole ordered preservation of the World Tomorrow television episodes in the Library of Congress.
The United States Library of Congress Film and Television Archives contain all episodes of the World Tomorrow program featuring unofficial ambassador for world peace Herbert W. Armstrong, dating from 1972 through 1986.
The Library of Congress was established in 1800. It is the national library of the U.S., located in Washington, d.c., with an associated campus in Virginia, featuring over 151 million items. It was established to serve 541 members and staffers of Congress along with the general public now numbering over 311 million.
The Trumpet has long reported on the special friendship between Mr. Armstrong and Egyptian President Anwar Sadat. On April 4, 1977, President Jimmy Carter hosted a state dinner in honor of the Egyptian president at the White House. Sen. Bob Dole was in attendance, along with Mr. Armstrong's youngest son, who assisted him during that time in presenting the World Tomorrow broadcast.
The dinner aided in opening doors for The World Tomorrow, featuring special interviews with Mr. Sadat and episodes highlighting challenges facing American farmers, coinciding with Mr. Dole's service on the U.S. Senate Committee for Agriculture.
Mr. Armstrong founded The World Tomorrow, and presented its first episode in 1933 on a small radio station that offered free air time. Over the subsequent five decades, the broadcast grew nationally and internationally, first by radio and then television, covering over 400 stations worldwide at the point of the airing of Mr. Armstrong's final program in advance of his death in January 1986. That was 52 years after his first radio broadcast.
It was in 1978 during his tenure as Kansas senator that Mr. Dole made the request for the preservation of episodes of The World Tomorrow. The request was approved and ensured the cataloging by the U.S. Library of Congress of all programs dating from 1972 through to the death of its founder and presenter.
Mr. Dole's political career was long and influential. He served as Kansas senator from 1969 to 1996, Senate majority leader 1985 to 1987 and 1995 to 1996, and Senate minority leader 1987 to 1995.
In 1976 he was Gerald Ford's vice presidential running mate and notably the party's presidential nominee for the 1996 elections, defeated by Democrat Bill Clinton.
Since that time, he has served as special counsel of a prominent law firm based in the nation's capital.
In 2007, President George W. Bush relied upon Mr. Dole's experience, appointing him co-chair during the government's investigation of a prominent military medical center's alleged abuses.
During World War ii, Dole was a second lieutenant in the Army's 10th Mountain Division, and was decorated with a Bronze Star for heroic achievement. In addition, for injuries sustained in battle he was awarded two Purple Hearts. In 1945, he was seriously injured by machine gunfire while fighting in southwest Italy. Fellow soldiers thought he'd die as he waited nine hours on the Apennine Mountain battlefield for aid. The incident left his right arm paralyzed; however, he steadily recovered, convalescing at Michigan's Battle Creek Sanatorium, later renamed Hart-Dole-Inouye Federal Center in honor of the three soldiers who thereafter became U.S. senators.
His wife, Elizabeth, is a well-known cabinet member and senator from North Carolina. Now officially retired, perhaps Mr. Dole occasionally recalls his historic request to the world's largest library to preserve the unprecedented and most unique program of world events presented in the clear light of Bible prophecy, Herbert Armstrong's World Tomorrow.
With Mr. Armstrong's death, in a great betrayal of trust, his successors sought to subsequently eliminate his written, spoken and otherwise documented teachings. A battle officially began on Dec. 7, 1989, with the firing of Trumpet founder Gerald Flurry and his assistant John Amos from the employ of the church established by Christ through Herbert Armstrong. Both these men were intent on preserving Herbert Armstrong's legacy in resistance to those bent on destroying all records of Mr. Armstrong and his legacy.
Mr. Flurry and Mr. Amos's contention revolved around the rejection of the man and message evidenced in The World Tomorrow reaching over 400 stations, the Plain Truth magazine with over 8 million subscribers, and an unofficial ambassadorial bond with global leaders, culminating in Mr. Armstrong's final and finest book, Mystery of the Ages.
Beginning in 1992 on radio, Mr. Flurry began presenting the program God's Future World, with his assistant John Amos aiding with the program's executive production and voice-over. Mr. Amos had grown up in Hollywood and gained a professional background in the broadcast industry in California. He had served in support of media operations for the sponsor of the World Tomorrow program in Pasadena, California.
By January 1993, with God's Future World now renamed the Key of David television program, the first episode aired nationwide of what viewers worldwide now recognize as the heir to the World Tomorrow broadcast.
For nearly a decade, as Key of David production manager, I witnessed the program's production staff increase to meet demand, and the subsequent improvement in audio and video technology to match the increasing reach of the Key of David.
During that time we began using public domain footage from the Library of Congress Film and Video Archives to illustrate Mr. Flurry's messages.
The Key of David, akin to its forerunner The World Tomorrow, has grown from humble beginnings 20 years ago into a national award-winning program.
Reaching an ever broadening worldwide audience, especially via the Internet, the Key of David has established itself as the only source of the pure, unadulterated preservation of the preaching of Jesus Christ's prophetic gospel message in the tradition of Herbert Armstrong.