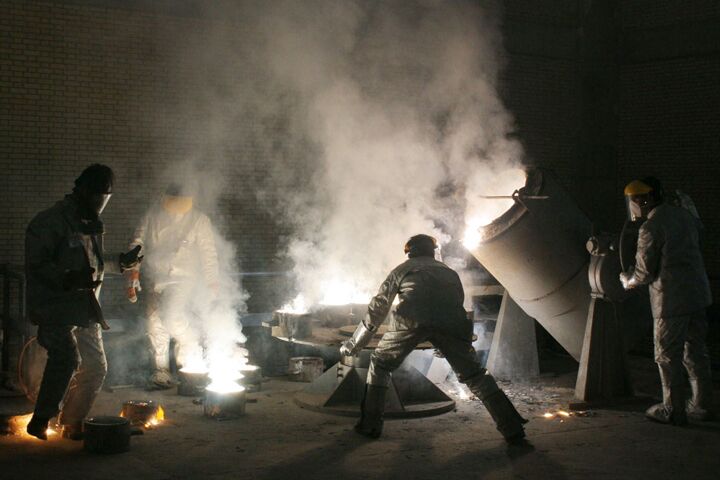 Intelligence Estimate: Iran's Nukes Nearly Immune From Israeli Strike
Iran's nuclear program is approaching the "immunity zone"—the point when its equipment is too well defended for Israel to attack—Israel's Yedioth Ahronoth newspaper reported August 10.
U.S. intelligence officials recently produced a new National Intelligence Estimate (nie), which warned that Iran's nuclear program has made "significant progress," the paper claimed, citing "top U.S. officials."
The nie warned that Iran recently installed 5,000 twin centrifuges in its under-mountain base in Fordo, near Qom. Israel fears it may not be able to completely destroy the Fordo facility. If Iran moves a significant amount of nuclear equipment to Fordo, the Israelis may be unable to stop Iran's nuclear program short of using a nuclear missile themselves.
In addition, the report found that Iran had taken significant steps toward being able to turn its nuclear material into a nuclear warhead that could be mounted on a Shahab-3 missile. Left-leaning newspaper Haaretz wrote that diplomats and Israeli officials informed it that the nie shows "Iran has made surprising, notable progress in the research and development of key components of its military nuclear program."
American officials made clear, however, that they do not believe Iran is on the point of developing nuclear weapons.
Israel's Defense Minister Ehud Barak responded last week by saying, "There probably really is such an American intelligence report—I don't know if it is an nie one—making its way around senior offices (in Washington). As far as we know it brings the American assessment much closer to ours. … [I]t makes the Iranian issue even more urgent and (shows it is) less clear and certain that we will know everything in time about their steady progress toward military nuclear capability."
The report is in stark contrast to the 2007 nie report, which concluded that Iran suspended its military program in 2003, and that there was no conclusive proof the program had been resumed.
When the 2007 nie was issued, the White House published an abstract from the report. This time, the entire report is classified.
The U.S. has consistently refused to take any meaningful action against Iran, causing the problem to grow worse. The issue is driving a wedge between the U.S. and Israel. While both share intelligence, the two react to the material very differently. Israel is more urgent to attack Iran before it is too late, while America says there is still time and Israel should wait to see if sanctions work.
Watch for Iran to continue to push toward nuclear weapons. As it gets closer, Europe will become more worried and more urgent. Watch for Israel to draw closer to these European partners as America's refusal to act further divides the two allies.