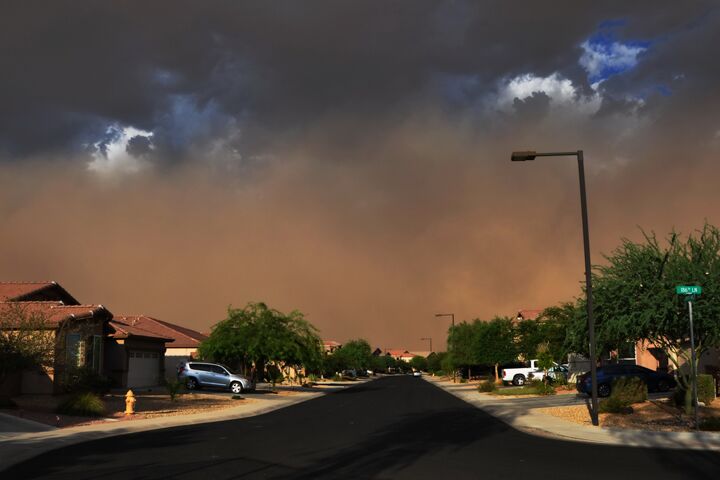 Goliath Dust Storms Slam Arizona
Once considered to be once-in-100-year events, giant dust storms are pounding the U.S. state of Arizona. In a summer of excessive heat and extreme drought, this is not good news.
Since June, five dust storms have plagued Arizona's famous valley area. On July 29, Phoenix looked more like Saharan Africa than the well-manicured American Southwest. A massive dust cloud, referred to as a haboob—an Arabic word meaning "strong wind"—blanketed the metropolitan area. The cloud was 2,000 feet tall and nearly 60 miles wide.
Although not the largest dust storm to hit the area, tree limbs and power poles were snapped, causing 9,000 homes to lose power. The Sky Harbor Airport was shut down for 20 minutes.
These huge dust storms form during the monsoon season that runs from June until the end of September. They are so destructive because of the fine dust particles that manage to permeate everywhere during the storm.
According to experts, these storms are becoming more frequent. It is not just the big storms that pose problems. Phoenix experienced three dust storms in a row the last week of July—which is considered very rare. USA Today stated: "This means more deadly accidents, more harmful pollution and more health problems for people breathing in the irritating dust particles."
The potential health threats from the storms are far more serious than just breathing in irritating dust particles. The fine dust can carry a poisonous mix of fungi, heavy metals from pollution, fertilizers, stockyard fecal matter, chemicals and bacteria, which can cause cardiovascular disease, eye diseases and other illnesses such as valley fever.
Valley fever, caused by the Coccidioides fungus present in desert soil, can be fatal. Valley fever is contracted when desert soil is thrown into the air and breathed in. Arizona has 70 percent of the valley fever cases reported nationally. The cases of valley fever in Arizona were up by 36 percent in Arizona between 2010 and 2011.
It was in July 2011 that the largest dust storm ever observed hit the Phoenix area. Medical experts believe that the advance of the huge dust storms in 2011 could be one of the causes for the increase in cases of valley fever.
Other dangers associated with these dust storms are the traffic accidents that result from the blinding conditions of the blowing dust. Between the period of 2001 through 2005, dust storms caused 44 deaths in 2,323 traffic accidents in New Mexico and 15 deaths in 614 accidents in Arizona.
Experts say that because of excessive heat and dry conditions, residents in Arizona's valley area can expect more dust storms.
For more information on other problems Americans are facing because of the drought of 2012, be sure to read columnist Brad Macdonald's article "The Global Consequences of America's Drought."