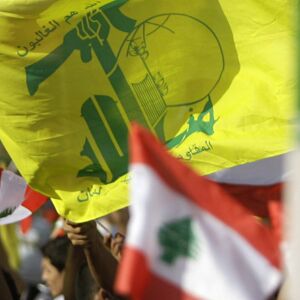 Psalm 83 Is Making Headlines!
New alliances are being formed in the Middle East that will soon shake the world.
Over the past year and a half, popular uprisings have brought down several longstanding dictatorships and given rise to a whole host of new regimes. Many commentators, of course, are aware of this. But few are taking note of the many new earthshaking alliances that are being formed.
The deck has been completely reshuffled in the Middle East.
Consider Libya. When it was in the throes of civil war and the international community was proposing military intervention, Germany quietly abstained. Berlin didn't want to participate in the nato action because of the civilian casualties that would inevitably follow such an intervention.
Since the outbreak of the revolution in Syria, however, Berlin has made it clear that, should military intervention take place, "German participation should be assured" (German-Foreign-Policy.com, April 16). In recent months, Germany has been a key participant in the international discussions aimed at solving the Syrian problem. Germany has also taken the precautionary measure of establishing a naval presence off the Syrian coast, along with the United States, France and Britain.
The reason Germany is substantially more interested in Syria than it was in Libya, as Brad Macdonald wrote in April, is that it "meshes with Berlin's larger geopolitical and strategic ambitions for the Middle East! … One of Germany's primary aims in the Middle East is to develop an axis with Middle Eastern states that oppose Iran" (emphasis added throughout).
As early as 1994, my father expounded on this axis, which is prophesied in Psalm 83. The prophecy specifically identifies the Middle Eastern nations that will ally themselves with the German-led European superpower when it clashes with the prophesied "king of the south," which my father identified as Iran.
Psalm 83 reveals that when Europe comes against the king of the south, the Middle East will be divided into two power blocs—those nations that back Iran and those that oppose Iranian dominance. This prophetic passage actually tells us which Middle Eastern nations will join the radical Islamic camp and which ones will side with Germany.
That is why the civil war in Syria is so prophetically significant. Like Egypt, it's triggering a dramatic realignment of strategic alliances in the region. According to Psalm 83, Syria is prophesied to fall into the power bloc that opposes Iran. Historically, of course, Syria has had close ties with Iran. But that will soon change—and it may happen as soon as Assad's regime is toppled.
Iranian officials are already preparing for the divorce.
Lebanon is another fascinating case study. Its governing body of terrorists, Hezbollah, is Iranian made and sponsored. But as Daniel Nisman wrote earlier this week, "Hezbollah's only hope for securing long-term influence in Lebanon lies in the bunkers of Syria's rapidly unraveling military." Hezbollah head Hassan Nasrallah acknowledged as much on July 18 during a speech before thousands of Shiite supporters in south Beirut.
"Our missiles are Syrian," Nasrallah said, as he vowed to provide staunch support for Assad's crumbling regime. He knows that if Assad goes, Hezbollah is in trouble.
"Hezbollah's vast arsenal is already in the crosshairs of an increasingly emboldened Sunni opposition," Nisman wrote, referring to a growing anti-Hezbollah movement in Lebanon that has developed especially within the past year.
In a Key of David program on May 6, my father again examined the fast-moving events of the Middle East under the clear light of Bible prophecy. Referring to the Psalm 83 prophecy, he said, "Gebal, or modern-day Lebanon … is today a home of the Iranian terrorists … but that's about to change." Later, he said Lebanon's alliance with Iran is "about to be broken."
So God tells us that Lebanon will eventually be joining the Arab camp that opposes Iran. We don't yet see it on the map today, but it is coming! The ties that bind Syria and Hezbollah with Iran are splitting, just as God said they would.
The Radical Islamist Camp
The Psalm 83 alliance not only tells us which nations will be allied with Germany, it also tells us by implication which Middle Eastern nations won't—because they will have fallen prey to Iran's radical agenda.
"Iraq, Iran, Egypt, Libya and Ethiopia are missing from this [Psalm 83] list," my father wrote in that 1994 article. That is because they will be allied with Iran.
That Iraq and Egypt have since fallen into the Iranian orbit is now beyond dispute.
Regarding Libya and Ethiopia, in February of last year, my father prophesied specifically that they would be the next dominoes to fall. Now, a year and a half later, Muammar Qadhafi is gone and the Islamist roots of the revolution are becoming clear. Despite what commentators have said about the recent elections, Libya's future looks ominous.
As for Ethiopia, when we said it would soon fall into the Islamic camp, there was very little visible evidence suggesting this could ever happen.
Now, evidence of Iran's encroachment upon Ethiopia is coming to light.
Just last weekend, rioting Islamic protesters prevented police from entering the Anwar Mosque in response to the arrest of 71 protesters the week before. One third of Ethiopia's population is Muslim, and to this point they have been viewed as mostly moderate. But with radical Islam now pushing against Ethiopia from all sides and rumors swirling regarding Prime Minister Meles Zenawi's declining health, this domino may be starting to tip over.
"The protesters know that they have the support of the majority of the population so long as their demand is for civil liberties and democratic freedoms," one human rights activist told the Washington Times (July 24). "Other sectors could press similar demands, and it might escalate into calls for regime change as has happened in the Arab Spring."
Earlier this year, we also predicted that the radicalization of Eritrea would become a "blockbuster headline" soon to hit newspapers. Since then, a United Nations report leaked to a British newspaper revealed that Eritrea has an extensive weapons and human trafficking operation that runs through Sudan's refugee camps to militant groups in the Sinai desert.
According to the report, the smuggling ring operates with the full support of the Eritrean government.
With radical Islam now gaining a foothold in Eritrea, Ethiopia will only come under additional pressure to fall into the Iranian camp. When that happens, the scene will be set for the fiery clash between the kings of the north and south, described in Daniel 11:40. Iran's "pushy" foreign policy will soon test the limits of Germany's patience, which will then trigger the "whirlwind" of war the prophet described.
Germany, with the support of the Middle Eastern power bloc that opposed Iranian hegemony, will then fill the power void left by Iran's demise. And to think—this Middle Eastern alliance that allies itself with Germany was foretold millennia ago in Psalm 83!