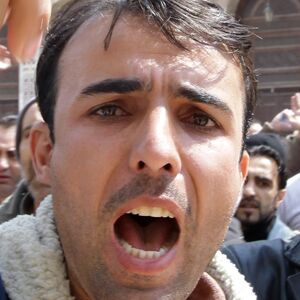 Will Germany Intervene in Syria?
Decision makers in Germany are debating Berlin's future role in the Syrian revolution.
Early last year, as the West was gearing up to intervene militarily in the overthrow of Libyan dictator Muammar Qadhafi, Germany made it clear it wanted no part. In March, when America, England, France and a host of other states passed UN Resolution 1973 sanctioning nato intervention in Libya, Germany joined Russia and China in abstaining from the vote.
Germany refused to participate because it believed military action would result in too much violence and bloodshed. "Any military operation brings civilian victims," explained Foreign Minister Guido Westerwelle. Chancellor Angela Merkel echoed those remarks in her explanation of Germany's non-participation. Berlin's primary concern, the world was told, was that nato intervention would produce too many civilian casualties.
Keep this in mind as you read on.
Last month, German-Foreign-Policy.com reported that "government advisers in Berlin are debating war scenarios for a possible Western military intervention in Syria" (March 6). Citing reports from the German Institute for International and Security Affairs (swp), an influential think tank that advises the Bundestag and the German government on foreign policy, German-Foreign-Policy.com reported on the growing discussion in Germany over the need for foreign military intervention in Syria, and the need for Berlin to play a leadership role.
The swp says Syria is descending into a full-scale civil war. This, according to some experts, would undoubtedly demand foreign military intervention. According to the swp's director of the Security Policy Research Group, "Even though 'all Western countries show basic signs of war fatigue,' their 'readiness' to go to war could be 'reactivated' if the humanitarian situation deteriorates—as the West's interventionist mood has shown during the war on Libya" (ibid).
This week, German-Foreign-Policy.com cited a German government adviser stating that in the event of military intervention in Syria, "German participation should be assured."
Note the dichotomy. In Libya, the likelihood that military intervention would worsen the humanitarian crisis was reason for Germany refraining from military action. But in Syria, a nation currently experiencing a humanitarian crisis that would certainly intensify in the event of foreign intervention, Germany favors military action.
According to German-Foreign-Policy.com, the swp has already outlined five scenarios for Western military intervention in Syria. Among them are the deployment of Western special forces to arm and train Syrian protesters and militias; the forced establishment of "safe zones," areas controlled by foreign troops where Syrian refugees can seek protection and opposition forces can plan assaults; and all-out military assault.
In a recent article at Internationale Politik, swp director of security policy Markus Kaim explained the dilemma facing the United States and Europe. If the ceasefire breaks and civil war continues, the West must either accept "the limits of [its] influence on the Syrian regime"—an improbable admission of Western weakness—or weigh "the options for military engagement to contain the conflict with all the associated risks."
This is not to suggest Germany plans to dispatch troops to Syria this week. In fact, the public stance reiterated by Germany's foreign minister is that Berlin does not support military intervention in Syria. But this discussion in Berlin—especially the debate about military strategy and tactics by influential advisers to the government—is evidence that Berlin is keeping an attentive eye on Syria. This is especially noteworthy when you consider Germany's comparative apathy over Libya's revolution.
Why does Germany appear so much more engaged with Syria than it ever was with Libya?
Earlier this month, Germany was a key participant, along with the U.S. and Saudi Arabia and other Gulf states, at a gathering in Turkey to discuss options for dealing with Syria's revolution. Foreign Minister Westerwelle announced there that Germany would join the U.S. and double its humanitarian contributions to Syria. In its report on the pledge by the Istanbul coalition to "provide funding and communications equipment to Syrian rebels and opposition activists," the Associated Press noted that this reflected a "shift toward military options that might oust Syrian President Bashar Assad" (emphasis added).
Together with America, Britain and France, Germany has also established a naval presence off the coast of Syria and Lebanon.
Again, why does Berlin appear substantially more interested in the crisis in Syria than it was with Libya? Because overthrowing the pro-Iranian, anti-Western Assad regime meshes with Berlin's larger geopolitical and strategic ambitions for the Middle East! As Karsten D. Voigt, the German government's former coordinator of German-American cooperation, recently explained, the tension between the West and Syria and its international allies is not about "human rights versus dictatorship"—it's about "geostrategic interests."
One of Germany's primary aims in the Middle East is to develop an axis with Middle Eastern states that oppose Iran.
As the Trumpet has long reported, this explains why Germany has for years been stepping up its political, financial and military investment in countries such as Saudi Arabia, the Gulf states, Turkey, Lebanon and Jordan. Berlin has formed solid trade relationships with virtually all these countries, covering every industry from telecommunications to the military. A recent European Commission summary report, for example, showed that the EU, led by Germany, was the world's largest exporter of weapons to Saudi Arabia and that in 2010 EU member states delivered at least €3.3 billion (us$4.34 billion) worth of military equipment and licenses to Riyadh.
Germany's interest in Syria's revolution must be considered in this context. From Berlin's perspective, the rebellion in Syria is a prime opportunity to transform the country into a pro-German, pro-Arab state. It believes Assad's downfall would be devastating to Iran and its radical Islamist supporters.
For Germany, Syria's revolution isn't about a humanitarian crisis at all. It's about geopolitics and the advancement of Germany's strategic interests in the Middle East!
It's hard to know what exactly will unfold in Syria in the coming weeks. What is certain is that neither Assad nor the anti-government activists are prepared to back down. The ceasefire brokered by the UN last week is already crumbling; violence renewed this week with more deadly attacks by both anti-government forces and the Syrian government. This prompted U.S. Secretary of State Hillary Clinton to warn Assad yesterday that the situation is now "at a critical turning point."
As you continue to watch Syria, it's vital you pay close attention to Germany. There is no doubt that Berlin in recent years has worked hard to develop allies on the Arabian peninsula, allies that, like Berlin, would like to see Assad's ouster and Syria's end as an Iranian proxy. Moreover, don't be surprised if Germany not only supports foreign military intervention in Syria, but even assumes a leadership role!
The most important reason we need to watch Syria is because of what Bible prophecy says will happen in the end times. You can read the prophecy in Psalm 83. Here is outlined an alliance of Arab nations that in the end time band together with the goal of destroying Israel. This group of nations includes Saudi Arabia, Turkey, Jordan and some of the smaller states on the Arabian peninsula. The prophecy says this unique coalition of Middle Eastern states will form an alliance with Germany and Europe.
Where does Syria fit in this prophecy? Well, as Trumpet editor in chief Gerald Flurry thoroughly explains in The King of the South,Syria is also part of this German-Arab alliance! In practical terms, this means we can expect Syria to leave the pro-Iran camp and join Saudi Arabia and other Arab states in striking a short-term alliance with Germany and Europe. This prophetic understanding makes Germany's growing interest in Syria thrilling and dramatic!
For more information on the Psalm 83 alliance and why it is a prophecy for the near future, read "A Mysterious Prophecy" by Gerald Flurry.